Submitted by Numerian on November 16, 2010 - 6:42pm
By Numerian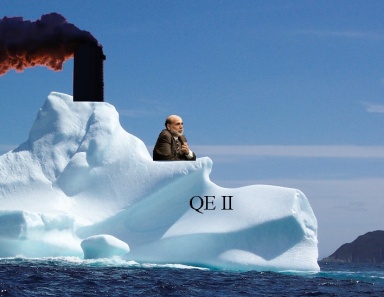 This is the battlefield on which corporations and their customers are struggling for survival. If companies can make price increases stick, the consumer is going to bear the burden of inflation, and for a lot of consumers this can be the last gasp to bankruptcy.
Image: Anonomyous
The Federal Reserve is on the defensive over its next round of Quantitative Easing, known as QE2. Over 20 distinguished economists and market analysts placed an ad yesterday in The Wall Street Journal urging the Fed to drop its plan to purchase $600 billion in Treasury securities over the next six months. Finance ministers around the world have deplored this policy for its tendency to generate global inflation and scupper the dollar on the foreign exchange markets. Even that noted financial expert Sarah Palin has published a Facebook criticism of the Fed's "running the printing presses."
Some Federal Reserve governors have warned about the potential inflationary implications of QE2, even though they voted for it. Fed Chairman Ben Bernanke and NY Fed President William Dudley have been in the media during the past week, justifying their QE2 decision. If you analyze their comments carefully, you realize they haven't been helping their cause.