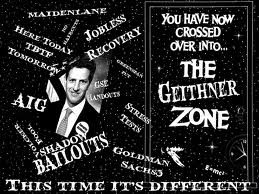 Where have we heard this before? Geithner is once again claiming China and the United States could cooperate, this time by giving away more of American advanced technology. Firstly, Geithner mentions China's currency manipulation.
China still closely manages the level of its exchange rate and restricts the ability of capital to move in and out of the country.

These policies have the effect of keeping the Chinese currency substantially undervalued.

They also impose substantial costs on other emerging economies that run more flexible exchanges rates, and as a result have experienced a substantial loss of competitiveness against China.

This is not a tenable policy for China or for the world economy.
Yet in the same speech, Treasury Secretary Geithner seems to imply U.S. companies, technologies are on the table as a bargaining chip to get China to re-evaluate their Yuan:
China's objectives are focused on the following areas:

China wants more access to U.S. high technology products.

China to take greater advantage of investment opportunities in the United States.
China would like to be accorded the same terms of access that market economies enjoy.

We are willing to make progress on these issues, but our ability to move on these issues will depend of course on how much progress we see from China.
Nothing happens with China and if it does, you can bet that's because China has moved onto another policy, another industry, another target that creates unfair trade, labor arbitrage for America. China just zooms down the road America literally built for them to economic superpower status.
Our government could easily pass a bill to put tariffs on all Chinese goods in a heartbeat and do something. It's obvious China has no intention of re-evaluating their currency, reducing exports or just about anything that would stop their global economic domination path. Geithner is once again, just giving lip service to the increasingly obvious China problem.
From this must read report on China, it's clear China has a host of policies in place to make sure the United States loses on the global economic front. Geithner literally said:
China's rise offers us the opportunity of dramatic growth in demand for things Americans create and produce. But it also will force us to raise our game.
What, the lay down, economic doormat game? The multinational corporate agenda, screw the United States game? Or is it another bad hand in the Obama administration's poker game of folding before even first ante, like the Texas Fold 'Em tax cuts for the rich play?
In the speech, Geithner claims the U.S. is on track to export $100 billion dollars worth of goods and services to China this year. Firstly, on a customs basis, even if one duplicates the $9 billion October exports data to November and December, which isn't publicly reported yet, it's $90.9 billion in exports to China, not $100 billion. This is taking an unusually high monthly October export number to boot in this calculation. Below is our great trade export with China. The U.S. is the #1 destination for Chinese imports.
China is importing commodities, raw materials, like soybeans, organic chemicals, steel and aluminum scrap metal. Our recycled paper gets shipped out to China. Beyond aircraft and sometimes capital goods, we simply are not selling finished goods, which means American jobs, to China. If U.S. multinationals sell finished goods to China, odds on they shipped manufacturing, the plant and the jobs over there. One of the typical top 10 U.S. exports to China from the United States is silicon. Think Silicon Valley and realize we literally are exporting our high tech manufacturing to China, even the raw materials along with it.
From the October trade report, the below graph and data is worth repeating.
Below is the raw customs basis accounting of the trade deficit with China, not seasonally adjusted. China alone is 48.6% of the trade deficit. On a Balance of Payments basis, not seasonally adjusted, so far this year the trade deficit is -$539,468 billion, a 31.2% increase from last year.
In other words, our exports to China are trivial in comparison to the import problem.
The United States lost 2.4 million jobs to China from 2001-2008 and over half a million jobs were lost to China in 2010 alone.
China has a massive trade surplus, is moving to make their currency global and China's foreign currency reserves, used to keep their currency exchange rate artificially low, have reached a record $2.85 trillion.
The U.S.-China Economic & Security Review Commission just released a new report, The National Security Implications of Investments and Products from the People's Republic of China in the Telecommunications Sector. It's about China penetration into American companies and technologies as a major national security vulnerability. Remember, most DDoS attacks and other cyber-attacks are coming from China.
The report discusses how China's growing involvement and investment in U.S. telecommunications supply chains and companies, including the penetration of the U.S. marketplace by companies subject to ownership, control, or influence by the People's Republic of China, could eventually provide China with access to or control of vital U.S. and allied information, networks, or segments of critical supply chains. It also describes some of the potential security vulnerabilities in communications tetworks that might be exploited by hostile actors, whether state-sponsored or otherwise.
Look at the report findings and believe this commission. You do not want China dictating the globe's international engineering and technology standards. If you think Verizon is evil and Facebook is some punk looking up the skirts of America, try having China dictate engineering standards and technologies. You ain't seen nothing from bandwidth to licensing fees to interoperability issues to technical and security vulnerabilities to some pretty damn interesting COTS military malware infested components.
Products designated as domestic under Buy America and Trade Agreements Act rules, and purchased from a domestic U.S. company, may still be partly or largely sourced from an overseas supplier
Protocols for how networks will communicate will likely be heavily influenced by China, and manufacturers outside of the China market may begin to lose global market share in dramatic fashion
For America to remain competitive and generate future innovations, as well as to maintain control over technology standards, it is essential to provide incentives for continued development of the U.S. scientific and engineering workforce.
Notice that last line. American technical workers, those in Science, Technology, Engineering and Mathematics have been under attack for labor arbitrage, starting in the 1990's and accelerating dramatically in the past decade. Now, because this critical career path is so unstable, demanding and vulnerable to labor arbitrage, displacement through offshore outsourcing, foreign guest workers and age discrimination, sex discrimination....we have a security report telling our government they had better stop giving U.S. technical workers the shaft.
Yes Virginia, national loyalty does matter.
Economist Peter Morici continually pounds cable noise, trying to get a few facts out there on China trade policy.
Well, let's look at tariffs. In the United States, our average tariff is maybe 2.5% or 3%. In China, it's more like 25%. Under the WTO agreements, which govern all trade internationally, developing countries are given special and deferential treatment. They're permitted to have higher tariffs, and they're permitted to not play by quite the same rules when it comes to the various codes that the WTO has.

Bottom line, China chisels on its currency. As a 40% undervalued currency, it spends $250 billion a year to keep it undervalued, and that floods our market with subsidized goods. So instead of having balanced trade where we buy those things they can make with their inexpensive labor, and we sell them things like Caterpillar tractors — Caterpillar finds it more profitable to establish a tractor company over there.

So we lose jobs when we import, but we don't gain new jobs to replace them by exporting. So instead of having 5% unemployment, we have 10% unemployment.
If none of this gets through to you, please watch the latest Sunday Morning Comics for a great cartoon video explaining why China and their currency manipulation is such a big deal. Again, Congress could act in two minutes, but only if the public demands it.