We have a new estimate on the financial black holes Fannnie Mae and Freddie Mac by the Federal Housing Finance Agency.
Through 2013, Fannie Mae and Freddie Mac will cost between $221 billion and $363 billion.
The Federal Housing Finance Agency (FHFA) today released projections of the financial performance of Fannie Mae and Freddie Mac (the Enterprises) including potential draws under the Preferred Stock Purchase Agreements (PSPAs) with the U.S. Department of the Treasury. To date, the Enterprises have drawn $148 billion from the Treasury Department under the terms of the PSPAs. Under the three scenarios used in the projections, cumulative Enterprise draws range from $221 billion to $363 billion through 2013.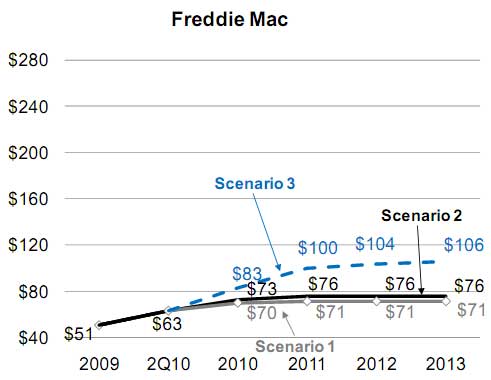 These estimates took dividend payments into account from the preferred stock owned by the government. Without the dividends, the losses are still $142 billion to $259 billion.
According to the report, Fannie & Freddie have already cost $148 billion.
The FHFA estimated losses based on 3 scenarios from Moody's home price projections up to 2013, the worse being an economic double-dip recession.
The above graphs are from the FHFA report on Fannie and Freddie losses. I recommend reading their report, for it's short and sweet, with graphs of all of economic projections and tables of their assumptions for this cost projection. Moody's home price estimates are also graphed in this report.
Their actual conclusion? Oh yeah, Fannie and Freddie are a black money hole, where U.S. taxpayer money goes to outer space (read banksters), no matter what metrics one uses for a scenario.