The Federal reserve announced Operation Twist, an action from 1961 where the Fed swaps out treasuries of short maturity lengths, for longer ones, all in an attempt to flatten, or twist the yield curve. From the Economist:
Operation Twist has long been considered a failure. Early studies found little impact on yields, vindicating those who argued that the price of a security depends only on expectations—of inflation, for example, or monetary policy—not its relative supply. Eric Swanson, an economist at the Federal Reserve Bank of San Francisco, disagrees. Previous studies, he reckons, didn't properly isolate the influence of Operation Twist from countervailing factors. By studying the behaviour of bonds right around announcements related to Operation Twist, he concludes the programme lowered yields by 15 basis points in total.
From the FOMC statement:
The Committee decided today to extend the average maturity of its holdings of securities. The Committee intends to purchase, by the end of June 2012, $400 billion of Treasury securities with remaining maturities of 6 years to 30 years and to sell an equal amount of Treasury securities with remaining maturities of 3 years or less. This program should put downward pressure on longer-term interest rates and help make broader financial conditions more accommodative. The Committee will regularly review the size and composition of its securities holdings and is prepared to adjust those holdings as appropriate.
The move did immediately flatten the yield curve. The blow graph, from Bloomberg News, shows yesterday's yield curve (orange), versus today's (green).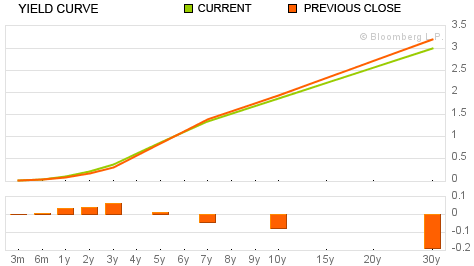 But, wait for it....they are going to re-invest in those toxic assets, otherwise known as mortgage backed securities, or MBS related derivatives.
The Committee will now reinvest principal payments from its holdings of agency debt and agency mortgage-backed securities in agency mortgage-backed securities.
Supposedly this is to support low mortgage rates, yet, why MBSes have to do with lower mortgage rates, at least that's the sound byte. More, putting funds into MBS, or toxic assets, derivatives, should boost their price pushing out other investors in these risky investments. If you want to see an Economists' version of Rube Goldberg, or the most convoluted trickle upon excuse for buying Mortgage backed securities, read Forbes:
What the Fed is doing is flattening the yield curve in order to ease financial conditions and credit creation and shift capital "from investors and lenders to consumers." The Fed has also pledged to provide additional support for mortgage markets by reinvesting agency debt and MBS directly into more agency MBS in the secondary markets, as opposed to putting it into Treasuries.

The idea is that in a consumer economy, shifting money into risky assets and from investors and lenders to consumers will spark consumption. A "portfolio balancing effect" should spark a "wealth effect" by which investment in productive, albeit risky assets, spurs job creation, rising wages, and aggregate (consumer) demand which in turn feeds the whole cycle.

But the theoretical approach is fundamentally flawed, according to Richard Bove of Rochdale Research. "By flattening the yield curve," explains Bove, "Operation Twist reduces the incentive of the holders of funds to provide funds for production and real growth" by putting incentives in place for money to go short, not long.
Here's the FOMC vote breakdown:
Yeas: Ben S. Bernanke, Chairman; William C. Dudley, Vice Chairman; Elizabeth A. Duke; Charles L. Evans; Sarah Bloom Raskin; Daniel K. Tarullo; and Janet L. Yellen.
Nays: Richard W. Fisher, Narayana Kocherlakota, and Charles I. Plosser.
Politics are spilling over to the Fed and this article overviews the Republican bullying of the Federal Reserve.