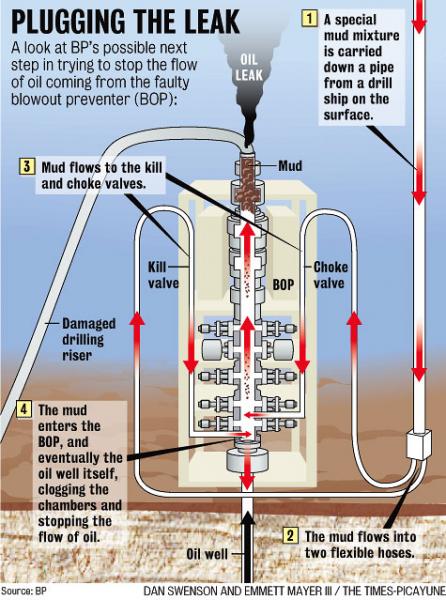 EP is deviating just a tad from economics and delving into the wild world of underwater engineering and environment disaster. This is what people want to talk about, this is what is on their minds.
We're in horror. We're helpless, dependent upon continual press releases and attempts while real solutions to stop the leak are dismissed.
The next attempt is a top kill, which is to push drilling mud and cement into the leak hole. This latest attempt is high risk and could make the leaks worse. Realize this is 5,000 feet deep in the water, with corresponding water pressure in addition to a massive gushing oil plume. The damaged blowout preventer is 5 stories high. Blasting fluids with high pressure, twice as dense as the surrounding water, has the potential to create another hole if the blowout preventer has weakness in the metal or other interactions. Ugh, my sympathies to the engineers. This has never been tried in water.
They're giving it a 60% to 70% chance of workin, but folks, there is a lot that can go wrong so frankly, I suggest you pray.
BP actually has a lot of technical information on their website. BP is consulting with government officials on each stage of this attempt. AP:
If all goes as planned, engineers will pump fluid twice as dense as water from two barges into two 3-inch-wide lines that will feed it into the blowout preventer. Crews plan to pump it in at a rate of 1,680 to 2,100 gallons per minute in hopes of counteracting the upward pressure of the oil gushing to the surface. They stockpiled some 50,000 barrels of the heavy mud, a manufactured substance that resembles clay.
Below is a BP graphic on the long term strategy to stop the leak and you get an idea of just how nasty this problem is....5,000 feet underwater with the oil reserves being 18,000 feet.
Note, their relief wells are fairly far along, one is already at 10,000 feet, 8,000 to go in so many words and another is at 8,000 feet. Relief wells are a known solution, of course the time line means millions of gallons of oil will have already escaped before these are finished.
Here is the spillcam, which will continue to feed during the top kill plug the damn leak attempt.
Below is a Dylan Ratigan segment on other feasible solutions that are not being tried!
If this idea of oil tankers as giant vacuum cleaners, oil separators works, who thinks the U.S. government should step in, seize the tankers, pay market value for the oil contained within, empty them into the strategic reserves and put all of the tankers to work as glorified oil collectors?
My view on the oil leak, at the moment, this is an engineering problem and the politics, the blame, fines, threats and lawsuits should come after the spill is stopped. With that, one needs to listen to the engineers and their plans to stop the leak, think critically and ask questions. Not just BP engineers, but various experts in underwater engineering, mechanical engineering and deep sea oil drilling.
With that, I suggest watching this BP video of the technical solutions they plan on trying. You'll have to skip through the apologies but it is the overall engineering architecture plan. The next plan, after the top kill, actually sounds promising, which is to do some mechanical sheering, and recap the damaged blowout preventer. How one goes down to 5,000 feet away and saws a straight line, well, maybe some other engineer will drop by and discuss if that is pipe dream. Duct tape anyone?
Frankly, turning this over immediately to the Engineers and Scientists was required. You're not going to plug up a hole 5,000 feet underwater by yelling at it or holding a hearing.
Consider this post the Oil Open Thread.