The U.S. September 2013 monthly trade deficit jumped from last month with a 8.0% increase and now stands at -$41,778 billion. August was revised just slightly lower by $100 million to -$38,701 billion. The jump in the trade deficit should lower Q3 GDP upon the next revision. We estimate the September trade deficit will lower Q3 GDP by 0.3 percentage points.
Graphed below are imports and exports graphed and by volume, note the global trade collapse in 2009 due to the recession. Imports are in maroon and exports are shown in blue, both scaled to the left. We can also see what bad trade treaties has wrought by the below graph as well as the implosion to global trade the great recession wrought.
The September trade deficit should lower Q3 GDP which was originally reported to be 2.8% growth. In the advance GDP report real goods imports increased 1.8% while real goods exports increased 6.4%. The advance GDP report showed an annualized $1,394.7 million in real good exports with a $1,998.4 million in real goods imports for Q3. For Q2 the BEA reported $1,373.4 real goods exports and $1,989.6 real goods imports. Real means adjusted for inflation using 2009 chained dollars.
Calculating the new Q3 real goods figures using the Census accounting method, there were $1,979.5 million real goods imports with $1,398.9 million in real goods exports. For Q2 we get $1,391.6 million in real goods exports and $1,964.3 million in real goods import, annualized.. This gives a Q3 2.1% change in real exports with a 3.1% change in real imports, a far cry from the originally reported change for real goods in the GDP report.
The BEA reports estimates used for the GDP report in a table associated with a technical note. Their estimates for net September good exports was -$705.4 billion and the difference between their estimate and actual data in the net good exports is an additional -$10.167 billion, annualized. This represents in nominal value about 0.54 percentage points of the GDP change from Q2 to Q3.
Doing a reality check with the real goods trade figures reported on a Census basis, we get a 6.6% change in real imports and a 10.2% change in exports for Q2. The BEA reported a 9.4% change in real goods exports and a 7.5% change in real goods imports. The reason for the difference between the BEA's figures and our estimates from Census tables are import and export price deflators. Import and export price indexes are a magic sauce used to adjust for price differentials of imports and exports from various regions and we did not adjust with these indexes. This is why our figures do not match exactly what the effect revisions and the September trade figures will have on GDP. We also ignored services in the above calculations due to the lack of detail in trade services data publicly available. The trade deficit in services increased by $100 million in September, which makes our case Q3 GDP would be revised down by 0.3 percentage points that more compelling.
The BEA assumed both imports and exports would increase for September in their advanced GDP estimate. Using our above back of the napkin calculations, we expect to see GDP revised down by 0.3 percentage points to 2.5% Q3 growth and assume the goods export contribution to GDP would be almost halved.
Below is a graph of the real goods trade deficit and the Census revised trade deficit figures going all the way back to April.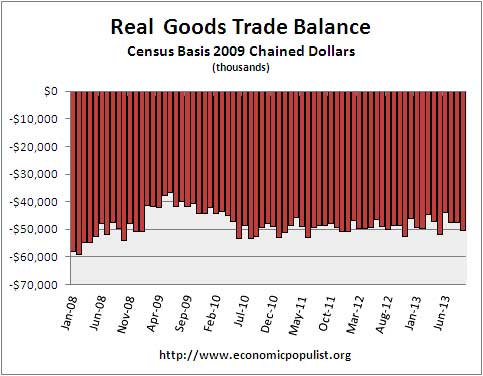 The other big news from the September trade report is the China trade deficit. The China trade deficit is still on track to hit yet another annual record and this month maintained it's highs with a not seasonally adjusted -$30,471 billion China trade deficit The China trade deficit alone was 49% of the not seasonally total goods deficit, on a Census accounting basis. Almost half of the goods trade deficit is caused by China imports and this figure includes oil imports. The U.S. hit a new record annual 2012 $315 billion trade deficit. The 2013 the trade deficit with China to date is -$238,151 billion with three more months to go. The below graph shows how highly cyclical the monthly trade deficit with China is. Country trade statistics are not seasonally adjusted, yet this time last year the 2012 cumulative China trade deficit was -$232,186 billion. In other words, the trade deficit with China is on track to hit a new record.
The China trade deficit is absolutely massive and obviously contributes to America's very sluggish economic growth and never ending labor market malaise.
We should also mention the expanding trade deficit with South Korea. The South Korean trade agreement went into effect March 15, 2012. The below chart, not seasonally adjusted and thus highly cyclical, shows the result of the South Korean trade treaty so far. The estimates currently are 40,000 jobs have been lost.
Here are other trade deficit overviews, data unrevised.