The Housing Starts & Building Permits were released today.
Housing Starts dropped 10.6% in a month, building permits dropped 4%.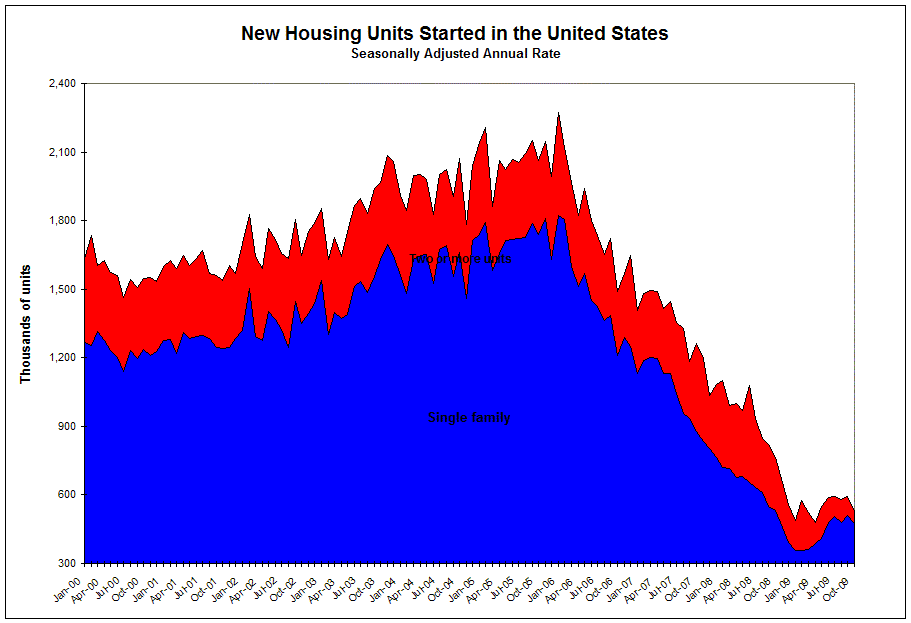 Calculated Risk says these sideways, drops and uneven reports will continue due to increased vacancies and will probably stay in this range until excess inventories are gone.
The vacancy rate has continued to climb even after housing starts fell off a cliff. Initially this was because of a significant number of completions. Also some hidden inventory (like some 2nd homes) have become available for sale or for rent, and lately some households have probably doubled up because of tough economic times.
Meanwhile the Federal Reserve might extend the purchase of MBS, more bubble re-inflate attempts?
"Amid disappointing housing numbers, it would certainly be no surprise if the Fed decides to extend its purchases of mortgage-backed securities beyond the first quarter of 2010 in order to support the housing market," said Harm Bandholz, an economist at UniCredit Markets and Investment Banking.