The Economic Mood of the nation could end up being bipolar with the way headlines swing economic indicators. Yesterday the world was all giddy with the surge in existing home sales (with underlying analysis being more sobering) and today's New Home Sales Commerce Report will cause a pre-holiday funk.
Sales of new one-family houses in November 2009 were at a seasonally adjusted annual rate of 355,000, according to estimates released jointly today by the U.S. Census Bureau and the Department of Housing and Urban Development.

This is 11.3 percent (±11.0%) below the revised October rate of 400,000 and is 9.0 percent (±15.3%)* below the November 2008 estimate of 390,000.

The median sales price of new houses sold in November 2009 was $217,400; the average sales price was $280,300. The seasonally adjusted estimate of new houses for sale at the end of November was 235,000. This represents a supply of 7.9 months at the current sales rate.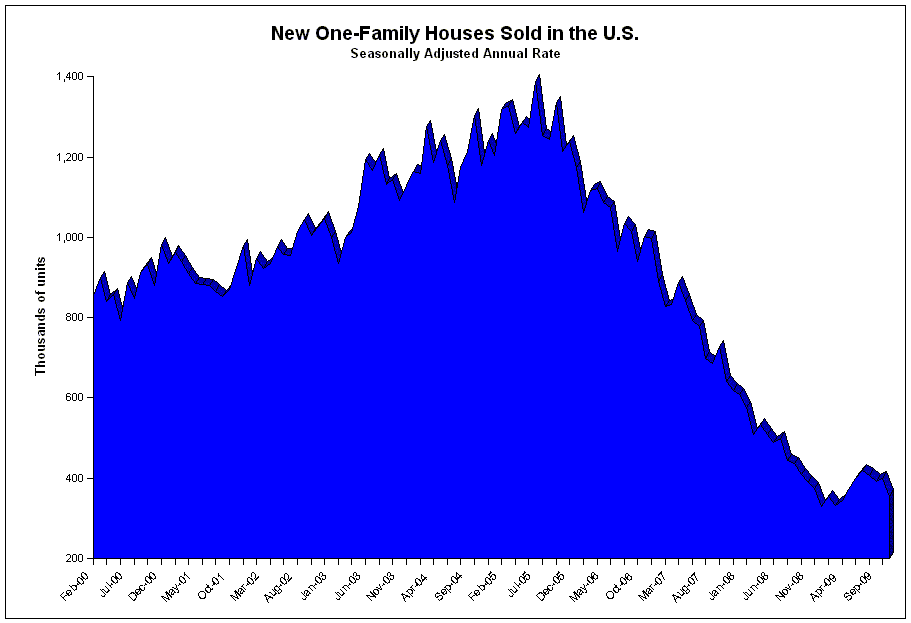 Note the large inventory. It should be below 6 months to be at normal levels.
Consensus claims residential real estate in new homes, building starts, construction leads an economy out of recession. Now this may be true for past cycles, but relying on a never ending increasing population and production of a product which should last 100 years....well, maybe there is something economically structurally wrong with this assumption.
How about advanced manufacturing leading the way out of this malaise instead this time?
As always, if you want to read the best gosh darn real estate analysis on the planet, go to Calculated Risk. What can I say, we're on the case but this site is the defacto gold standard on the topic at this point. There are all sorts of posts with graphs, stats on the current residential real estate market and what it implies on a recession level today.