The Philadelphia Federal Reserve Business Outlook Survey is a regional snapshot of manufacturing and it's a blow out this month. The overall index jumped 21.5 points as well as the highest reading since December 2009.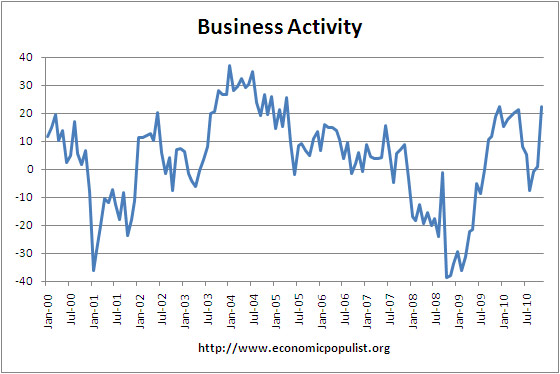 The monthly indexes are shockingly good. Below is the point change from last month's indexes.
General Business Conditions: +21.5
New Orders: +15.4
Shipments: +15.4
Unfilled Orders: +12.6
Delivery Times: +2.4
Inventories: +12.7
Prices Paid: +2.5
Prices Received: +6.9
Number of Employees: +10.9
Average Work Week: +4.9
Future growth also climbed:
The future general activity index increased 8 points, to a reading of 49.0, its highest reading in eight months. The future new orders and shipments indexes also remained at relatively high readings, with about half of the reporting firms expecting growth over the next six months. More firms expect to increase employment over the next six months (29 percent) than expect to decrease employment (7 percent). The future employment index edged 1 point higher to its highest reading in six months.
These numbers are so amazing, one needs to look at them in context. Below are graphs on the monthly diffusion indexes for the Philadelphia regional manufacturing economy.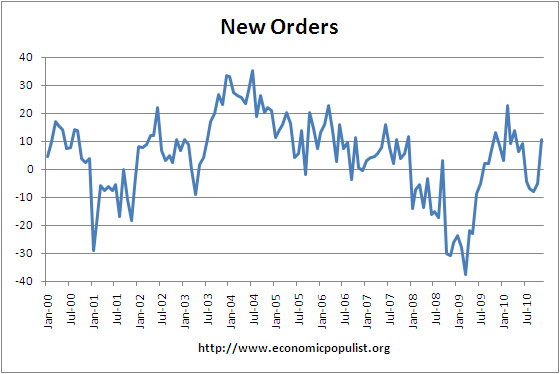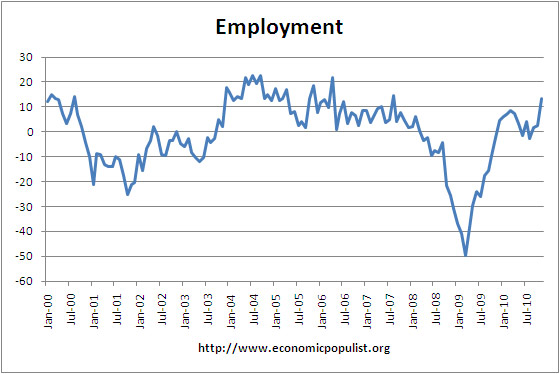 From the report on prices paid & prices received:
Price increases for inputs remain relatively widespread this month. Thirty-eight percent of the firms reported higher prices for inputs this month. The prices paid index, which had increased in the previous month, increased 3 points. On balance, firms continued to report declines in prices for their own manufactured goods: Slightly more firms reported decreases in prices (16 percent) than reported increases (14 percent). The prices received index remained negative for the sixth consecutive month, although it increased 7 points this month.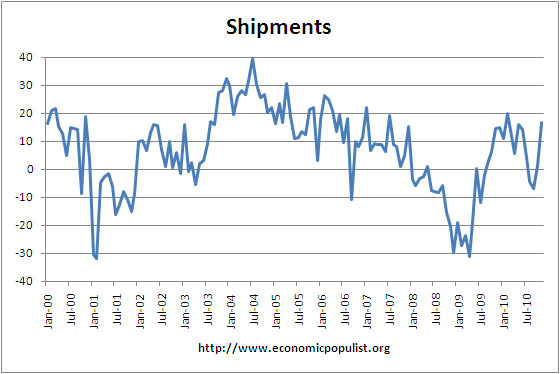 In August, the Philly Fed was the other way, a bloodbath, so this is surprisingly good news. Especially the increase in the number of employees as well as the increase in the average work week.
Gets better still. This survey of about 85 regional manufacturers shows they are increasing capacity usage and also planning on more capital spending. The average capacity utilization rate went from 65.6% in 2009 to 72%, a 7.6 percentage point increase in putting their factories to work. Capital spending is now up to 38% in 2010. This is beyond double last years 16.3% of these manufacturers' reported plans to buy more equipment and plant facilities.
What the hell happened in Philly but who cares, it sure beats what's happening in manufacturing New York.