Regardless of whether the economy as a whole begins to improve, the malaise of working and middle class America will not be relieved until wages increase, and employment rates return to a robust level.
The news on that score is grim. Unemployment is a lagging indicator. Historically, it continued to rise right through to the end of recessions. The "jobless recoveries" from the 1990 and 2001 recessions were even worse: unemployment continued to rise for over a year after both recessions ended!
If that pattern is again true for any recovery from this recession, the forecast is grim indeed.
For purposes of this discussion, let's follow the optimistic scenario I laid out for 2009 in the conclusion of my discussion of "Economic Indicators during the Roaring Twenties and Great Depression"; viz., that the YoY inflation rate will bottom in about July 2009 and that will mark the end of the recession and the beginning point of any recovery. What will the rate of unemployment look like if the pattern of the last two "jobless recoveries" is followed again?
The 1990-91 recession ended in March 1991 with an unemployment rate of 6.8%. Unemployment continued to rise for 15 months to 7.8%. It took another 14 months for it to decline back to 6.8%.
The "jobless recovery" following 2001 was even worse. From the November 2001 rate of 5.5%, unemployment continued to rise for 19 months to 6.3%. It then took another 13 months for it to decline back to 5.5%.
The average for both recoveries is a 17 month increase of .9% (or a 15% percent increase in the rate) followed by 13.5 months decrease back to the starting number.
Applying these averages to our present scenario, in which unemployment has been rising at .4% a month for the last 4 months, we have 4 more months of rising rates to a 10.1% unemployment rate in July 2009 when the recession ends under the "optimistic scenario."
Even under the optimistic scenario, if unemployment follows the same pattern as in the last two recoveries, here is what its graph will look like for the next 3 years: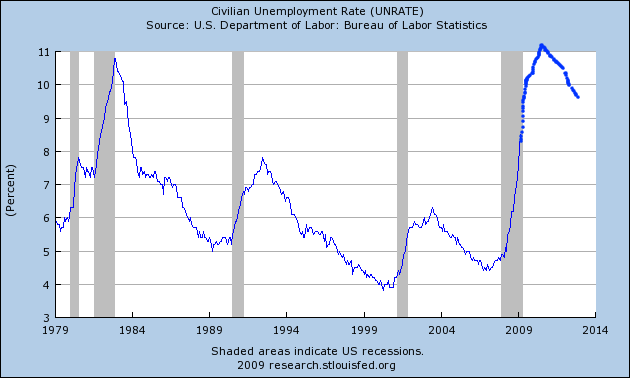 Unemployment rises to 11.3% by December 2010, and then takes until early 2012 just to decrease back to 10.1%.
Note this is U3 unemployment, so U6 unemployment will be correspondingly worse.
It is safe to say that there will be major social and political consequences from an unemployment rate over 10% for 2 1/2 or more years -- and that's the optimistic scenario.