This morning's New Home sales, as reported by AP, make it official:
Sales of new homes plunged in March to the lowest level in 16 1/2 years as housing slumped further at the start of the spring sales season.

The median price of a new home in March compared to a year ago fell by the largest amount in nearly four decades.

The Commerce Department reported Thursday that sales of new homes dropped by 8.5 percent last month to a seasonally adjusted annual rate of 526,000 units, the slowest sales pace since October 1991.

The median price of a home sold in March dropped by 13.3 percent compared to March 2007, the biggest year-over-year price decline since a 14.6 percent plunge in July 1970.
In a prior diary I asked if we were in The worst housing slump since the Great Depression? As of today, we have come close to our final answer.
Sales of new homes peaked in July 2005 at 1,389,000 on an annual basis. As of today we have declined (-61.3%) from that peak on an annualized basis, eclipsing the declines of 1980-81, 1960, and 1966, and making this officially the worst housing decline since World War 2.
Here's the decline in graphic terms (today's number not included):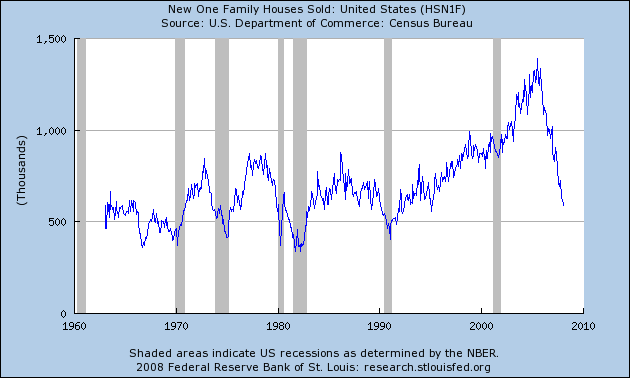 So, as the price of essential goods for consumers has been increasing, the value of their biggest asset has been declining dramaticlly, and is likely to decline a lot more.