So, here I was, working on a contrarian (you ought to know me by now!) diary about inflation being near or past its peak for this cycle (which I'll post tomorrow anyway), when I realized that nobody should give a damn! After all, if there is ZERO percent inflation in the price of unleaded gasoline in the next year, what does that mean? It means that gasoline will sell for $4 a gallon for the entire next year! That's why it's worthwhile to post this graph all over again and highlight it:
because this is a graph of the decline of middle America over the last decade. The average American family hasn't had a raise since 1999, and in fact for most of this decade has brought home less income (inflation adjusted) than it did at the peak of the Clinton boom: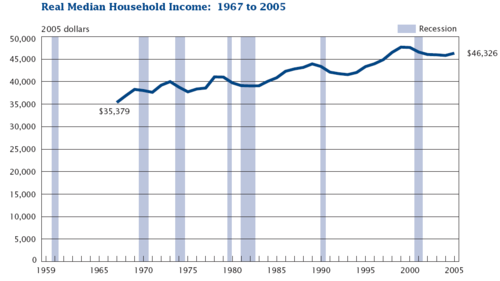 These two above graphs taken together show it bluntly: America hasn't had a raise during the entire Bush/GOP malAdministration, but it's costs -- not for discretionary items, but for essentials -- have gone up nearly 10% as a percentage of its take home pay. As more and more income is being used to pay for food, medicine, housing, and energy consumption, Americans have had to cut back on those items which aren't necessary for living, but make what we have always been told was the "American way of life" enjoyable. No wonder 80% of Americans believe the country is on the wrong track: for them, it is!
This fits nicely with a blog entry posted by Barry Ritholtz today, about how producers are having to eat more and more price increases, and unless they can pass those prices on to consumers (which by and large, they can't), their profits are suffering. Another way of looking at who has had to eat price increases is to check out this graph, which reflects the prices of crude material inputs (blue) with finished producer goods (red) and consumer prices (green):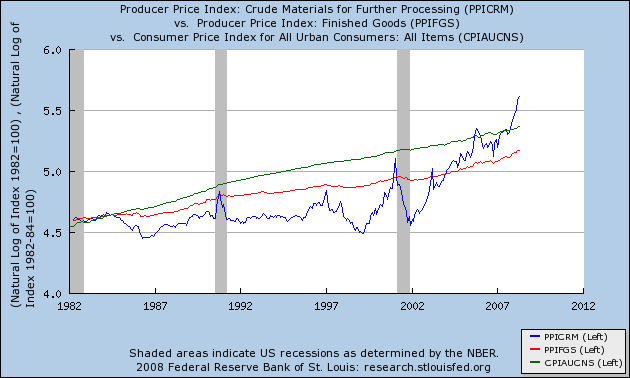 What the graph shows is that, starting in 1982 and up to about 2000, the prices of crude material inputs stayed absolutely flat. Producers were gradually able to increase their prices, however, and more than pass them on to consumers, driving record corporate profits (and the great bull stock market of 1982-2000).
Since 2000, however, commodity prices like oil and metals have more than completely made up for lost ground. Now producers are paying more, relatively speaking, than they ever have since the dawn of Ronald Reagan's presidency. And they are gradually more and more unable to pass those price increases on to ever more strapped consumers.
The result is what I described yesterday, in which as food and energy prices soar, other prices must stagnate or decline. This means that the non-food, non-energy measure of consumer inflation (the core rate) is actually moving in the opposite direction of food and oil, i.e., "core inflation" is decreasing!
Thus, to return briefly to my originally intended topic, when one derives the "overall" inflation rate, which includes both surging food and energy costs, and stagnating or declining discretionary goods prices, the tug of war creates an inflation rate which peaked half a year ago, and for the fifth straight month now for both producer and consumer prices, has failed to exceed that high water mark of inflation in this cycle: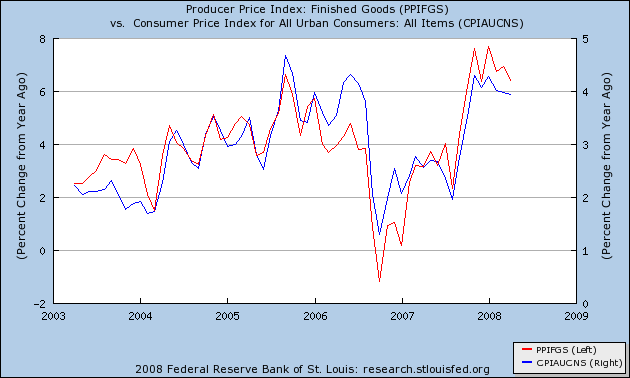 The forces of inflation and deflation are duking it out, and the contest is about even at the moment. This final graph, showing commodity prices(oil in blue, wheat in red, corn in yellow, and gold in, well, gold) courtesy of Bloomberg,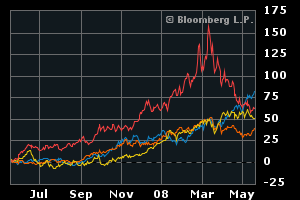 show that commodity prices of every other item save oil either peaked or stabilized a couple of months ago. Runaway inflation at the moment and into the future looks like the story of one and only one item: oil.
Right now the price of oil is measuring, drip by drip by drip, the decline of America.