In February, New Residential Single Family Home Sales decreased by -1.6%, or 313,000 annualized sales. This report has a ±23.9% error margin. January single family home sales were significantly revised, from 321,000, an originally reported -0.9% annualized monthly change to 318,000 new homes, a -5.4% change from December.
New single family home sales are now 11.4% above February 2011 levels. A year ago new home sales were 281,000. Sales figures are annualized and represent what the yearly volume would be if just that month's rate were applied to the entire year.
Quarterly and annual New Home Sales statistics were also released. Below is a graph for 2011 annual new home sales, 302,000 units. As we can see single family new home sales were D.O.A. for 2011.
The supply of new homes for sale, are now at 5.8 months, assuming current sales rates. The amount of new homes for sale was 150,000 units, annualized and seasonally adjusted. This is the lowest amount of single family new homes for sale ever, as shown in the below graph. Simply put, watch out for falling housing bottom calls from the press hitting you in the pocketbook.
Below is a graph of the months to sell new homes on the market at each month's sales rate. We can see these inventories vs. sales times have dropped dramatically, but at still at housing crash bubble time levels to sell them all.
The median time a house was for sale increased to 7.6 months from 7.3 months. Below is a graph of the median time it took to sell the homes sold in February.
February's average price was $267,700. January's average new home price was revised down, from $264,900 to $261,900. November 2003 the average single family new home price was $268,300. The average home price is around early 2004 levels and simply has not come down enough to meet that new normal of low wages for most of America. Homes above $750,000 didn't register sales for the last two months.
February's the median price was $233,700, whereas January's median price was $215,700. Median means half of new homes were sold below this price.
If one looks at median and average sales prices, they are still out of alignment with wages and salaries, which are flat for over a decade, even with record low mortgage rates. Below is a graph, quarterly, of new home sales average price (dark red) and median price (purple) since 2000. We can see there is still bubble in home prices.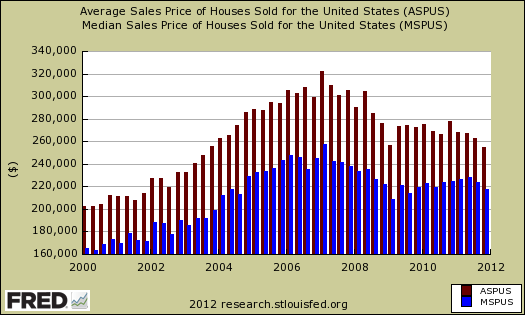 Most interesting is the below graph of new home sales by type of financing. The scale on the left is for cash and FHA insured financing, on the right conventional loans. What we see is cash sales (dark red line) have become almost non-existent, with FHA loans (blue line) taking up the slack. Most home loans are conventional (green line), as one can see by the differences between the left and right scales on the graph.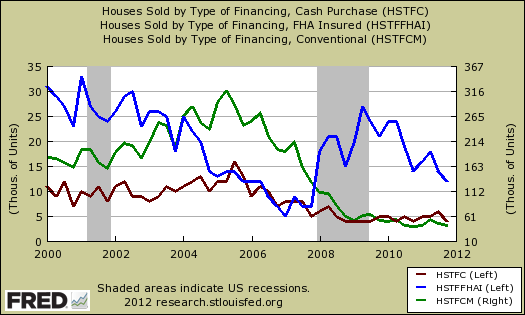 The variance in monthly housing sales statistics is so large, all one can say is the volume in new home sales seems to have stabilized to the new normal, of record lows, and inventories are returning to normal, which implies the new homes market has adjusted to the new normal or rolling around in the bottom. We hate the phrase new normal. Seriously, one can see by volume, the amount of new homes sold has dropped off a cliff. The result of a much smaller data pool is larger amounts of error. The raw number, not seasonally adjusted or annualized new homes sold in February was 25,000.
Additionally, some, clearly wanting the housing market to recover, are claiming this report is all a big fat lie. That one should report the not seasonally adjusted raw numbers and claim new home sales increased on a month-to-month basis as well as a year-to-year one. While this is true for the raw numbers, the same is true for the entire pattern of not seasonally adjusted new home sales going back years and why one can adjust for seasonal cyclical variance and still be accurate. See the graph below, every year, new home sales, not seasonally adjusted increase from that cold, dead of winter January. The improvement from one year ago is already accounted for in the seasonal adjusted 11.4% increase. Since seasons are cyclical (hello summer, fall, winter and spring), the comparisons to one year ago are usually more valid and the change from one year ago does show improvement. Bottom line, don't go gun crazy over these monthly reports, they will be revised.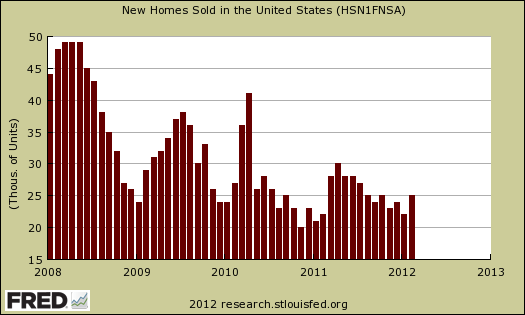 Calculated Risk is a fantastic analysis site on housing data and compares new home sales to recessionary periods and goes back to 1963 in data comparisons.