Federal Reserve Chair Ben Bernanke testified and then stonewalled another Q&A today in the House Financial Services Committee.
First to Fed. economic forecasts, otherwise known as gardening:
Job insecurity, together with declines in home values and tight credit, is likely to limit gains in consumer spending. The possibility that the recent stabilization in household spending will prove transient is an important downside risk to the outlook.
In conjunction with the June FOMC meeting, Board members and Reserve Bank presidents prepared economic projections covering the years 2009 through 2011. FOMC participants generally expect that, after declining in the first half of this year, output will increase slightly over the remainder of 2009. The recovery is expected to be gradual in 2010, with some acceleration in activity in 2011. Although the unemployment rate is projected to peak at the end of this year, the projected declines in 2010 and 2011 would still leave unemployment well above FOMC participants' views of the longer-run sustainable rate.
Next is the written testimony trying to claim a GAO audit of the Federal Reserve would expose sensitive monetary areas, and also (cough, cough) continues to work for consumers and projection (oh yeah Fed, you've done such a good job so far!) seemingly in order to circumvent the proposed CFPA.
Here is the actual Federal Reserve Monetary Policy Report and the Wall Street Journal gives a fairly good blow by blow on the Q&A. Naked Capitalism notes the Bernanke stonewall as well as commentary on Bernanke's liquidity exit strategy (thumbs up).
Let's do an oldie but Goodie, from May 5th, 2009, where the Federal Reserve Inspector General seemingly has no clue on where trillions of money are going.
There was also a House Financial Services Committee hearing, Systemic Risk: Are Some Institutions Too Big to Fail and If So, What Should We Do About It?
Simon Johnson testified and really spoke out on the entire financial oligarchical stranglehold in addition to how to break up institutions deemed too big to fail. This statement below almost reads like a Thomas Paine quote from the American
Revolution:
In a democratic capitalist society, political power flows towards those with economic power.
And as society becomes more sophisticated, the forms of that power also become more sophisticated. Until we come up with a form of political organization that is less susceptible to economic influences, oligarchs - like booms and busts - are something that we must account for and be prepared for. The crucial first step is recognizing that we have them.
Moody's Economist Zandi also testified and reports an astounding $2.6 trillion dollars in losses from the financial crisis. These are losses, not pledges!
To date, financial institutions have recognized some $1.4 trillion of the $2.6 trillion in expected losses (see Table 3). This suggests the system faces another $1.2 trillion in write-downs. Of these, about half, or $600 billion, will be taken by U.S.-based institutions. The rest will be borne by overseas institutions, mostly in Europe.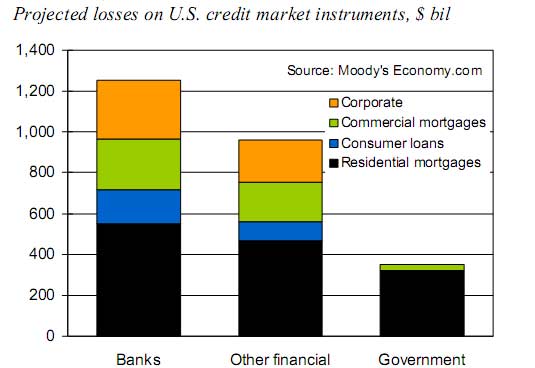 So, you get all sorts of horrifying numbers, damning testimony and then Zandi just tries to blame the entire thing on not rescuing Lehman Brothers, endorses giving more power to the Fed, dismisses the entire history of deregulation, subprime and says Obama's regulatory plan is all good. (shakes head) At least Zandi gives good chart.
Taking a close look at the process for resolving insolvent financial holding companies in order to prevent uncertainty and delay is also a good idea. Nevertheless, the identification of particular firms as too big to fail and, therefore, the beneficiaries of an implicit government guarantee, is a bad idea. I also believe oversight and enforcement powers should remain with the functional regulators and the systemic risk council should serve in an advisory role.
Brookings Institution Alice M. Rivlin also believes setting up the Federal Reserve as this too big to fail (Tier 1) regulatory agency is a bad idea.
What I find so scary about all of this is the message seems to be, oh, crisis all over, nothing to see, nothing to worry about, let's move along now as a theme and by the way, let's enact even worse regulatory ideas that really do not address some of the structural problems and most important of all, let's absolutely deny a few financial oligarchs are walking away with the store. That's the money, the market, the sectors and even more power with the government.