Back in February I wrote:
With the release of today's January 2008 CPI showing a yearly reading of 4.1%, inflation hawks are certainly out in force in the blogosphere. .....

A regular pattern of cpi vs. ppi inflation unfolds over economic cycles.

Consumer inflation is relatively tame, but producer inflation starts out very low, and considerably less than consumer inflation (the red line is under the blue line). Simply put, producer costs aren't rising as fast as consumer prices can be increased, and increased production and sales leads to increased profits. Over time, both consumer and producer inflation increases. Ultimately, producer prices increase faster than consumer prices.(the red line is over the blue line). Producers aren't able to pass on their increased costs to consumers, and their profits decline. When their profits decline, they cut back and lay off employees. A recession ensues as consumers pull in their belts. Prices, especially producer prices, decline, thus setting off the next cycle.

.... we are at or near the peak for inflation in this cycle. ....The more inflation spikes in the next few months, the more consumers will cut back. At some point in about the next 4-6 months, we should see declining inflation as the recession bites.
I followed this up in March, saying:
if this recession follows the patterns of the 1974, 1980 and 1990 recessions, the CPI measure of inflation, which reached recent highs of 4.3% in November 2007 and January 2008, may continue to climb for a few more months, perhaps reaching 5% or more sometime between now and the end of summer, before declining for the remainder of the year.
Here is the graph showing consumer inflation (blue), producer inflation (red) and the inflation rate for oil (green) for the period up to and including the 1974 recession (I included a variety of similar graphs in the March diary):
Well, it certainly took almost all of those 6 months I predicted before consumer inflation peaked, but peak before Labor Day it certainly did, at a rate of increase over 5% and now both producer and consumer inflation, as well as the price in oil, are all in a steep decline, just as in the latter part of the 1974 Oil shock recession: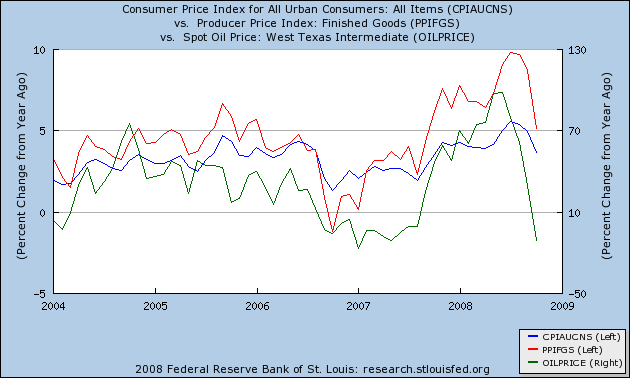 As I wrote this morning, the Panic of 2008 has become the first deflationary recession in almost 60 years, as rampant inflation has abruptly turned into (-1.5%) deflation in the last 3 months. There is a distinct possibility that we are seeing the beginning of a deflationary spiral of declining prices and large increases in unemployment. That being said, if this recession follows the pattern of previous oil shock recessions, we can continue to expect producer prices to decline faster than consumer prices. Possibly as soon as December year over year PPI will be less than CPI, meaning the profit margin for producers has increased. Somewhere around that time, perhaps in the first half of 2009, the recession will bottom out, and at least a weak recovery may begin.