This is a follow up on my previous posts in which I discussed whether we were heading for a deflationary recession or a recovery in 2009. As we found out within the last couple of weeks, the deflationary recession is already here. But are there still grounds to believe a recovery in 2009 is possible? Money supply indicators (m1 [red, green] and monetary base[orange]) continue to indicate so as of this week's update: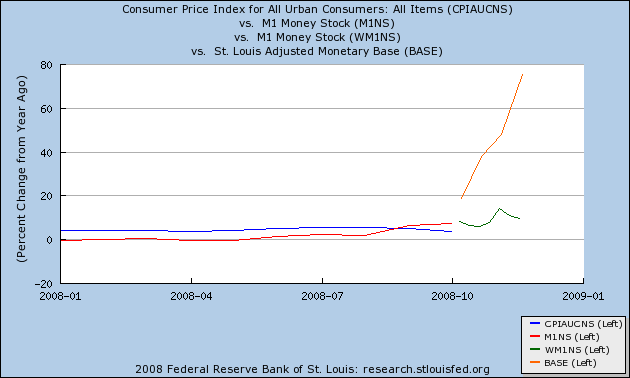 It is now virtually certain that the Kasriel indicator will predict a recovery in the first half of 2009.
Against this, it has been argued, for example, here and by Mark Sunshine of First Capital that money velocity has slowed to a crawl due to banks' hoarding:
However, there was the new September/October surprise of liquidity hoarding and falling velocity of money. Lower velocity has the same effect as falling money supply; GDP is destroyed, commodity prices fall, deflation occurs, and credit is rationed.

But, the Fed's effort to increase money supply doesn't do anything to stop hoarding and maybe makes things worse. A better policy would be increased fiscal stimulus and qualitative adjustments to banking regulations. Qualitative regulatory changes that discourage hoarding include incentives for lending and disincentives for holding cash and Treasuries.
Certainly true, but the counter-argument imho is that this "hoarded" money has not disappeared into a black hole: when banks become more confident, all of this money being thrown at them will still be available to be lent out. Once a new Administration of authentic Grown Ups takes office in January, perhaps with a decent and large stimulus package, that confidence may well begin to appear. When the spigot opens, recovery may not be far behind at all.
Again, I caution that although the coincident data is just awful, showing a deepening recession, that does not mean that the indicators cannot reverse quickly, just as gasoline prices for example did in July.
So an (anemic) economic recovery is still possible in 2009.