The never ending stream of bad news for the U.S. work force cascades upon us like a tidal wave of despair. A host of studies have come out which put into numbers what most of us know, the American worker is being taken to the brink of financial ruin and even death.
Suicide has replaced motor vehicle accidents as the leading cause of death by injury and has increased 15% since 2000. While most people who commit suicide has psychiatric disorders, the fact is higher incidents of suicide do happen during bad economic times. Even more amusing is the government response, as if the best cure for feelings of despair, low self worth is not a damn job along with a healthy dose of respect for working people.
Homeless rates have actually not changed between 2009-2011, but that's only due to a large grant by the Federal government to keep more people sheltered. Now that funds have run dry and under attack by deficit hawks, expect homeless numbers to rise.
Despite the fact that the number of homeless people was essentially unchanged between 2009 and 2011, there is much reason for concern. As this report points out, economic and demographic indicators linked to homelessness continue to be troubling. Homelessness is a lagging indicator, and the effects of the poor economy on the problem are escalating and are expected to continue to do so over the next few years.

The resources provided by HPRP have run out in many communities and the program will sunset entirely in the fall of 2012; despite the need and proven effectiveness these resources have not been replaced. Debt and deficit reduction at the federal level have begun to shrink assistance available to the most vulnerable.

In the year since the data in this report was collected (January 2011), there have already been reports that the number of homeless people is increasing. So while holding the line on homelessness between 2009 and 2011 was a major accomplishment of federal investment and local innovation, the failure to sustain this early recipe for success threatens to undermine progress now and in the future.
We have a huge problem. Americans are absolutely desperate for decent paying jobs. Economists call what's going on jobless recoveries. They run mathematical equations and models, with many trying to obfuscate the obvious. We need good paying jobs. Economists call what's going on job polarization, meaning jobs for the middle class are literally being wiped out. We won't hear them mention the obvious, offshore outsourcing and use of foreign guest worker Visas as being a major cause of the hollowing out of American jobs. Nope, these various studies refuse to mention the O word. You also won't hear about corporations using recessions as an excuse to offshore outsource even more jobs. Yet, that's in part what is happening.
The below figure is from a NBER research paper, The Trend is the Cycle: Job Polarization and Jobless Recoveries. What the graph shows is the percent change in jobs per occupation type for the last 30 years. The researchers utilized previous work which categorized jobs as routine and not. Additionally jobs are classified as brain jobs and brawn jobs. Brain jobs are cognitive, and brawn jobs are physical, ones require manual labor. Manufacturing by it's nature has many routine and manual jobs. Economics, we hope, involves cognitive skills. Routine jobs are ones which rely on exact instruction. Waiting tables is not routine for one is interacting with other people. Below is the change in jobs by these classifications.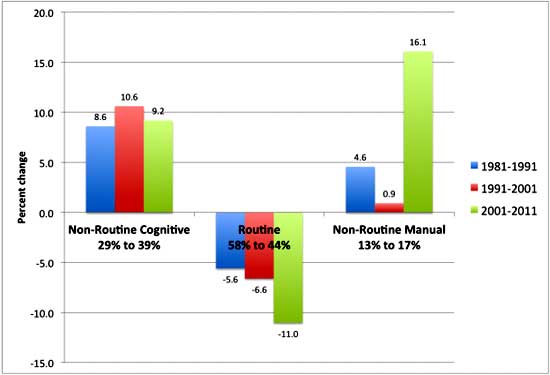 Routine and repetitive exacting instruction types of work means that job can be automated through technological advances and can also be a target for increased productivity. Additionally, a job which is routine and has little interaction with the American public can easily be offshore outsourced. This is actually really bad news for often one must start out in these sorts of jobs to learn the ropes of the trade, so to speak.
Another research paper, which, well, let's just say their conclusions are a bit ridiculous, ignore foreign guest workers and the general labor arbitrage of professionals. Yet contained within the paper are statistics which show the same thing as above. Middle class jobs are being hollowed out. Below is their categorization of jobs and let's just ignore that U.S. professionals are being displaced by foreign guest workers and extremely vulnerable to offshore outsourcing for the moment.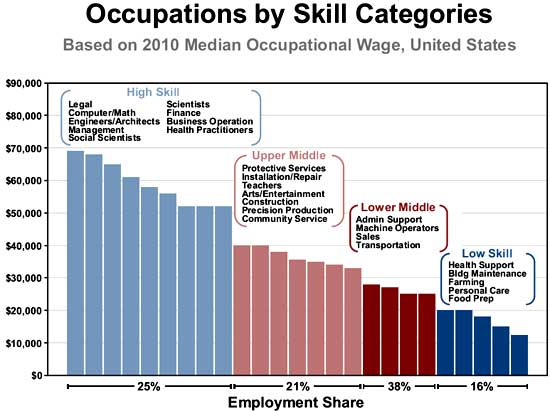 One reason high skilled and low skilled jobs were still around in the States is because the work requires face to face contact. In other words, the more back office a position is, the more routine it is, the more vulnerable that job is to being offshored. Now this is a ridiculous study on it's face, since we know there are literally millions of college educated Americans unable to find a job and the study tries to imply income inequality is the result of these workers being paid too much. Complete garbage unless one wants to look at hedge fund managers and the executive class. That said, their statistics taken from the BLS show something quite frightening, the hollowing out of middle class jobs. These are the middle jobs, ones considered stepping stones up the ladder, yet still require routine work in their execution and not interaction with other U.S. businesses and U.S. customers.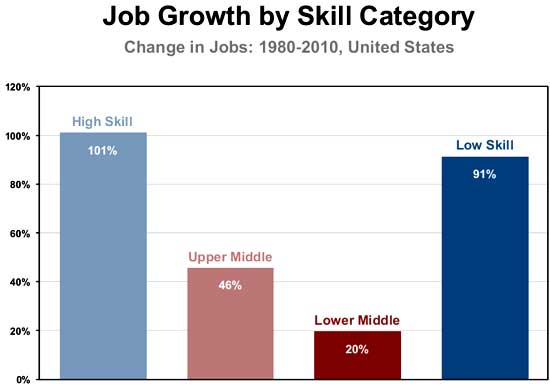 What all of this research shows is good old fashioned work that doesn't require you to be Einstein or chanting do you want fries with that, is being obliterated in America.
There was a most interesting article in the New York Times which exposed NASSCOM, the India offshore outsourcing industry's public relations campaign to get American jobs. I kid you not, the BPO industry requires our jobs to survive and corporations to politicians have been more than happy to accommodate them.
Kiran Karnik, the former president of India's best-known pressure group, the National Association of Software and Services Companies, or Nasscom, was in a position to write a deep and revealing book. But he chose not to make enemies so late in his life. In fact, "The Coalition of Competitors" is largely about how Nasscom used its public relations skills to create the myth of Indian software genius and influenced government policy and journalism to favor the Indian software industry.
What's really disgusting here is corporate America bought, hook, line and sinker somehow India magically produced golden geniuses and all Americans were fruit from the poisonous tree. Here's the reality, Science and Technology are difficult subjects and not everyone can do it.
Beneath the surface of what is considered gleaming Indian talent is an ocean of unemployable graduates. Even a habitually inoffensive man like Mr. Karnik does not hide the fact that India's software industry found the quality of Indian graduates so poor that they considered only 25 percent of engineering graduates and 15 percent of other graduates employable.
If the sale of people isn't bad enough for the U.S. worker, take heart women of Science, no matter how hard you work, you will be considered less than your male counterparts. A new study shows in 2012, we have brazen gender bias.
Despite efforts to recruit and retain more women, a stark gender disparity persists within academic science. Abundant research has demonstrated gender bias in many demographic groups, but has yet to experimentally investigate whether science faculty exhibit a bias against female students that could contribute to the gender disparity in academic science.

In a randomized double-blind study (n = 127), science faculty from research-intensive universities rated the application materials of a student—who was randomly assigned either a male or female name—for a laboratory manager position. Faculty participants rated the male applicant as significantly more competent and hireable than the (identical) female applicant.

These participants also selected a higher starting salary and offered more career mentoring to the male applicant. The gender of the faculty participants did not affect responses, such that female and male faculty were equally likely to exhibit bias against the female student.

Mediation analyses indicated that the female student was less likely to be hired because she was viewed as less competent. We also assessed faculty participants' preexisting subtle bias against women using a standard instrument and found that preexisting subtle bias against women played a moderating role, such that subtle bias against women was associated with less support for the female student, but was unrelated to reactions to the male student.

These results suggest that interventions addressing faculty gender bias might advance the goal of increasing the participation of women in science.
The above study doesn't even touch upon the actual work place, where stark employment numbers clearly show discrimination against women.
One of the more subtle consequences of the peddling and productization of people by national origin, age and sex is the mentality that only the super smart need apply for jobs. Do we really want to say that one must be a genius to simply earn a decent paycheck? Does that seem like quality of life to you? If you say yes, watch out for a stroke or a car accident for one day your money maker maybe splattered all over the sidewalk and then where would you be. Expecting all to master the universe just to make a decent living exposes America's broken contract and promise to her people.
Yet in spite of the increasingly dire statistics and evidence, U.S. corporations are still looking to offshore outsource even more jobs, bring in even more foreign guest workers and labor arbitrage Americans even further. Apple for example thinks Chinese Foxconn slave labor is great, until there is a riot.
The incident began when workers started brawling with security guards.

Unconfirmed photographs and video circulated on social networking sites, purporting to be from the factory, showed smashed windows, riot police officers and large groups of workers milling around. The Foxconn plant, in the Chinese city of Taiyuan, employs about 79,000 workers.
Those iPhones and iPads are just so cool, until you realize those are lost American jobs, as are almost all electronics today.
Americans cannot even get solid health care, even when they have money and insurance.
Roughly a quarter of all hospitalized patients will be harmed by a medical error of some kind. If medical errors were a disease, they would be the sixth leading cause of death in America—just behind accidents and ahead of Alzheimer's. The human toll aside, medical errors cost the U.S. health-care system tens of billions a year. Some 20% to 30% of all medications, tests and procedures are unnecessary, according to research done by medical specialists, surveying their own fields.
What are we to do? America is falling apart. They offshore outsource our jobs, claim we're not educated and highly skilled, in spite of the fact the U.S. has some of the highest percentages of college graduates in the world. They foreclosure on us, take our retirement and try to kill us when we're sick. They lie to us about our skills, which are the best in the world, as they fire us to make their quarterly earnings look better. They claim we must retrain while they force us to train our offshore outsourced replacements. We have politicians who tell bold face lies to the American people and corporations which suck the life blood out of the country and do not give back.
If dramatic policy doesn't change and we have legislation in favor of the U.S. worker, the phrase jobless recovery will be synonymous for jobless. The great emptying out of America continues unabated.