This morning Mish has an entry entitled
Huge Demand For Treasuries As Banks Refuse To Lend in which he cites bank reserves and a sluggish M1 multiplier in support of the conclusion that:
Look at the Base Money chart and the Reserve Bank Credit chart. Base money is soaring but all of it is sitting in bank reserves. In other words, banks are not lending. Clearly we have a huge monetary distortion, but banks seem to understand that lending money in this environment would do nothing but increase losses
Of course, Mish's article is simply received wisdom at this point. There can be no recovery until banks start lending, and they are refusing to lend.
There's just one problem with this argument: it isn't true.
Here is the Federal Reserve graph of Commercial Bank loans and leases through October 2008:

Here is a good description of that statistic:
Interest and fees that banks earn on loans and leases also are a major source of the revenues they report on their income statements. Besides commercial and industrial loans, or "business loans" as they are often called, other key categories of loans reported by banks and savings institutions include loans secured by real estate, loans to finance agricultural production, and loans to individuals—including credit card loans.
As can be easily seen, commercial loans have been made at an increasing rate since August!
To be fair, the idea that banks are sitting on most of that new cash has obvious merit, per Mish's post. But far from hoarding all their cash, banks are in fact beginning to lend out more money!
So much for the meme that "banks aren't lending".
Curious as to whether or not the upturn in lending might have in the past proven a portent of the end to a recession, I looked at past cycles since the series was begun back in 1949. Interestingly, with the exception of two recessions (1957 and 1970), loans actually continued to decline until after the recession's end, i.e., for the other 9 recessions, the statistic was a lagging incidator:

After cross-referencing with items like base money supply, M1, and inflation, and finding no particular relationship, I put Commercial Loans together with the M2 money supply and lo and behold, the graph showed that after a recession starts, M2 has in 10 of the 11 instances started to grow at a rate exceeding commercial loans within a month, give or take, of the end of the recession:
(The 2001 recession is anomalous in that there was an interim period of growth that was ended by the 9/11 attacks. Take away that exogenous event, and the indicator has a perfect record of 11 for 11).
It seems that when the rate of growth of funds available to banks to loan exceeds the rate at which banks have been making loans, that is a signal of the beginning of an expansion.
So, where are we now? Here is a graph of this year with the weekly M2 updates through November: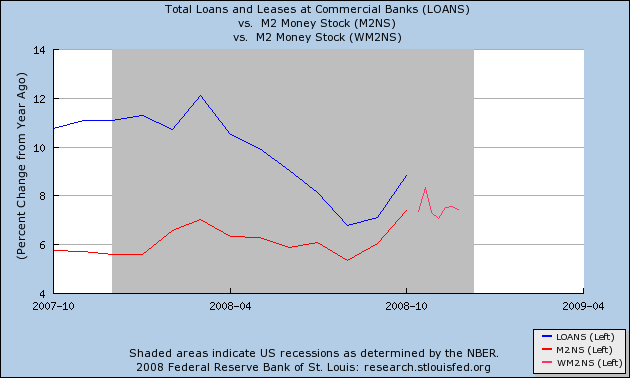 Although M2 has turned up, it does not exceed the loan rate. I will keep an eye on this relationship going forward.
But can we please stop saying "Banks aren't lending?" They are lending, and they are lending at an increasing rate. They are just not lending enough to overcome the other forces in this downturn.