As we approach the new year, everyone and their brother are publishing best of 2011 top 10,20,50, gazillion stories. In the year of the click listomania proliferates and the end of the 2011 brings an enumeration epidemic. We've sifted through the muck and bring you the best of the best of the best collections for 2011.
Best Economic Photoshop
William Banzai7 came up with the top 40 best photoshopped visual commentary on the financial, economic and political events of 2011. Here's just a taste: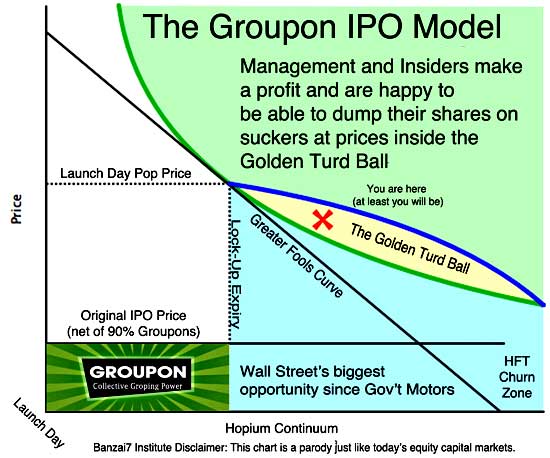 Most Ridiculous Economic Policy of 2011
Economist Menzie Chinn went through the most Fantastical Pseudo Economics claims of 2011. What a surprise, most came from the GOP members of Congress.
One of the best things about being a blogger is being able to comment quickly on the most outrageous, nonsensical assertions presented in the guise of analysis. Here are my "ten best" (actually -- most hilariously deluded) excursions into the fantasy world from my postings to Econbrowser. The inspirations range from Speaker Boehner's math to the Heritage Foundation's simulations.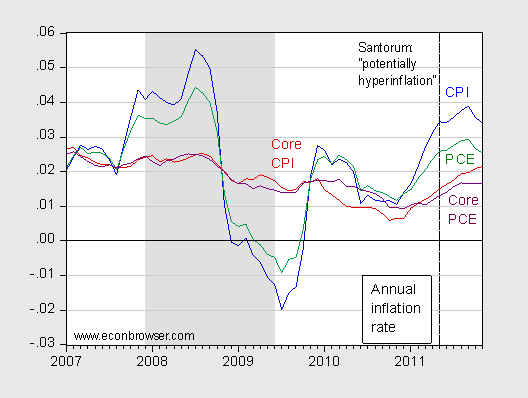 Chinn even marked when stupid claim was made, like the above CPI graph timeline when Rick Santorum and Ron Paul insisted hyperinflation is just around the corner. Both these guys are running for President.
Financial Time's Top 2011 Clicks

What people click on versus a best story are two different things. Case in point is the Financial Times top stories by clicks. Number #1? Exploding watermelons. Seems in China watermelons injected with forchlorfenuron to stimulate growth literally exploded and became toxic.
Politico's Top 10 Weird
Politico did a top 10 weirdest stories of 2011. So many to choose from they must have had a hard time whittling it down. What's #1? A conservative who wants to deny gays rights, yet wants to donate sperm to Lesbians on the side. I kid you not.
Bill Johnson is a former top economic development official in Alabama who mounted a long-shot gubernatorial campaign last year, touting his stance as a conservative Christian opposed to gay marriage. But that doesn't mean he's against same-sex couples having kids. In fact, he wants to help. A newspaper in New Zealand revealed that Johnson had been covertly donating sperm to lesbian couples there so he could bring children into the world.

Johnson, known online in sperm donation circles as "chchbill," forgot one important detail in his quest to become a father: He didn't tell his wife about his secret life. Bad move. She thought he was just working in New Zealand as a contractor. Johnson said he was confident she wouldn't mind his baby-making project on the side. He was wrong.

Johnson, who is reported to have returned recently to the U.S., donated sperm to at least nine women, three of whom have become pregnant.
ZeroHedge's 11-11-11
Zerohedge has put together 11 charts for the end of 2011 of the past 11 years that will shock you. Here's one that again cautions and warns on going nuts over initial unemployment claims numbers.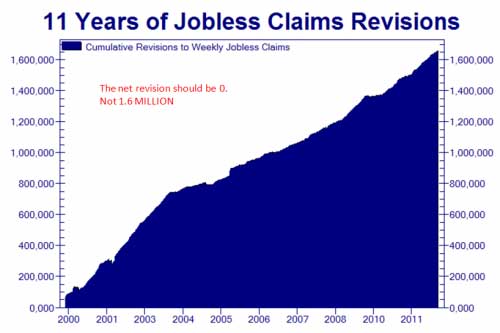 Top 10 Technology Blunders
This is pretty good, a top 10 stupid I.T. moments. #1? The Taliban trying to use tweeter to promote the evils of Western Technology. China getting busted for hacking is mentioned a lot too.
Economist's Top 10 2011 Charts
The Economist put together their top economic charts of 2011. Below is one scary graph of European bonds yearly percentage change.
MSNBC Click Count
MSNBC also sees what people read versus what is news are two different things. Their top story by clicks is something about somebody leaving an ATM receipt showing a $100 million savings balance. Why the interest? Because $100 million stuffed in savings proves the funds are not making any money on interest. I kid you not. There is something from Malcolm X and the house slave in the fact this story received the most reads.
Wall Street tabloid Dealbreaker reported that a hedge-fund manager left his receipt at an ATM in the New York resort village of East Hampton after paying $2.75 to withdraw $400 from an account with a $100 million balance.

Interest on a savings account is less than one percent, meaning that the account holder is making virtually nothing on his pot of $100 million. He could get at least 3 percent in a Treasury account.
Forbes Top 10
Forbes has most of the top stories but coming in at #4 is the double dip recession prediction that didn't happen. Hey, you didn't hear us jump on that bandwagon did ya? Nope, we actually read the stats!
Vatican Does the Top 10
Even the Catholic Church is getting into the top 10 game.
Guardian's Top Business Stories
The Guardian has a top business stories of 2011 and what reigns supreme is the European financial crisis. We had something about this below too, but in terms of clicks, it was a dude. I guess pending Economic global collapse just doesn't drawn in the readers like it used to.
Larry Elliott's grim warning that "the system is ready to blow" struck a real chord. Writing in the wake of the August riots, our economics editor warned that only a new way of managing the global economy could prevent more mayhem in the markets and on the streets. It's well worth another read as we head towards what will undoubtedly be another tumultous year.
Lazy List WaPo
Washington Post top economic stories of 2011 and it too is dominated by the European debt crisis and the great debt ceiling raise debacle. Amazingly enough MF Global didn't make the cut.
Photos of 2011
Honorable mention goes to the Wall Street Journal's best photos of 2011. Many are not financial, but then, what kind of dramatic emotion can one illicit from a pie chart?
We'll be adding to our best of the best list as we find 'em. If you have a top 10, or economic year in review story, let us know in the comments, we'd like to add it.