Last week, Ben Bernanke blamed lax regulation for the financial crisis. He was responding to those who claim low interest rate environment caused the crisis. Conservatives blame Fannie Mae and Freddie Mac. These all were contributing factors and not the real cause of the crisis. The depth of this crisis is too severe to blame one or several contributing factor.
It was economic policy that took root over 25 years ago and fostered since then that caused this economic crisis we know as the Great Recession. I am afraid we are failing to recognize the real cause of this crisis and instead focusing on treating the symptoms and not curing the disease. Failure to correct the defective economic policies will only welcome another economic crisis probably in the not too distant future and probably more severe.
There are two major macroeconomic arrangements that have existed for the past 25 years and that can explain this economic crisis. First, the U.S. economic growth model and the pattern of income inequality and demand generation (the driving force of economic growth) within the economy. Second, U.S. model for global engagement and U.S. participation in globalization. According to Dr. Palley:
The macroeconomic forces unleashed by these twin factors have accumulated gradually and made for an increasingly fragile and unstable macroeconomic environment. The brewing instability over the past two decades has been visible in successive asset bubbles, rising indebtedness, rising trade deficits, and business cycles marked by initial weakness (so-called jobless recovery) followed by febrile booms. However, investors, policymakers, and economists chose to ignore these danger signs, resolutely refusing to examine the flawed macroeconomic arrangements that have led us to the cliff's edge. It is time to take a step back and look at how we got ourselves in this precarious position. Then perhaps we can figure out where to go next.
I. Bad Economic Growth Model
Before 1980, economic policy was geared towards full employment and we had an economy where wages grew with productivity. It was a system that worked for the greatest number of people. Here is how Dr. Palley described it:
This configuration created a virtuous circle of growth. Rising wages meant robust aggregate demand, which contributed to full employment. Full employment in turn provided an incentive to invest, which raised productivity, thereby supporting higher wages.
But this all changed with the election of Ronald Reagan and the emergence of neoliberalism and monetarism. Emphasis turned to inflation. Wage growth and full employment were seen as inflationary and anything related to wage growth including unions had to be destroyed.
And this: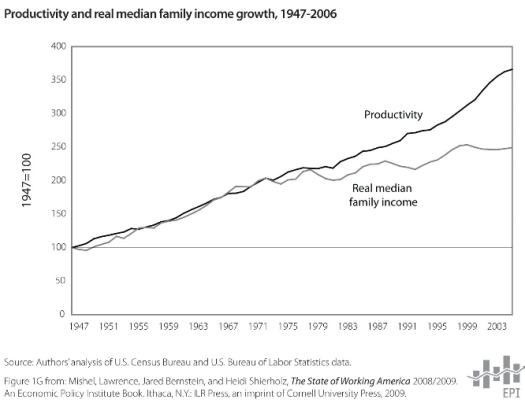 Notice the gap between wages and productivity starting to grow around 1980. What replaced wage growth as a source of demand - hence economic growth? Debt and something called asset price inflation. Check this graph out: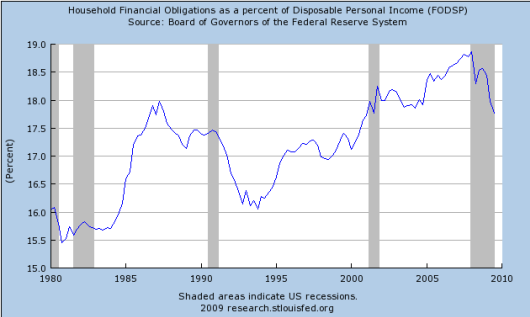 The above graph shows the amount of financial obligations as a percentage of disposable personal income. This measures leverage/debt of a household. Notice a trend? Asset price inflation such as stocks and particularly home prices is needed for collateral to support debt financed spending:
Asset prices are bid up by a host of measures, including higher profits, savings by the super-rich that are directed to asset purchases, borrowing to buy assets, and such institutional changes as the shift from traditional defined benefit pension plans to defined contribution—such as 401(k)—pension plans. Consumption is maintained by lower household savings rates and by borrowing that is collateralized by higher asset prices. The reduction in savings rates is partly a response to squeezed incomes and partly rationalized on the grounds that households are wealthier because of higher asset prices (including house prices).
Increased borrowing was spurned on by 'financial innovation' and deregulation - anything to increase leverage/debt in order to provide a substitute for wage growth. Financialization increased leverage and widened the range of assets that could be collateralized. In the end, financialization and financial innovation did very little for us but did wonders for financial conglomerates and the financial oligarchy.
This flawed economic growth model gets worse. Cheap imports were used to compensate and appease the masses for stagnate wage growth. Rising income inequality and wealth made high-end consumption a larger and more important component of economic activity (See these Citigroup reports regarding U.S. Plutonomy: here and here ). According to Dr. Palley:
These features have been visible in every U.S. business cycle since 1980, and the business cycles under presidents Reagan, Bush père, Clinton, and Bush fils have robust commonalities that reveal their shared economic paradigm. Those features include asset price inflation (equities and housing); widening income inequality; detachment of worker wages from productivity growth; rising household and corporate leverage ratios measured respectively as debt/income and debt/equity ratios; a strong dollar; trade deficits; disinflation or low inflation; and manufacturing job loss.
At the foundation of this flawed economic growth model, whether intentional or unintentional, is redirection of income from low income and middle income households to corporate profits and upper income households. We wonder why the middle class is disappearing. How does this happen: through wage stagnation and huge tax cuts.
The major problem with this economic growth model, and it is what we are experiencing now, is that it is NOT sustainable. Our economy relies heavily on consumer spending and to maintain the level of consumer spending required even more debt and even lower savings rates. There are limits to both requirements: more debt requires even higher asset prices to borrow against but asset prices, as we found out the hard way, don't always go up; and we can't maintain a negative saving rate for long periods of time without severe consequences.
So, we are basically screwed, unless something changes - even government stimulus has its limits, the two drivers of economic growth are exhausted - more debt and lower savings rate. And we wonder why our economic recovery will be sluggish to non-existent. If we try to rebuild our financial worth and repair our family balance sheets that will increase savings rates, which will further deepen and prolong the downturn. This should be a good thing but not with our flawed economic growth model.
The economic growth model adopted after 1980 lasted far longer than it might have been expected to because of our capacity to expand access to debt and increase leverage. That is the real significance of deregulation and financial innovation. However, delaying the day of reckoning also made it more severe when it arrived. When the subprime detonator set off the financial crisis, the economy's financial structure—25 years in the making and integrally linked to the economic logic of the neo-liberal growth model—proved to be extremely fragile and akin to a house of cards.
II. Bad Global Engagement
Our currently flawed economic growth model other major weakness is HOW we participate in globalization. It wasn't enough to engage trading partners in a fair and equitable way that would support both countries economically and environmentally. This economic growth model depends on U.S. companies turn multi-national corporations (MNC) to maximize corporate profits at the expense of U.S. families. But this flawed global engagement did another thing that is often overlooked: it accelerated the accumulation of unproductive debt - that is, debt that generates economic activity elsewhere rather than in the United States.
According to Dr. Palley, our flawed global engagement caused a 'triple hemorrhage' within our economy. First economic hemorrhage had to do with leakage out of the economy via spending on imports. Our income and debt went to buy imports from flat screen TVs to cars. This obviously created economic growth and increase incomes offshore or in other countries and not in the U.S. As a result, accumulated debt left behind a footprint but did not create sustainable jobs and incomes in the U.S..
Second economic hemorrhage had to do with leakage of jobs. This flawed economic model depends on suppressing wage growth and what better way to do that then to out source and offshore jobs particularly good paying manufacturing jobs.
Nice downward trend in manufacturing jobs! But even the threat of offshoring jobs was enough for MNC to secure lower wages. This overall strategy was successful in suppressing wage growth. But it also cut into family incomes thereby redirecting income to corporate profits.
Third economic hemorrhage involved new investment or the lack of it.
Not only were corporations incentivized by low foreign wages, foreign subsidies, and under-valued exchange rates to close existing plants and shift their production offshore, they were also incentivized to shift new investment offshore. That did double damage. First, it reduced domestic investment spending, hurting the capital goods sector and employment therein. Second, it stripped the U.S. economy of modern industrial capacity, disadvantaging U.S. competitiveness and reducing employment that would have been generated to operate that capacity.
III. Got it!
As much as the Fed, financial conglomerates, financial oligarchy, Bush and Obama Administrations deserve the criticism, it was actually accumulative effects of economic policies put in place years ago that caused this crisis. This is the Class War that is being lost today. The suppression of wage growth, over reliance on asset prices and debt, and unfettered globalization caused our demise. We must recognize this if we are going to change anything. If we fail to do so any economic recovery will be short lived and more and more families will fall behind.
Source: Dr. Thomas Palley, America's Exhausted Paradigm: Macroeconomic Causes of the Financial Crisis and Great Recession.
Cross posted @ Rebel Capitalist