NAR reported their December 2012 Existing Home Sales. Existing home sales decreased -1.0% from last month and inventories are down to an absurdly tight 4.4 months of supply. Existing homes sales have increased 12.8% from a year ago. While this is the highest annual increase in five years, existing home sales on a monthly basis are not to even 2009 levels. Volume was 4.94 million against November's 4.99 million, annualized existing home sales.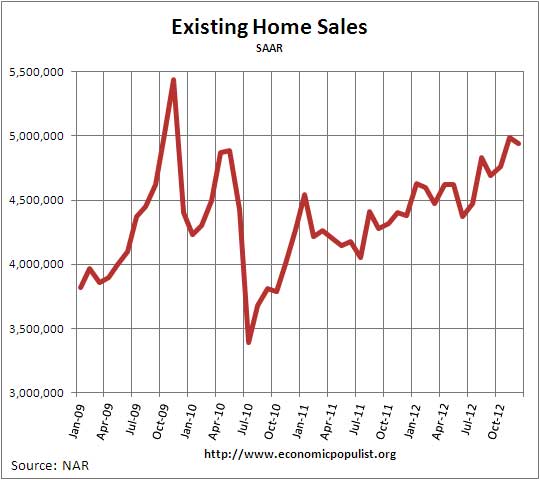 Taking existing home sales by year is a different story. For the 2012 year, existing home sales increased 9.2% from 2011 and volume was 4.65 million sales. This is the highest annual number of sales since 2007's 5.03 million and the strongest yearly percentage increase since 2004. This month's existing home sales decline might have been pushed off the fiscal cliff as there were capital hill whispers about rescinding the mortgage interest tax deduction as well as potential massive tax rate increases.
Existing home inventory decreased 8.3% for the month or 1.82 million existing homes for sale. We have not seen inventory levels this low since January 2001. This is a 4.4 months supply and down 21.6% from a year ago. Inventories by months to sell at current sales volume is now at 2005 levels. Short supply also partially explains the increasing prices.
The national median existing home sales price, all types, is up, now at $180,800, a 11.5% increase from a year ago. The average home price for December was $231,400, a 10.5% annual increase and up 1.5% from November.. According to NAR, we have bubble like price increases.
For all of 2012, the preliminary median existing-home price was $176,600, up 6.3 percent from $166,100 in 2011, and was the strongest annual price gain since 2005 when the median price rose 12.4 percent.
According to RealtyTrac, foreclosure filings are down 36% from 2010, but only 3% since 2011. Below are the 2012 annual levels. Compare these figures to existing home sales annualized volume.
A total of 2,304,941 foreclosure filings — default notices, scheduled auctions and bank repossessions — were reported on 1,836,634 U.S. properties in 2012, down 3 percent from 2011 and down 36 percent from the peak of 2.9 million properties with foreclosure filings in 2010.

The report also shows that 1.39 percent of U.S. housing units (one in every 72) had at least one foreclosure filing during the year, down from 1.45 percent of housing units in 2011 and down from 2.23 percent of housing units in 2010.
Below is the breakdown by types of existing home sales and one thing to notice is how the bargain price of distressed properties has increased.
Distressed homes - foreclosures and short sales - accounted for 24 percent of December sales (12 percent were foreclosures and 12 percent were short sales), up from 22 percent in November but below the 32 percent share in December 2011. Foreclosures sold for an average discount of 17 percent below market value in December, while short sales were discounted 16 percent..
According to NAR 30.1% of existing homes were on the market less than a month.
The median time on market for all homes was 73 days in December, up from 70 days in November, but is 26.3 percent below 99 days in December 2011. Short sales were on the market for a median of 117 days, while foreclosures typically sold in 45 days; non-distressed homes took 74 days.
Yet all cash sales, implying investors are still snatching up homes, are still high and first time homebuyers have remained a consistent 30% of all sales.
All-cash sales were at 29 percent of transactions in December, compared with 30 percent in November and 31 percent in December 2011.
It's not that people got back on their feet and there are less people in trouble, losing their homes, it's more the various laws, delays and rulings on foreclosures that is causing the drop and this is clearly affecting existing home sales supply.
The average time to complete a foreclosure nationwide in the fourth quarter increased 8 percent from the previous quarter to a record-high 414 days.
Contingent short sales are not part of existing home sales active listings and RealtyTrac predicts they will rise in 2013.