You may have missed it. Fannie Mae released their Q3 2011 earnings report and announced more losses due to derivatives.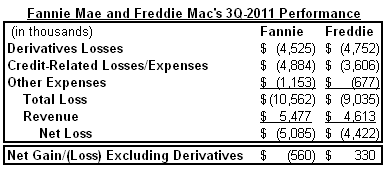 Chart: The Atlantic
Fannie Mae (FNMA/OTC) today reported a net loss of $5.1 billion in the third quarter of 2011, compared to a net loss of $2.9 billion in the second quarter of the year. The company's third-quarter loss was driven primarily by two factors: $4.9 billion in credit-related expenses, the substantial majority of which were related to its legacy (pre-2009) book of business; and $4.5 billion in fair value losses driven primarily by losses on risk management derivatives due to a significant decline in swap interest rates during the quarter. These losses were partially offset by $5.5 billion in net revenues.
That's right, it's bad enough we have the foreclosure, underwater mortgage and toxic mortgage backed securities mess. Now we have bad bets on interest rates, which went to record lows, and this is supposed to be paid for by taxpayers in more bail out funds. Reuters:
The government-controlled firm also attributed the deeper cash drain to losses on derivatives used to hedge its exposure to interest-rate swings and on expenses related to home loans made prior to the 2008 financial collapse. In the year-earlier quarter it had a loss of a $1.3 billion.
Mortgage backed securities are still around as well:
In the first nine months of 2011, Fannie Mae purchased or guaranteed approximately $445 billion in loans, measured by unpaid principal balance, which included approximately $51 billion in delinquent loans purchased from its single-family mortgage-backed securities ("MBS") trusts.
Worse, Fannie Mae are asking for $7.8 billion of additional funds from the Treasury. That's us.
The Atlantic caught this derivative debacle as well and reports Freddie lost $4.8 billion, and Fannie lost $4.5 billion -- on derivatives alone.
Earlier Freddie Mac ask for $6 billion more from the Treasury. That's $9.3 billion in derivative losses in one quarter.
Meanwhile Fannie Mae and Freddie Mac are paying out bonuses and of course Congress is shaking it's rattle over that one:
Lawmakers on Wednesday ramped up efforts to block multimillion-dollar bonuses for executives at Fannie Mae (FNMA.OB) and Freddie Mac (FMCC.OB), the government-controlled mortgage finance firms that just this month have sought billions more in taxpayer-funded assistance.

Lawmakers in both chambers and in both parties have expressed shock at revelations the firms, which have been already propped up with about $169 billion in taxpayer aid, were paying out $12.79 million in bonuses for 10 executives.
How do you lose over $9.3 billion dollars by betting on interest rates? Think about how many people in the United States could get a house for free with $9.3 billion bucks. What's that joke about how many financial executives does it take to screw in a light bulb?