Give Them the Money!
Who am I talking about? Why the United States Auto Manufacturers of course.
America, you've got it all backwards. The outrage should be directed at the financial bail out, not at the automobile manufacturers.
A poll says 61% of Americans oppose the bail out of the auto industry and Senate Majority Leader Harry Reid says the Auto Bail Out bill is dead, they don't have the votes.
More interesting in the poll, people do not believe the collapse of the auto industry will affect them. Well, I have news for you, it will affect you, probably more than you can imagine.
The CAR group issued this report (pdf), which generated many a denial of course. In it they say if the big 3 fail it would be 3 million jobs lost immediately. Now think about the concentration of jobs in Detroit, with an unemployment rate already of 10.1%.
In economic terms, the rapid termination of Detroit Three U.S. operations in 2009 would reduce U.S. personal income by over $150.7 billion in the first year, and generate a total loss of $398.2 billion over the course of three years. The impact of this personal income loss on fiscal government operations at the local, state and federal levels include an increase in transfer payments, a reduction in social security receipts and personal income taxes paid. The net impact of all three of these categories is negative on the government balance sheet, resulting in a loss to the government of $60.1 billion in 2009, $54.3 billion in 2010, and $42.0 billion in 2011—a total government tax loss of over $156.4 billion over three years.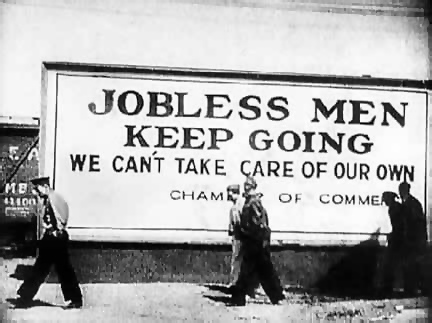 Think about auto workers making $14 dollars an hour. That's just how much the UAW has already given in concessions. What is $14 dollars an hour yearly? $29,120, $21,000 dollars below the median U.S. salary.
The union is already giving up the wages payout to members who were laid off and even some of their health care benefits.
Business Week outlines some of the plans for cost cutting. Some of them involve reducing the number of brands and models of cars, which is probably a good idea but they obviously will be laying off older workers to cut costs too.
Is this the America you want, where older workers lose their jobs because they are perceived as more expensive and all jobs cannot support a family or have real benefits?
What about bankruptcy? Well, while one could argue those holding corporate bonds probably can afford to lose their money, the auto manufacturers have a huge supply chain, thousands of third parties, dealerships and all of that means those businesses, large and small rely on being paid. Restructuring of GM debt by the court could mean those suppliers would not get paid.
A third option, by J. Ronald Trost is to take key elements of a Chapter 11 bankruptcy and write a special bill to give some of these features but without a bankruptcy. Trost gets the ramifications of bankruptcy too.
So, while you are all pissy about taxpayer money going to corporations, please put your rage when it belongs. Your outrage at being plain ripped off should be over the $8.5 trillion in pledges and the banks getting money who do not need it. Use your disgust to support legislation that stops the taxpayer money giveaway to the banks, who outsource and then raise credit card interest rates. Just recently the GAO said the TARP is a glorified corporate pig fest, but the auto bail out ain't part of that.
Just please don't add an economic tsunami to workers, small business, which is what failure of the auto industry will do.