Corporate offshore outsourcing lobbyists are on a roll, going on talk shows and writing propaganda plants as articles. White papers are falling like snow where even labor economics equations are manipulated. Every day we hear pure statistical fiction and politicians tout corporate lobbyist provided talking points, even in GOP debates. Why? Corporations are demanding more immigration and foreign guest worker Visas to displace Americans, repress wages, technology transfer and offshore outsource further.
There is No Labor Shortage in the United States. None, and that includes high skilled labor.
In 2010, there were 3,531,000 computer & mathematical related occupation workers. Yet in 2008, there were 3,676,000. In just this occupational category alone, the United States is down 145,000 jobs, or -4%. The same is true for engineers and architects. In 2010 there were 2,619,000 people employed in these occupations, yet magically, in 2008, average, there were 2,931,000, another drop of 312,000 jobs, or -10.6%!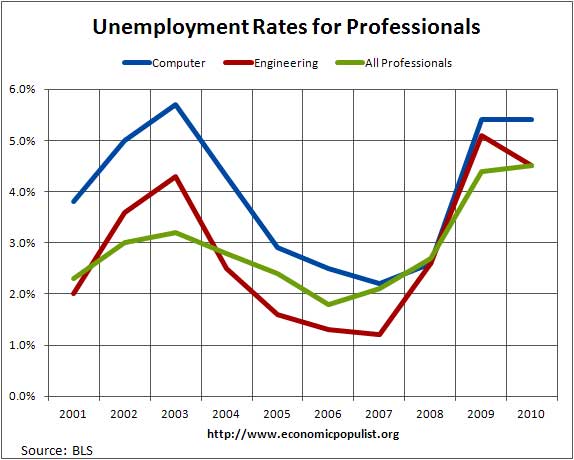 The above numbers are yearly averages, from the BLS. By 2008, the great jobs slaughter was well underway. Realize the unemployment rate for professionals, those with college degrees in specialized areas should be below 2.2% for full employment. Clearly the above shows not only is there no worker shortage in Science, Technology, Engineering and Mathematics, there are U.S. citizens needing a job. Below is the unemployment rate for all with Bachelor's degrees or better. You can see it's double what it should be.
Then, below are some unemployment rates in STEM related careers for Q4 2010, the last data available. What we see are some unemployment rates for STEM professionals approaching the general population, including construction and fast food workers.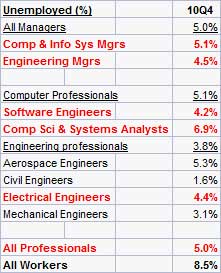 Make no mistake, this latest "skilled" worker importation agenda is not about talent and rare skills. Corporations already have an unlimited amount of Visas, the O-1 type Visa, to bring in talent. The problem with this Visa is sponsors must prove the person actually has rare skills. That's why corporations do not mention it.
A new Economic Policy Institute study spells it out, the J-1 and H-2B Visas are used to displace U.S. workers, in particular, young workers.
There is no labor shortage in these occupations. In fact, quite the opposite – there are hundreds of thousands of unemployed construction, hotel, and landscape workers who are desperate to get back to work. And there are plenty of unemployed young workers who could be trained quickly to do these jobs.

Allowing companies to bring in 200,000 guest workers through the J-1 Summer Work Travel and the H-2B programs to fill jobs that young unemployed U.S. workers need and are qualified to do, in the face of 17 percent youth unemployment, is absurd, and offensive. These programs should be abolished or suspended until the economy recovers.
On H-1B Visas it's also business as usual with Americans fired, not hired and imported foreign guest workers, in the thousands, used instead. While the H-1B cap is reached for 2012, even the Business Insider can recognize most of these Visas are going to labor arbitraging body shops, who also, by the way, hire foreign guest workers instead of American workers.
The lies about worker shortage are coming in fast and furious. Like most things bought and paid for in D.C., the few Congress representatives trying to do something for the U.S. worker come in all political flavors. While the house passed a backdoor green card increase, Senator Chuck Grassley put a hold on the bill in the Senate. Why? Because Americans are being displaced by foreign workers and there still are no protections for Americans.
Longtime H-1B visa reformer Sen. Chuck Grassley (R-Iowa) is blocking Senate action on a bill to eliminate per-country caps on employment-sponsored green cards because "it does nothing to better protect Americans."

The bill, the "Fairness for High-Skilled Immigrants Act" (H.R. 3012), which sailed through the U.S. House late last month on a 389-to-15 vote, eliminated per-country caps on employment-sponsored green cards.

But Grassley, who has been fighting for major changes in the H-1B rules, didn't specify what changes he is seeking to the House bill. It's possible that he may be using the legislation to seek broader concessions in the use of all employer-sponsored visas, including H-1B.

Grassley, the ranking Republican on the Senate Judiciary Committee, last week placed a "hold" on the bill, putting it in a procedural limbo that may sink this effort.
College graduates cannot get jobs:
"I'm frustrated," said Sergey Savrasov, 21. Savrasov recently graduated from UC Santa Cruz with degrees in computational mathematics and business management economics. He now works for a Davis moving company.
Since the start of the recession, the number of new college graduates in California working as cashiers, office clerks, retail salespersons, bartenders, secretaries, child care workers, tellers and customer service representatives has jumped by 40 percent, or 12,000, according to a Bee review of census data.
Make no mistake, corporate lobbyists run think tanks are spewing out economic fiction daily and they have gotten to almost all Presidential candidates to parrot their nonsense. No folks, increased immigration does not help the economy. It does line the pockets of multinationals and especially Indian offshore outsourcers.
Infosys, a notorious Indian body shopper and user of H-1B Visas got the whistle blown on them and now they are coming under the eye of the Fed. Yes, this huge Indian body shopper is under criminal investigation for Visa fraud.
Some displaced Americans got a spine and sued for discrimination after being displaced by H-1B foreign guest workers:
Eighteen IT workers in California have filed a lawsuit against their former employer claiming they were replaced by H-1B workers from India and then laid off in violation of the state's anti-discrimination laws.

In the lawsuit, the 18 workers say that IT managers at Molina Healthcare Inc. increasingly catered to the Indian workers while leaving U.S. workers, mostly security analysts and programmers who earned at least $75,000 a year, feeling excluded prior getting laid off last year.

The lawsuit, filed in April in Los Angeles Superior Court against Molina, its CIO at the time, and Molina's outsourcer, Cognizant Technology Solutions, contends that over a period of several years the U.S. workers were marginalized as the IT department became dominated by Indian nationals.
If you think immigrants bring money into the U.S., think again. There already exists a EB-5 Visa which doesn't contribute much, in fact for every $100 of increased foreign investment that year, the EB-5 program contributed about one penny.
Additionally, there is a class action lawsuit against major high tech companies trying to fix wages of high tech workers. Seems they are in collusion on salaries, wages for techies. Our Senators are of course into the act to repress wages in STEM and introduced a bill in Congress to deny tech workers overtime pay.
You'll hear campaign rhetoric about stabling a green card to the forehead of every foreign student. Well, that does sound like a disaster since college recruiters are flooding U.S. universities with foreign students, simply because it's profitable. Not a grand idea to turn our educational system into a green card machine. But when profits are on the line clearly policy makers could give a rats ass about what happens to U.S. students and their educational and career opportunities.
Worse, when some of these body shops commit fraud, they simply go back to their home country. No justice involved.
Reddy and Padma Allen owned a computer consulting firm that pulled in $450 million in city contracts since 2005. Earlier this month they walked away with $90 million of it.

Their company, TechnoDyne, was named the number two minority owned firm by NJBiz, and Ernst & Young honored Padma Allen as last years entrepreneur of the year, according tro the New York Post.

Two weeks ago the couple were called to appear before a grand jury to face questions about kickbacks to get CityTime contracts, and money laundering. In response, the pair boarded a jet for India and haven't been heard from since.
If you hope there is a difference between Democratic and Republican political leadership on this issue, think again. Literally the two parties copy each others legislation. Or more accurately, they both introduce the exact same legislation written by the exact same corporate lobbyists behind the scenes demanding legislators flood the U.S. labor market in exchange for campaign cash.
One of the ways lobbyists spin the great corporate controlled migration agenda is to claim either immigrants innovate or somehow create jobs. Let's just list some of the tricks used to come up with such spin. First, they refuse to acknowledge U.S. STEM workers are being displaced. Period. They literally set their worker substitution variables to zero in labor economics modeling equations, all to make things come out looking rosy. Since when one can just throw away part of a mathematical model to make it say whatever your corporate sponsors want it too is not only invalid, it's a brazen violation of scientific objectivity.
Another spin technique is to claim people who came to the U.S. as infants are immigrants or equal to imported H-1B foreign guest workers on corporate controlled Visas. Sorry, for all practical purposes someone who has been living in the United States since childhood is a de facto American. Trying to make a jump from infants as a rationalization to import more foreign labor on guest worker Visas is truly fiction.
One of my favorite disgusting bad science spin tricks is going through the U.S. patent database, looking at an inventor's last name, and deciding since that name looks kind a foreign, that inventor must be an immigrant. We cannot tell you how proud Yen Wang is to be misclassified as a foreigner when his great, great grandparents slaved away on the U.S. railroads.
Finally, these same biased lobbyists, those with philosophies, trying to put their agendas and opinion into research spin, refuse to acknowledge the missed opportunities for U.S. workers. For example, if a U.S. woman engineer is discriminated against, pushed into sales and marketing fluff jobs instead of leading an R&D team, she won't have patents. If an American over the age of 35 is pushed out of his job, odds are he won't have patents. Filing patents costs huge money and usually only large corporations sponsor and pay for patents. On your own, you're just not going to whip out $50k of your own money every day to file a patent.
What's the bottom line? There are plenty of opportunities for international talent in the United States, more than enough. But turning immigration into a slave trader's profit center is eroding not only U.S. worker's opportunities and careers, it's also hurting that very international talent.
When Indian offshore outsourcing body shops grab the Visa applications, or slots to graduate school are filled up by foreigners, found by unscrupulous, for profit recruiters, not only does that deny opportunity to the real talented innovator who happens to be foreign, it also denied opportunity to that talented American who would have been a future inventor.
How many Teslas are unemployed right now who could be innovating the next great technological shift and economic growth? We'll never know with corporate lobbyists and their paid biased spin machine drowning out all reason.