Readers of this site are surely aware state budgets are in huge trouble. This evening, the news went prime time in a 60 minutes segment, A Day of Reckoning: State Budgets Crisis. Currently States, all 50 of them, have a $500 billion deficit hole combined.
Needless to say all sorts of articles are popping up about the lack of safety in the municipal bond market as a result of the 60 minutes report. But is it as bad as 60 minutes implied? According to Bloomberg, the Stimulus and Federal Government have filled a $575 billion budget hole projected for 2010 fiscal year.
Yet New Jersey Governor Christie, a Republican is busy gunning for pension funds, claiming nothing is left.
Much of the 60 minutes report is based on Meredith Whitney's estimate that at least 50 state and local governments will default. Below is a more detailed interview with Whitney where she explains in more detail her default assessments:
Below are charts from a report from CMA on Q3 2010 sovereign credit risk. As we can see states actually trended lower in risk, yet their 5 year probability of default rivals Iceland and Ireland.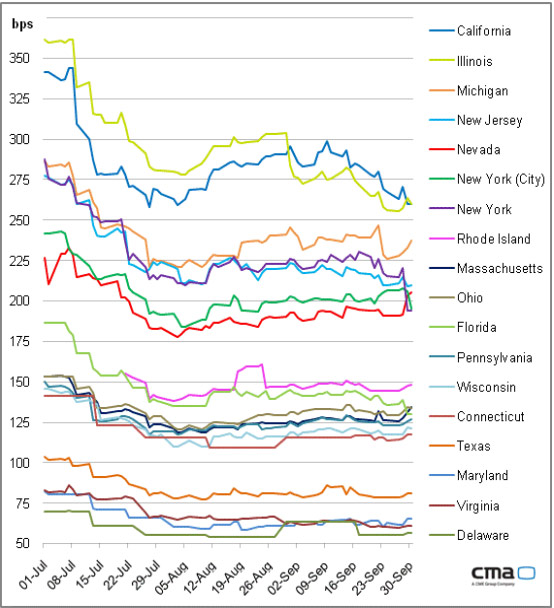 Below is CMA's estimates on the percent risk of default for the top worst states.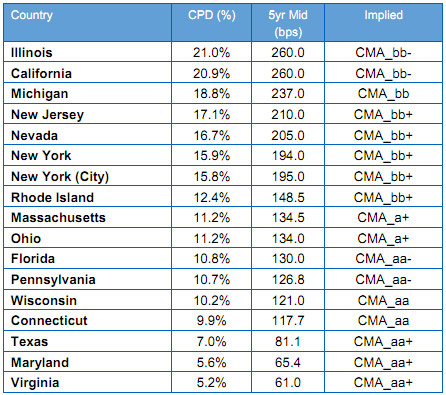 Yet if one notices in the video, once again pensions and retirement are the targets. There are a host of budget busters, from gross inefficiencies to interest and bad management to pet projects by special interests and really inane tax policies. That's not to say states and local governments aren't hurting, but what is missing often from the dialog is simply smart money management and efficiency.
In California, for example, the public employee pension fund, CalPERS, is about 7.5% of the budget, at $6.5 billion. Is anyone aware the estimates for California to keep their sanctuary policies for illegal immigrants costs over $10.5 billion a year?
Voters rejected legalizing pot in California, which made great economic common sense and also would have helped the budget enormously. Yet these same voters, from the marijuana usage estimates, seem to have no qualms buying their weed from Mexican drug cartel suppliers instead.
Pick an issue where for whatever reason, common sense and economics 101 calculations are trumped by philosophy and politics. Now, the attack is on retirement funds. Indeed, Alternet wrote up a good overview point on Corporate America's plans to raid our retirement.
So, yes Virginia, this crisis is real, but some of it is self-made and other parts are your classic never waste a crisis to attack retirement and social security. Whatever you do, don't do a run on municipal bonds and realize each state has different risks, probabilities of defaults and even different problems and reasons why their state and local governments are in the messes they are. About the only common thread are special interests and attacking the U.S. middle class as agendas.