This is from a quote from Mervyn King, Governor of the Bank of England. Here is the full quote:
It's the level, stupid -- it's not the growth rates, it's the levels that matter here
I got this quote from reading Mohamed El-Erian's article in the Financial Times. Dr. El-Erian coined the phrase the "New Normal" for economic growth. While I agree with his conclusion, I don't entirely agree with his analysis for the "New Normal".
In his FT article he talks about how are we are reverting back to same analytical framework that encouraged "short-termism" and got us into this mess.
Investors have not yet accepted his [Mervyn King's] insight that the absolute levels of income, debt, wealth and unemployment, not just the rates of change, are what matters today. They need to, and soon.
And we see this analytical framework at work everyday in the traditional business news media. Take a look today, a day in which new personal consumption expenditures are released:
U.S. Consumer Spending Jumps the Most Since '01 in Sign Economy Rebounding
Funny, if you click the link the title of the story changes to something less dramatic.
So, let's take a graphical look at some of the indicators that Dr. El-Erian mentioned in the above quote. First, income: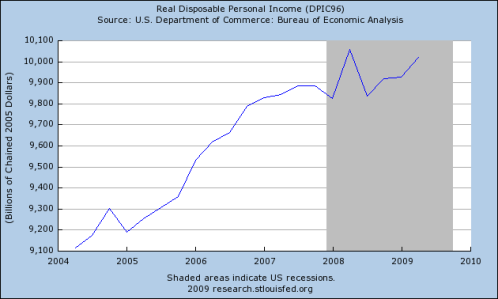 Interesting, could it be that the top income brackets are driving this higher? But we still have a way to go to get back to "normal". How about consumption:
Wow, this is a huge problem. We have done nothing to change our economic growth model that relies heavily on consumption. If we maintain the status quo in terms of our economic growth model we have a very long long way back to "normal".
What about debt levels?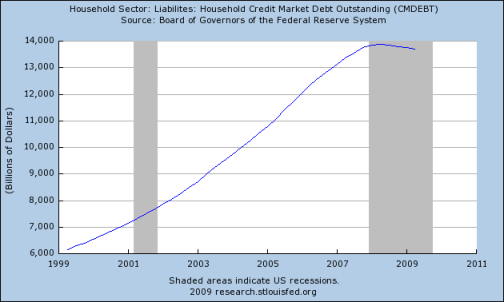 Not a pretty picture. If we look at total levels of debt this is still too high. Then how about the worst constraint on economic growth: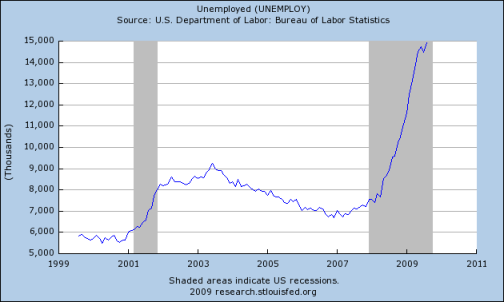 Enough said with this.
As Dr. El-Erian has said:
The longer it takes for investors and the policy consensus to shift to the appropriate analytical framework - one that factors in levels rather than just rates of change - the greater the risk of disappointment in 2010.
I would stress that if we don't change our framework and realize we are heading into a "New Normal" with incredibly high structural unemployment and unprepared to deal with that we are destined to far greater problems than a bear market.
Good luck.