Every month we show a graph of the counted long-term unemployed, currently at 5.2 million. Behind every data point on this line is a real live person, with ability, skills, promise, knowledge and capability who desperately needs someone to hire them.
CBS 60 Minutes brings home that reality in a segment about the long term unemployed. Putting a face to long term unemployment statistics shows highly educated, responsible and experienced people unable to find a job. People just like you.
In the above segment, we see normal, middle class, hard working people who have been unemployed ongoing for almost four years. They have run out of unemployment, have no retirement, lost their homes and are now desperate. What has happened to America when hard working people who have done everything right cannot find a job?
Watch the above carefully and realize this should be the national outrage and the immediate crisis. Not Romney or Obama or Ryan or even the lack of financial criminal prosecutions should override the most critical crisis of our time. America must provide employment to her people, no ifs, ands or buts. Unemployment and getting people work should be on the front page of every newspaper and site, be debated on the Congressional floor and on the minds of policy makers every day until people's livelihoods are restored.
Every month we also overview the latest job openings report. This report shows the job market, for any profession, is still beyond pathetic. The one statistic ignored by the press are the actual number of hires each month. Actual job hires have only increased 19% since the July 2009 Great Recession trough. In other words, employers are still being ridiculous and absurd in their hiring practices.
Last May the Pew Charitable Trust published a report on the long term unemployed. Pew analyzed BLS statistics for people who had been out of work for a year or longer. Just as 60 Minutes shows in the above segment, Pew's statistical dig also found highly educated people out of a job for years. The below graph, from Pew's analysis, shows even with a Masters of PhD, people are suffering under long term unemployment.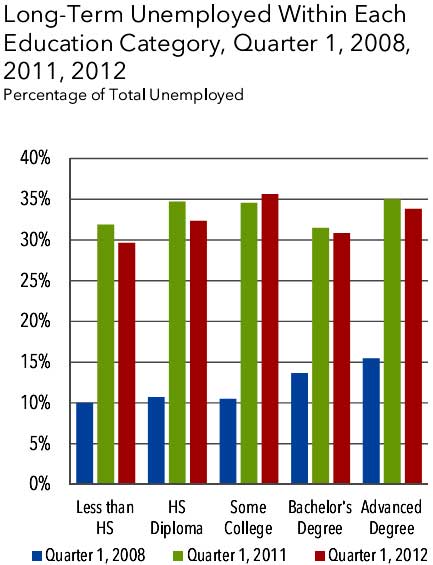 What Pew's analysis also shows is clear age discrimination. Below is their graph of the long term unemployed by age.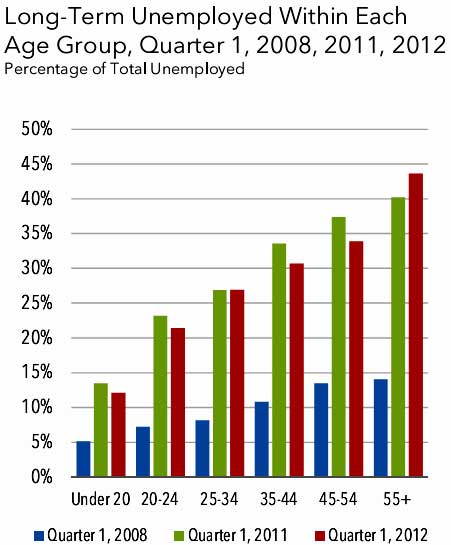 The above graphs show the increase in long term unemployed for each year since the Great recession started, December 2007. We can see, across the educational background spectrum, long term unemployment spares no one. A professional career and college degree does not save you this time around. It also shows massive age discrimination and these days something must be done to stop it. Institutionalized age discrimination shows up in job advertisements, in interview questions and most of all, attitude. People simply need income, work and there is no fall back plan for most at this point.
The good news about the 60 Minutes segment is the report on an innovative internship program to get people working. It's about time, someone, somewhere did something. The bad news is people should plain just be hired, although the idea of contract to permanent employment might convince more employers to try before you buy, enabling more people to gain opportunities.
We'd like to see even more innovation to get people back to work, a lot more. We suggest incubators to start up businesses, complete with grants, tax incentives and investment, but with a caveat. The incubator and startup incentive is created and run by the long term unemployed. New business hires are also required to be from the long term unemployed. Think that's absurd? It's not. We have millions of people out of a job with years of experience, skills and advanced education, currently all going to waste. There are plenty of great business plans out there, innovative ideas, new services to be developed, new products to be launched and we also have millions of long term unemployed capable of creating those services and products.
The most disturbing elements exposed by the CBS report are the shame, low self-esteem, feelings of worthlessness, depression and despair that the long term unemployed suffer under. The ones who should feel bad, really bad, are unscrupulous employers, politicians and America at large for not offering work and creating opportunity for their fellow Americans.