As Calculated Risk points out, economic cycles typically run in an order. The first portions of the economy to turn positive are typically personal consumption expenditures and residential investment -- even during the recession. Afterward, investment in durable goods such as equipment and software. Finally, after the recession (in terms of GDP bottom), unemployment and non-residential investment.
Research has shown that most economic pundits miss turning points because they just project past and current trends into the future. The best way to look into the economic future is usually just to look at the Conference Board's Index of Leading Economic Indicators.
In April, Leading Economic Indicators surged 1% as 8 out of the 10 turned positive or at least neutral. With May over, let's take a preliminary look at what those indicators might show.
Here is a list of the 10 Leading Economic Indicators, with the weights given each indicator by the Conference Board:
- real money supply (35%)
- average weekly manufacturing hours (25%)
- interest rate spread (10%)
- manufacturers' new orders for consumer goods (8%)
- supplier deliveries (7%)
- stock prices (4%)
- consumer expectations (3%)
- building permits (3%)
- average weekly initial claims for unemployment insurance (inverted) (3%)
- manufacturers' new orders for durable goods (2%)
We already know what by wight over 50% of the above will be for May. Real money supply is still strong as the Fed continues to re-liquify (or re-solvenc-fy) the banking system. The yield curve is even more strongly positive than before, due to the backup in long term rates while short term rates are still essentially 0%. Stock prices (over the last 90 days) have also strongly rallied. Consumer expectations about the future are also rising sharply. Average initial claims for unemployment insurance were basically flat for the month. By weight, that's 52% positive, and 3% neutral.
This week, we'll receive information on over 30% more of that weight: supplier deliveries are reported tomorrow, manufacturers' new orders on Wednesday, and average weekly manufacturing hours on Friday. Of these three, the last one is the most important, not just because of its 25% weight in the index, but also because it was dropping like a stone until turning slightly upward in April. Whether April's increase was just a blip of data, or whether it presaged a real manufacturing turnaround may well be determined this week.
Two other versions of leading economic indicators, one public, one private, are updated weekly and so we already know what they showed for May.
The Aruoba-Diebold-Scotti Business Conditions Index is derived by the Philadelphia Federal Reserve Bank. It continued to show strong positive momentum through May: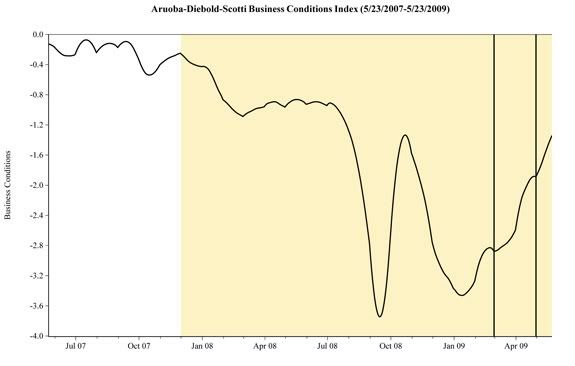 The ECRI weekly leading business conditions index is another, privately derived index of leading business indicators. ECRI has been doing this for over 100 years, including the Great Depression era. Their index continued to show strong positive momentum throughout May, Although the below graph only goes to the 15th, the index continued to increase through May 29 :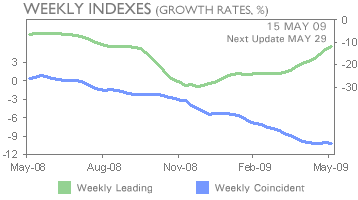 ECRI says that 8 of 9 times their indicators have turned this decisively positive, a recovery was only a few months away. The exception -- 1931.
With that sobering qualifier in mind, it is important to note that while the short term movement has all been in the correct direction, nevertheless both show that business conditions aren't signaled as "positive" yet. A longer-term view of the graphs shows that both have risen to the level of previous "soft" recession bottoms, e.g., 2001: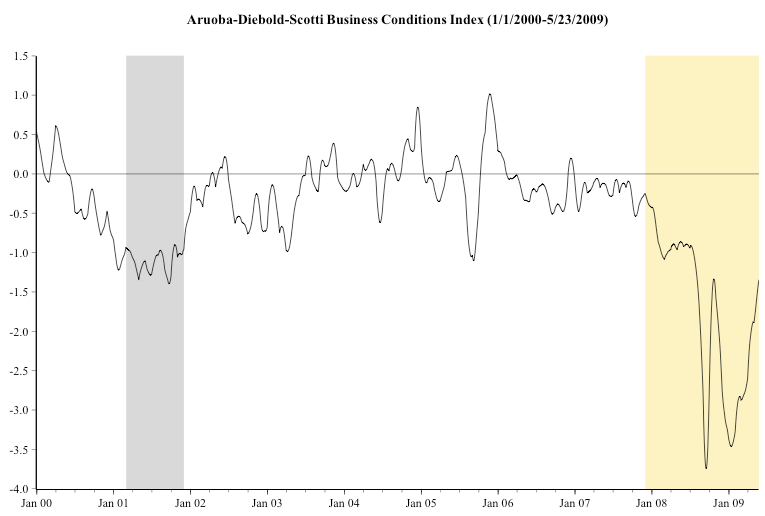 I'll update this review at the end of this week, when the new indicators, especially average manufacturing hours, have all been reported.