Today the Census Bureau reported on Housing permits and Housing starts.
New housing starts for February came in at a seasonally adjusted 583,000, up from a revised 477,000 in January.
This ~20% increase is by far the biggest increase in any month's data since the top of the housing market at the beginning of 2006.
Permits had a similar increase.
This data is more evidence that the Housing market is transitioning from Cliff-diving to rubble-bouncing. This is good news!
UPDATE: Almost all of the rest of the opinion in the econo-blogosphere is that this number is "just one month's data" or "just noise in a noisy series" or "don't get too excited" yadda yadda yadda blah blah blah.
Except with this data series (shown here from the January 2006 peak), you really only have two choices: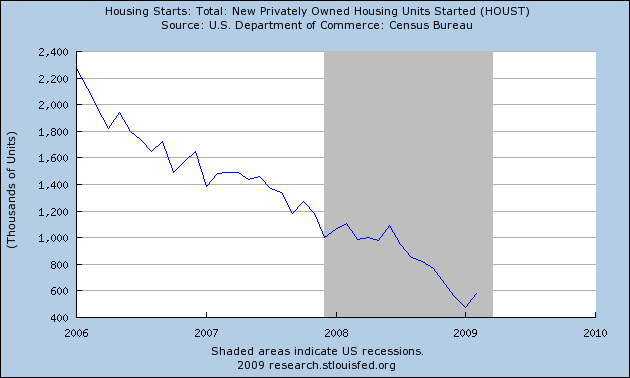 1. The decline of ~500,000 units a year will continue intact until we hit 0 by about the middle of next year, proceeding thereafter into the End Of Western Civilization.
Or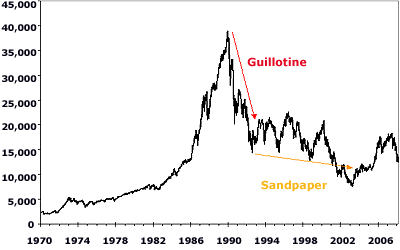 2. The housing crash transitions from guillotine to sandpaper (or cliff-diving to rubble-bouncing) phase sometime this year:
There simply is no other choice.
All things considered, an unexpected monthly increase of 22% strikes me as a good candidate for the beginning of that graphical transition.
Reporting the number this morning, Calculated risk says:
One month does not make a trend - However I do expect housing starts to bottom sometime in 2009.
Readers of my posts are not surprised.