The United States Population has the largest percentage of foreign born since 1920, including 10.8 million illegal immigrants and the Supreme Court is taking 'em on. SCOTUS just ruled the lower courts must re-examine their ruling on Hazelton Pennsylvania's laws to verify renters and workers are there legally. This basically voids the earlier ruling against the city of Hazelton.
The US Supreme Court on Monday ordered a federal appeals court to reexamine whether Hazleton, Pa., can restrict illegal immigrants' ability to work and rent housing.

A federal judge and a panel of the Third US Circuit Court of Appeals in Philadelphia had blocked the local laws, saying they clash with the careful balance struck by Congress in federal immigration statutes.

On Monday, the Supreme Court, in a summary order, vacated the Third Circuit's September 2010 decision and remanded the case for further consideration in light of the high court's May 26 opinion upholding a similar law in Arizona that punishes companies that employ illegal immigrants.
Earlier the Supreme court ruled in Arizona's favor, they can punish employers who use illegal labor.
The above graph is from the Congressional Budget Office and shows the total foreign born for each state. This includes permanent residents, foreign guest workers, U.S. citizens and illegal aliens. The CBO has a new report analysis on the foreign born in the United States. The results are shocking. California's population is 26.6% foreign born. New York is over 21.5% and New Jersey, 21.3%. This is the largest percentage of foreign born since 1920 in the U.S.
The Department of Homeland Security estimates there are 10.8 million illegal immigrants in the United States, or roughly 4% of the total U.S. population. . Additionally they are concentrated in just a few states, California, Texas, Arizona and Nevada.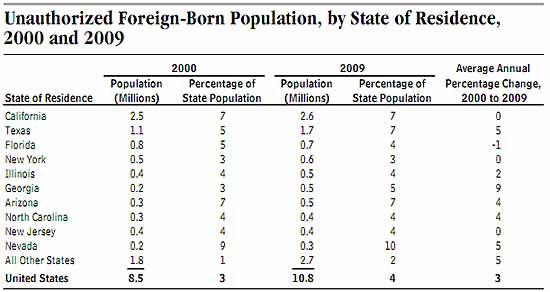 In 2009, unauthorized residents made up about 10 percent of the population of Nevada and about 7 percent of the population of California, Texas, and Arizona. Almost half of all unauthorized residents lived in those four states.
Read it and weep people who like to claim any discussion of this is racist. 62% of illegal immigrants are from Mexico.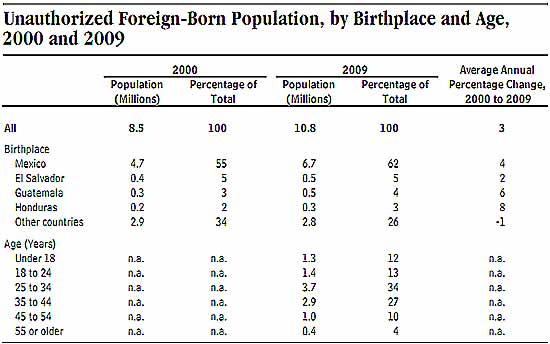 Of the foreign born, 29% have less than a high school education with 56% of those coming from Mexico and Central America having less than high school. The numbers appear to be skewed from other countries, for unfortunately they are counting the European and Asian Masters degree equivalent to a U.S. Masters degree. It's not, the credit hours are more equal to a U.S. Bachelors degree and the Asian and European Bachelors degree is more like trade school, or an associates degree. Unfortunately the U.S. education system, due to a never ending supply of cheap students and high tuition, has devalued the U.S. degrees in order to make these other nations more than happy to supply a never ending stream of foreign students. Literally American universities are not making college more affordable for Americans, instead, we have a new industry recruiting foreign students.
SCOTUS also weighed in instate tuition for illegals. Surprising SCOTUS would reject this case while ruling for enforcement on others, but regardless, if you are here illegally but meet other requirements, you can get instate tuition rates in 9 states by promising to obtain U.S. citizenship down the road.
The justices refused to hear an appeal by group of out-of-state U.S. citizens after the California Supreme Court unanimously upheld the law and dismissed their lawsuit.

The 2001 law provides that any student who attends a California high school for three years and graduates can get in-state college and university tuition. Illegal immigrants who qualify must swear they will seek to become U.S. citizens.

Nine other states, including New York, Texas and Illinois, have adopted similar laws. Opponents said California unlawfully discriminated against U.S. citizens in favor of illegal immigrants and said the case involved a question of great national importance.

Attorneys for the students who pay higher out-of-state rates said about 25,000 illegal immigrants receive the tuition breaks every year. The state put the number at 6,500 students.

California, which faces a worsening budget crisis, spends more than $200 million each year subsidizing the tuition of illegal immigrants, attorneys for the out-of-state students said.

They said the California measure was trumped by a 1996 federal law barring any state from providing illegal immigrants any higher education benefits based on residency unless U.S. citizens were eligible for the same benefit.

The California Supreme Court ruled the state law was based on attending high school in the state, it says nothing about state residency and it does not violate federal law.
While the focus is on illegals for instate tuition, consider the percentages of foreigners in our higher education system. Where is the outrage for not putting all Americans first for educational opportunities in the United States, foreign born, legal or not? The reality is more and more Americans cannot even get into college or if they can, they assuredly cannot afford it. Bear in mind public higher education is taxpayer subsidized.
Remember that concept of workplace diversity? It appears from these 2009 statistics, the U.S. labor force is more stratified than ever. Certain occupations are dominated by illegals and others with H-1B Indian workers. In some occupations, there are more foreign born working in them than Americans. Additionally some occupations have country of origin specific dominance. Clearly certain occupations have been targeted for labor arbitrage by manipulation of U.S. immigration, in order to flood the labor market in those sectors. Yes Virginia, whether one has a PhD or no high school at all, the laws of supply and demand in labor markets still apply. Too many workers available for a job, wages will decline and worker displacement will shoot up.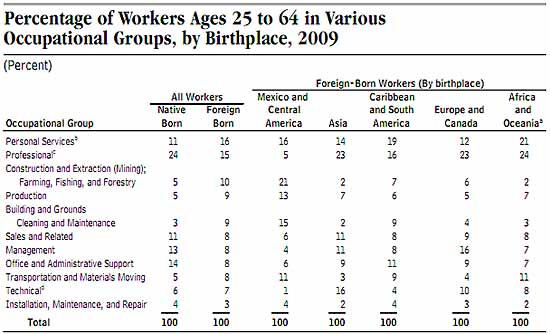 Literally the foreign born employed in technical fields is greater than Americans. This is not due to Americans being unskilled or any shortage. Age discrimination in this occupation is extreme, often starting at age 35. Sex discrimination is horrific, with 52% of women in these fields dropping out of their careers in 10 years. This is due to the never ending use of foreign guest worker Visas and our university system. That all would be good if H-1B, L-1 and other manipulations of the U.S. immigration system didn't enable U.S. worker displacement and global labor arbitrage.
Another shocking statistic is those living in poverty. While 14% of Americans live in poverty, 25% of the foreign born, who are not U.S. citizens, live in poverty. Those who obtain citizenship are the lowest poverty rate group, 11%.
While various special interest groups try to spin immigration topics, especially when it comes to labor markets and arbitrage, these estimates from the CBO and DHS look fairly solid and also imply the United States labor markets are literally saturated.