The saying goes "a picture tells a thousand words". If that's true then these charts I'm about to show you tell a huge, scary novel.
Let's start with this one.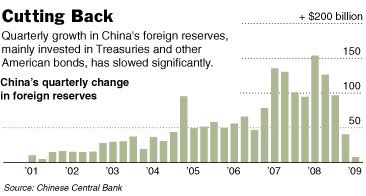 Reversing its role as the world's fastest-growing buyer of United States Treasuries and other foreign bonds, the Chinese government actually sold bonds heavily in January and February before resuming purchases in March, according to data released during the weekend by China's central bank.
Mr. Wen voiced concern on March 13 about China's dependence on the United States: "We have lent a huge amount of money to the U.S. Of course we are concerned about the safety of our assets. To be honest, I am definitely a little worried."
Increasingly China is becoming a less and less dominant creditor to America.
Other foreign creditors have taken China's place in buying our debt. In fact, foreign purchases of treasury debt has never been greater.
While that should be good news, it isn't for several reasons.
The first reason why this isn't good news is because of the sheer, overwhelming volume of treasury debt being issued. Despite a massive increase in foreign purchasing of treasury debt, the massive supply of new debt coming on line is swamping it.

On March 20, 2009, the bipartisan Congressional Budget Office (CBO) released its latest forecast in an effort to take into account the impact of the recently released Obama budget. The verdict? A whopping $1.8 trillion deficit for 2009, approximately four times larger than the all-time record established in 2008 ($455 billion).
...
The U.S. government needs to roll over $2,596 billion of outstanding Treasury bills and notes coming due in 2009 before it can add any new borrowing to finance the expected deficit. In previous years, foreign investors have invested most of their trade surpluses – to the tune of $200 billion to $500 billion per year – in Treasuries and agency debt. We cannot expect this trend to continue as we go forward, especially given that China, Japan, and the Middle East are experiencing a sharp decline in their exports and have indicated that they will have to support their own economies with massive stimulus packages.
This has forced the Federal Reserve to monetize that treasury debt (i.e. print money), $43.9 billion in just a couple weeks. Not to mention the monetization of tens of billions of dollar's worth of GSE debt.
The second reason is that we are only talking about treasury debt. The entire rest of the world, especially the private sector, has stopped purchasing all other types of our debt.

Net foreign purchases of long-term securities were negative $43.0 billion.
...
Foreign holdings of Treasury bills decreased $15.4 billion.

Monthly net TIC flows were negative $148.9 billion. Of this, net foreign private flows were negative $158.1 billion, and net foreign official flows were $9.2 billion.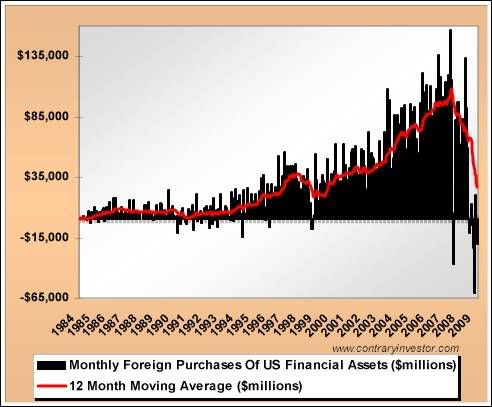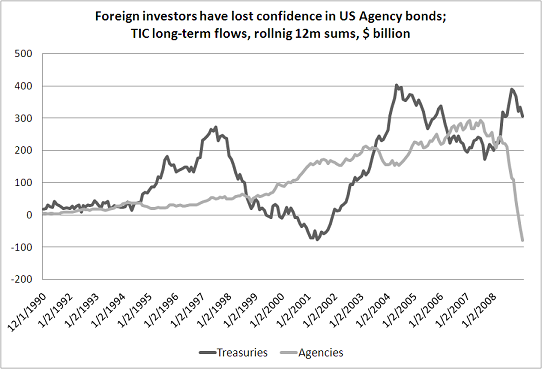 There's no secret why that has happened - we've been selling them bad debt.
If the private investor won't buy our debt then we must rely on foreign countries recycling their dollars from their trade surpluses. Which brings us to reason number three.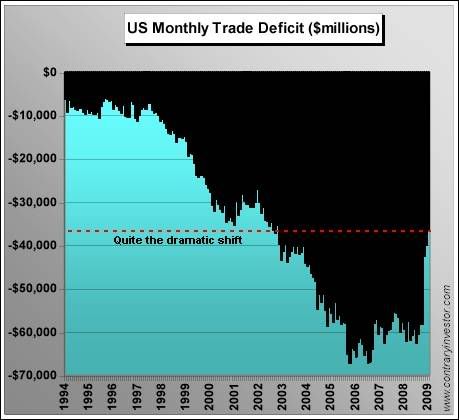 How Bretton Woods II has worked since 1971 is that America runs chronic trade deficits, and then foreigners use their trade surpluses to buy our debt. This enables foreign exporters to keep their currencies artificially low, thus undercutting American producers. It also keeps interest rates artificially low in America, thus enabling American consumers to borrow more than they can pay back.
To put it another way, Americans can buy things they don't need with money they don't have so that we can continue to be the mouth of the world. It's a totally dysfunctional, unsustainable, and unhealthy system, but it's been the global monetary and trade system for as long as most of us have been alive.
But now the long-term problems in this system have become short-term problems. The unsustainable has reached the end of its days.
It wasn't foreign creditors, tired of buying our bad debt, that finally gave up. It was the American consumer, unable to find good jobs at home, or take on more debt from yet another asset bubble, that finally gave up.
Our imports are falling off a cliff, thus the number of dollars available to be recycled into our debt is drying up.
Which brings us to problem number four.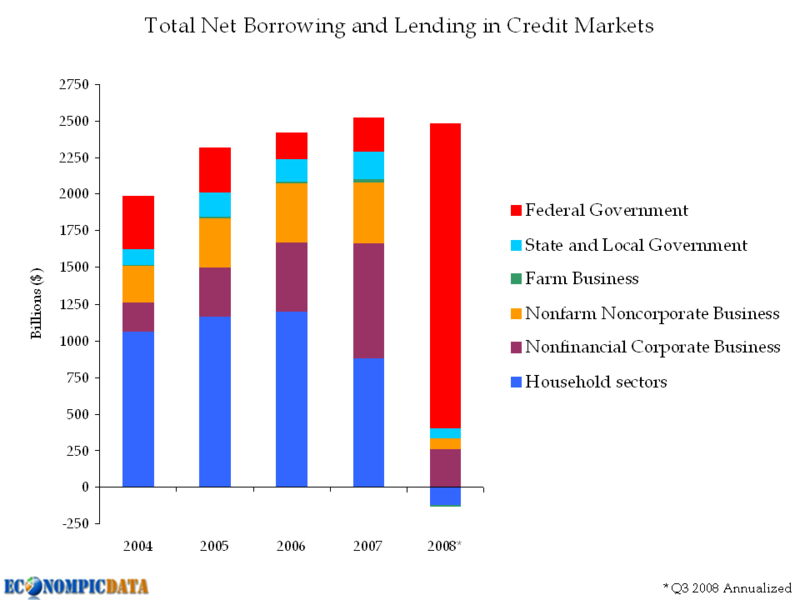 Notice how the government has stepped into the gap when the real economy stopped borrowing.
If it wasn't for the government borrowing the collapse in the trade deficit would not be a problem because our national borrowing needs would also be shrinking by a similar amount.
However, the federal government has been trying desperately to reinflate the credit markets. Much of that effort has been going into highly unproductive military spending.
The federal government right now is spending like there is no tomorrow.

(AP) -- The Treasury Department said Friday that the budget deficit soared to $192.3 billion in March, and is near $1 trillion just halfway through the budget year, as costs of the financial bailout and recession mount.

The deficit already totals $956.8 billion for the first six months of the budget year, also a record for that period. The Obama administration projects the deficit for the entire year will hit $1.75 trillion.

A deficit at that level would nearly quadruple the previous annual record of $454.8 billion set last year.
This isn't a matter of politics - it's a matter of math. The money simply isn't there.
Foreigners, no matter how hard they try, can't lend us dollars that they don't have if they don't have the trade surpluses to begin with. What's more, why should they be lending us money when we've already proven that our financial system is full of crooks?
Without the foreign creditors, and without any real domestic savings, we have no choice to fund our federal borrowing by turning to the federal reserve's printing press.
This also has consequences.

(Reuters) - China and other emerging nations back Russia's call for a discussion on how to replace the dollar as the world's primary reserve currency, a senior Russian government source said on Thursday. Russia has proposed the creation of a new reserve currency, to be issued by international financial institutions, among other measures in the text of its proposals to the April G20 summit published last Monday.

Calls for a rethink of the dollar's status as world's sole benchmark currency come amid concerns about its long-term value as the U.S. Federal Reserve moved to pump more than a trillion dollars of new cash into the ailing economy late Wednesday.
China, instead of buying up our debt, is starting to use those huge foreign currency reserves to boost their own domestic markets. You can hardly blame them.
"Foreign Central banks aren't going to finance much of the 2009 US fiscal deficit; Their reserves aren't growing anymore."
- Brad Setser, Council on Foreign Relations
Besides alienating our foreign creditors by cheapening our money through the printing press, there is also the question of whether all this federal deficit spending will do any good. Is it really a good allocation of resources to try and reinflate an unsustainable credit bubble?

"The prescription of massive debt, of money printing, of releveraging the economy, is exactly what engendered the depression of 2008, and all of the remedies are the same virus that killed us," says Michael Pento, chief economists at Delta Global Advisors in Huntington Beach, Calif. "You've exacerbated everything that went wrong in the beginning. You're increasing the money supply and you're releveraging the economy."
When it all boils down, paper money is a matter of credibility - will it be worth something when you go to purchase real goods.?
Behind that paper money lies credit, or put another way - debt. Is that debt any good? Is that debt backed by worthless, suburban houses and bankrupt consumers with credit cards? Are we paying for that debt by printing money out of thin air?
The answer to both of those questions is increasingly "yes". Our foreign creditors are way behind the curve in waking up to these facts, but they are waking up. Don't expect them to play the sucker forever.