Anyone else wondering how a President, who just received a red tidal wave that was a protest vote can run off to Asia and declare India as a creator, not a poacher of U.S. jobs?
Maybe it's because he has the queen of offshore outsourcing, Diana Farrell on his National Economics Council. Regardless, President Obama is wrong. India is indeed a poacher of U.S. jobs. How else do you think their offshore outsourcing industry is $50 billion a year, with 60% of that coming from the U.S. representing 1.32 million U.S. jobs lost.
Right now we have 17 million college graduates working as waitresses and sales clerks. We just saw in this 60 Minutes report PhDs, Masters degrees, people with advanced skills, grateful to get a part-time job at Target. We have 11 U.S. industries not employing Americans, U.S. workers, but where most workers are offshore or brought in as cheap labor.
A working NBER paper, Estimating the Impact of Trade and Offshoring on American Workers Using the Current Population Surveys found a negative correlation between U.S. employment and offshore outsourcing to low wage countries. Below is a graph showing U.S. multinationals hiring overseas while firing the U.S. worker. God Bless America.
From the White House itself, here is the list of so called deals that are going to turn India, our favorite job stealer, into some sort of savior of the U.S. worker:
Heavy Transport Aircraft: The Boeing Company and the Indian Air Force have reached preliminary agreement on the purchase of 10 C-17 Globemaster III military transport aircraft, and are now in the process of finalizing the details of the sale. Once all have been delivered, the Indian Air Force will be the owner and operator of the largest fleet of C-17s outside of the United States. Boeing, headquartered in Chicago, Illinois, is the aircraft manufacturer. Boeing reports that each C-17 supports 650 suppliers across 44 U.S. states and that this order will support Boeing's C-17 production facility in Long Beach, California, for an entire year. This transaction is valued at approximately $4.1 billion, all of which is U.S. export content, supporting an estimated 22,160 jobs.
Engine Sale for the Light Combat Aircraft: On October 1,the General Electric Company, headquartered in Fairfield, Connecticut, was declared the lowest bidder and selected to negotiate a contract to provide the Indian Aeronautical Development Agency with 107 F414 engines to be installed on the Tejas light combat aircraft. Upon finalizing the contract, General Electric's facility in Lynn, Massachusetts, and other sites across the United States will be positioned to export almost one billion dollars in high technology aerospace products. This transaction is tentatively valued at approximately $822 million, all of which is U.S. export content, supporting an estimated 4,440 jobs.
Commercial Aircraft Sale: Boeing Company, headquartered in Chicago, Illinois, and SpiceJet, a leading private airline in India, concluded a definitive agreement for the sale of 30 B737-800 commercial aircraft. SpiceJet currently operates 22 Boeing aircraft and has several 737 deliveries remaining from previous agreements. This new agreement will enable SpiceJet to offer more domestic routes and to begin offering international flights to neighboring countries. This transaction is valued at approximately $2.7 billion, based on catalogue prices, with an estimated $2.4 billion in U.S. export content, supporting an estimated 12,970 jobs.
Gas and Steam Turbine Sale: The General Electric Company, headquartered in Fairfield, Connecticut, was selected to supply six advanced class 9FA gas turbines and three steam turbines for the 2,500-megawatt Samalkot power plant expansion to be constructed by Reliance Power Ltd., a division of the Reliance Anil Dhirubhai Ambani Group, one of the largest conglomerates in India. General Electric purchases equipment from 240 suppliers across the United States—an estimated 14 percent of which are small- and medium-sized enterprises—for every 9FA gas-fired turbine, which are assembled in Greenville, South Carolina. The combined equipment and maintenance contracts are valued at approximately $750 million, with an estimated $491 million in U.S. export content, supporting an estimated 2,650 jobs.
Reliance Power and U.S. Ex-Im Bank Agreement: Reliance Power Ltd., the flagship company of the Reliance Anil Dhirubhai Ambani Group, and the Export – Import Bank of the United States announced a Memorandum of Understanding (MOU). This MOU will indicate Ex-Im Bank's willingness to provide up to $5 billion in financial support to Reliance Power for the purchase of U.S. goods and services to be used in the development of up to 8,000 megawatts of gas-fired electricity generating units and up to 900 megawatts of renewable (solar and wind) energy facilities.
Diesel Locomotive Manufacturing Venture: The United States has worldwide leaders in diesel locomotive manufacturing, and the Indian Ministry of Railways announced the prequalification of the sole two bidders—GE Transportation (Erie, Pennsylvania) and Electro-Motive Diesel (LaGrange, Illinois)—for a venture to manufacture and supply of 1,000 diesel locomotives over 10 years. The estimated U.S. content of this contract is expected to exceed $1B.
Motorcycle Assembly Plant: Harley-Davidson Motor Company, headquartered in Milwaukee, Wisconsin, announced that preparations are underway to open a new plant in India for the assembly of Harley-Davidson motorcycles from U.S.-built "complete knock-down" kits. This investment by the company entails job creation in both the United States and India, and it will allow the company to reduce the tariff burden on its motorcycles for sale in the Indian market, driving sales growth by making its motorcycles more accessible to Indian consumers.
Sale of U.S. Mining Equipment and Related Support Equipment: On October 21, the Export – Import Bank of the United States announced the approval of more than $900 million in export finance guarantees to Sasan Power Ltd., a subsidiary of Reliance Power Ltd., supporting the sale of U.S. mining equipment and services from Bucyrus International of South Milwaukee, Wisconsin, and other U.S. vendors, in association with the 3,960-megawatt coal-fired Sasan power plant in Madhya Pradesh, India. This financial commitment supports $641 million in U.S. export content, supporting an estimated 3,460 jobs.
Tunneling Equipment for Underground Water Channel: On July 22,Robbins Company, headquartered in Solon, Ohio, announced an agreement with UNITY-IVRCL, a large infrastructure engineering and construction conglomerate, to provide tunnel-boring machines, conveyer equipment, and associated technical services for the construction of tunnels to convey water for the city of Mumbai. Separately, through a contract signed in 2008 with Jaiprakash Associates, a large infrastructure conglomerate, the Robbins Company is already supplying high technology tunnel-boring machines and technical assistance to bore some of the longest underground tunnels in the world underneath a protected tiger sanctuary in Andhra Pradesh, which will increase irrigation for the production of cotton and other agricultural products. The Mumbai contract alone is valued at $10 million, with $7 million in U.S. export content, supporting an estimated 35 jobs.
Maharashtra Homeland Security Pilot Projects: Palantir Technologies, a small Silicon Valley software development firm, announced a strategic partnership agreement with the Maharashtra State Police, a law enforcement agency in India, to conduct a pilot program, whereby Palantir's end-to-end analytical software platform will be used on a trial basis to identify and alert authorities to security threats in order to help keep the citizens of Mumbai and Maharashtra safe.
Medanta Duke Research Institute (MDRI): Duke Medicine, located in Durham, North Carolina, one of the leading academic health systems in the United States, and Medanta Medicity, located in Gurgaon, Haryana, a hospital and medical research complex, are announcing a joint venture agreement to launch the MDRI, a proof-of-concept clinical research facility within Medanta's hospital. Duke Medicine will provide scientific and operational leadership, while Medanta will contribute financial resources and clinical and operational services. Duke Medicine also will be partnering with Jubilant Life Sciences, headquartered in Uttar Pradesh, to conduct research studies and co-develop promising discoveries, with significant funding and in-kind support provided by Jubilant. Subsequent commercialization is expected to result in licensing revenue for Duke Medicine.
Long-range Antenna System for Rural Telecommunications: SPX Communication Technology, a division of SPX Corporation operating out of Raymond, Maine, is in the final phase of the pilot deployment of its long-range antenna system with two leading Indian mobile operators. This innovative technology has been shown to offer a significantly greater coverage area. Once implemented, it is expected to create significant economies of scale, thereby improving the economic viability of rural wireless networks and making wireless communications available for people who either could not afford service or who live in areas that lack coverage. The value of the initial trial equipment is expected to generate approximately $1 million, with 100 percent U.S. export content, supporting an estimated 5 jobs.
Production Equipment for the Manufacture of Pre-fabricated Housing: Spancrete Machinery Corporation, a family-owned business in Waukesha, Wisconsin, announced the sale of six sets of its hollow core, precast production equipment, including installation, training, and after-sales support, to Hindustan Prefab Limited, a state-owned company within the Indian Ministry of Housing and Poverty Alleviation. The production equipment will be used to manufacture inexpensive, prefabricated housing on a mass scale in India. Spancrete also is working with Somat Engineering, Inc., from Detroit, Michigan, and their affiliate, SP Infrastructure India Ltd., in New Delhi. This transaction is valued at approximately $35 million, all of which is U.S. export content. Based on the company's estimates, the transaction will support 30 jobs.

Cell Phone Rollout for Small Indian Businesses: Intuit, a company headquartered in Mountain View, California, which serves millions of small businesses worldwide, will launch a new mobile and web-based marketing service in partnership with Nokia, called "Intuit GoConnect". This innovative technology will help Indian micro and small businesses grow and thrive by bringing customer management tools to the entrepreneur, improving the way they communicate with their customers in an increasingly mobile world.

The Unique Identification Project: L-1 Identity Solutions, headquartered in Stamford, Connecticut, and another U.S.-headquartered company, lead two of the three vendor consortia, which have been prequalified by the Unique Identity Authority of India for the first phase of an effort to register Indian residents with a 12-digit unique number using biometric identifiers. Unprecedented in scale, seeking to register 1.2 billion Indian residents, the Unique Identification program aims to enhance delivery of government services in India.
Sale of Precision Measurement Instruments for Fuel Cell Research: Advanced Materials Corporation (AMC), a small, six-person firm in Pittsburgh, Pennsylvania, received an order to supply a specially-designed Pressure-Composition Isotherm Measurement Instrument to the Banaras Hindu University (BHU) in Varanasi, India. BHU will utilize AMC's instrument to test fuel cell applications, as part of an Indian central government research program.
Trace Explosive Detection Equipment: Implant Sciences, a small company based in Wilmington, Massachusetts, signed a contract with the Ministry of Defence in January to supply its Quantum Sniffer H-150, trace detection devices to be used by the Indian Army to detect the presence of explosive, bomb-making materials that could be used in a terrorist attack. The company announced that the equipment will be ready for pre-dispatch inspection and delivery in November. The transaction is valued at approximately $6 million, all of which is U.S. export content, supporting an estimated 30 jobs.
VIP Helicopter Sale: On August 25,Bell Helicopter, based in Hurst, Texas, signed a purchase agreement with Span Air, a private air charter company, for the sale of its first Bell Model 429 corporate VIP helicopter in India. Span Air has a second order slated for delivery in mid-2011. Bell Helicopter recently sold its 100th helicopter in India.
Sales of Pre-owned Refurbished Healthcare Equipment: Skelley Medical, a rural New Hampshire-based company, sells refurbished medical equipment to Indian hospitals in second and third tier cities through partnerships with various distributors in India. Skelley announced plans to open an after-sales service facility in Mumbai as part of a new venture with Triage Systems, a Mumbai-based Indian medical equipment distributor. This facility will service medical equipment purchased by their Indian hospital customers.
Monitoring Equipment for Greening Buildings: Noveda Technologies, a small start-up company in Branchburg, New Jersey, is finalizing a new venture with Chennai-based Wysine Technology to jointly develop and market a new solution for web-based, real-time energy monitoring for "greening" buildings.
Dredges for Maharashtra Maritime Board: Ellicott Dredges, a small company based in Baltimore, Maryland, announced the sale of two cutter suction dredges to the Maharashtra Maritime Board, a Maharashtra government entity. The equipment will be utilized to dredge a fisherman's port and various tributaries in the state of Maharashtra.
I suggest reading these carefully. Notice how many are joint ventures. That means expansion is in India, that means jobs in India, not necessarily the United States. Notice Duke University is a notorious promoter of offshore outsourcing and that deal is basically offshore outsourcing clinical research to India. Observe how Harley-Davidson is offshore outsourcing manufacturing to India by building a new plant there.
Now here is the White House claim:
On the margins of the President's trip, trade transactions were announced or showcased, exceeding $14.9 billion in total value with $9.5 billion in U.S. export content, supporting an estimated 53,670 U.S. jobs.
Now, how exactly is that claim of 53,670 jobs calculated? The White House doesn't say. You can bet that's not a direct count of real jobs but some serious economic fiction spin (otherwise known as manipulating some mathematical models to spit out numbers per your desired conclusion). Did you know that there are a host of Economic fiction papers claiming offshore outsourcing is Good for America? That somehow it creates jobs? Gee wiz, we must all be rich by now for America has been busying offshore outsourcing any job not nailed down!
Seriously, anyone in the real world, believe that? Even with some serious statistical cherry picking and mathematical equation manipulation?
Let's look at some statistics. Below is the quarterly trade deficit with India. The below graph is not annualized, in order to show the increase for 2010. To date, the current trade deficit with India is over -7,013,000,000 dollars, not adjusted for price indexes.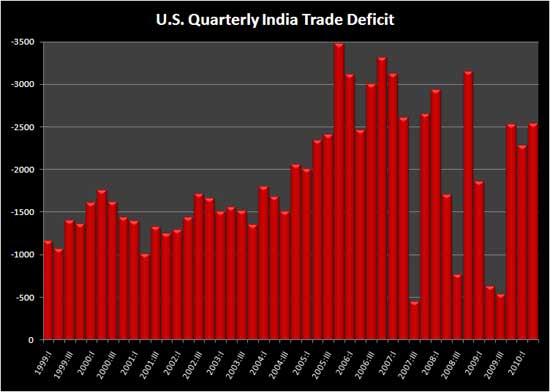 Next is a breakdown of the U.S. net deficit in Computer related services from the BEA Business, professional, and technical services statistics for 2009. Bear in mind this is when the United States was losing 500,000-700,000 jobs a month.

That's right, at the same time the U.S. worker is being cast aside in record numbers, the Indian offshore outsourcing industry was raining jobs. The United States has over 20 million people with a Bachelor's degree or better in the above technical areas, so we have the education, the experience, the talent and the ability. What we do not have is the jobs. Again, straight from the Horse's mouth, here are some statistics on India's offshore outsourcing job poaching biz:
India is the leading country for offshore outsourcing. The offshore outsourcing industry started in India and it has be able to grow the IT and BPO export sector to $47 billion and capture more than half the offshore outsourcing industry. That is not to say that India does not have challenges or is the best location for every offshore outsourcing effort, but it has an unparalleled history and size.

The Americas and Europe are the largest customers for the Indian outsourcing industry and account for 60% and 31% respectively of IT and BPO exports. The largest vertical sectors are financial services (41%), high-tech/ telecom (20%), manufacturing (17%) and retail (8%). In 2009 the IT and BPO export industries employed about 2.2 million people.
So why would Obama say something so offensive to so many American workers who have lost their jobs, their careers, their homes to offshore outsourcing? Because GE and other multinational corporations are claiming they will take care of the public relations spin on offshore outsourcing if only India will buy more of their products. All of these U.S. companies manufacture overseas and have divisions in India.