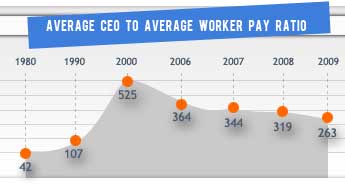 What ever happened to executive compensation reform? Like all great ideas, it died in Congressional committee, or watered down to meaningless if passed. Some of the best policy proposals never made it to legislative form, even when they were outlined and introduced in congressional testimony by experts.
That said, we have a slew of new reports and research on CEO pay. The first, by Glass Lewis & Co., is aptly titled Pay Dirt. In their report, they correlate overpaid CEOs with corporate performance, by shareholder value and then rank companies overpaying their CEOs and executives accordingly.
For 2009, the average EPS growth and return on equity of S&P 500 Overpaid 25 companies stood at negative 101% and negative 3.8%, respectively, while the average compensation of top executives at these companies increased by almost 31%.
Amazing. While the business tanks, CEOs get paid more. They also list repeat offenders of board members who are just giving the company away to their CEO pals with no rhyme or reason to actual corporate performance or governance.
Some of the Pay Dirt Key findings are:
Was there even a global recession and financial crisis these past two years? Judging by many executives' pay packages, it is hard to tell. While average CEO pay in the S&P 500 declined in 2009, many executives continued to be paid extravagantly with little to no regard for corporate performance. Some of the companies Glass Lewis' model identified as having the worst pay-for-performance scores for 2009 included: Micron Technology Inc.; Aetna Inc.; Chesapeake Energy Corp.; XL Group plc; and Yahoo! Inc.




Sprint Nextel Corp. has the dubious distinction of appearing on our S&P 500 Overpaid 25 list for the third consecutive year.
Other companies, however, more appropriately linked pay and performance. Companies receiving the best pay-for-performance scores for 2009 included: Amazon.com Inc.; Apple Inc.; Goldman Sachs Group Inc.; Southwestern Energy Co.; and Sigma-Aldrich Corp.
Our research identified 34 executives who were awarded more than $25 million in annual compensation in 2009, with 16 taking in over $30 million, by Glass Lewis' estimates. (Consistent with Glass Lewis methodology, these total pay amounts include compensation granted during the fiscal year and exclude appreciation in the value of stock options, pensions or other compensation realized during the year.)




Gregory Maffei, president and CEO of Liberty Media Corp., took home the highest total compensation in 2009: an estimated $188 million. Another top-paid CEO, Larry Ellison, founder and CEO of Oracle Corp. received approximately $61 million in annual compensation.

Non-CEOs who struck it big include Safra Catz, president of Oracle, who received approximately $42.1 million in total pay, and Stephen Burke, executive vice president and COO of Comcast Corp., who received approximately $31.4 million for the year. In all, 19 non-CEOs were each awarded more than $20 million in annual compensation in 2009.
Shareholders should be wary of compensation committee repeat offenders: directors who appear to be chronic over-payers. This year we have identified 20 directors who have served on the compensation committees at multiple companies that received a "D" or "F" in our pay-for-performance model.




Two directors – David Nagel and William Cobb – have the distinction of serving on the compensation committees of three companies that received a "D" or "F" grade.
The Wall Street Journal is reporting executive pay in the financial sector will break a record this year, $144 billion.
About three dozen of the top publicly held securities and investment-services firms—which include banks, investment banks, hedge funds, money-management firms and securities exchanges—are set to pay $144 billion in compensation and benefits this year, a 4% increase from the $139 billion paid out in 2009, according to the survey. Compensation was expected to rise at 26 of the 35 firms.

The data showed that revenue was expected to rise at 29 of the 35 firms surveyed, but at a slower pace than pay.
From Glass Lewis on 2009's overall compensation:
Overall compensaton given to the highest paid 25 CEOs in the U.S. dipped from $1.3 billion in 2008 to $1 billion in 2009. Of this 2009 total, $734 billion was paid in the form of equity awards, $167 million in non-equity and cash bonuses and $30.3 million in base salaries.
The Institute for Policy Studies analyzed CEO pay in 2009 and their report showed the biggest companies laying off workers also had the highest CEO pay. In a nutshell, it pays to crap on the American worker.
Below are two tables from the Institute for Policy report showing the pay for the companies who treated their workers the worst. Citigroup also signed a a multi-billion dollar offshore outsourcing contract to offshore outsource even more jobs to India.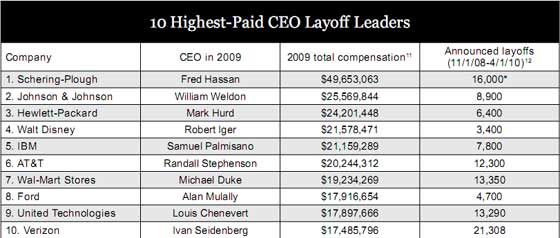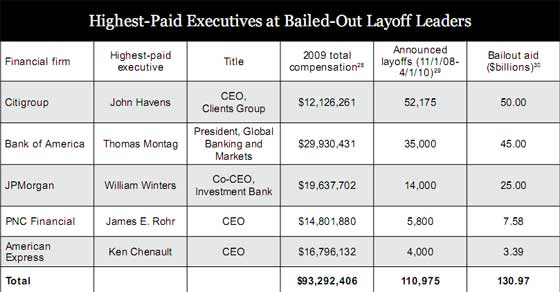 The Institute for Policy Studies is much more positive towards executive compensation reform progress in their report. My take is while corporations must now show the ratio of CEO pay to other employees, the way the United States is, that will probably cause no real action as well.
Considering some of these companies were at the same time being bailed out by taxpayers, there appears to be no shame, no embarrassment, no bad press that would cause them to stop raiding the coffers and paying themselves absurd amounts of money. It's like putting a spotlight on a thief with no other consequence and expect them to stop stealing.
The Glass Lewis report is only available by request. It too shows much more is needed in corporate governance and compensation reforms as well.
So we have three reports now and from workers to shareholders to taxpayers, not much has changed, most corporate executives are still robbing all blind with no real consequence.
Clearly corporate governance and executive compensation needs to be reformed and one of the strongest proposals is to tie executive compensation to the size, pay, health of a company workforce....in the United States. In other words, force U.S. corporations to be loyal to the United States, accountable to their employees in addition to shareholders.
Another good resource on executive compensation is the AFL-CIO's executive pay watch. This is where the worker pay to CEO ratio graph originates.