The National Association of Realtors Pending Home Sales declined by -0.6% in October 2013. This is the 5th month in a row where pending home sales have declined and is the lowest level for pending home sales since Decenber 2012. September pending home sales dropped by -4.6% Pending home sales have declined -1.6% from a year ago.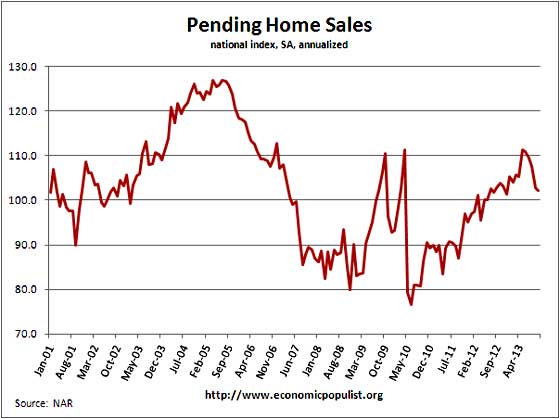 The above graph shows pending home sales are showing a consistent monthly decline after an incredible run up. It looks like the party is over for increased pending sales. The NAR notes the IRS was closed for October so income verification was backlogged and held up some sales. Still it is clear there is a downtrend as prices are again out of reach for middle America with repressed wages and not enough jobs. From the NAR:
The government shutdown in the first half of last month sidelined some potential buyers. In a survey, 17 percent of Realtors® reported delays in October, mostly from waiting for IRS income verification for mortgage approval
We could rebound a bit from this level, but still face the headwinds of limited inventory and falling affordability conditions. Job creation and a slight dialing down from current stringent mortgage underwriting standards going into 2014 can help offset the headwind factors.
The PHSI are contracts which have not yet closed and why pending home sales are considered a future housing indicator. The PHSI represents future actual sales, about 45 to 60 days from signing. From the NAR:
NAR's Pending Home Sales Index (PHSI) is released during the first week of each month. It is designed to be a leading indicator of housing activity.

The index measures housing contract activity. It is based on signed real estate contracts for existing single-family homes, condos and co-ops. A signed contract is not counted as a sale until the transaction closes. Modeling for the PHSI looks at the monthly relationship between existing-home sale contracts and transaction closings over the last four years.
The west coast has seen a massive run up in home prices that are completely out of whack with income levels in the areas. It should be no surprise that the run up imploded as shown below in the NAR regional pending home sales figures:
The PHSI in the Northeast rose 2.8 percent to 85.8 in October, and is 8.1 percent above a year ago. In the Midwest the index increased 1.2 percent to 104.1 in October, and is 3.2 percent higher than October 2012. Pending home sales in the South slipped 0.8 percent to an index of 114.5 in October, and are 1.5 percent below a year ago. The index in the West fell 4.1 percent in October to 93.3, and is 12.1 percent lower than October 2012.
The Case-Shiller home price index still shows bubble like annual price gains and in California especially with their high unemployment rate one must wonder who is buying up any home. Another factor in residential real estate are mortgage interest rates. Mortgages have increased to now 4.22%, up from a May low of 3.35%.
There are also a host of new mortgage rules coming in 2014. The FHA added more fees and lenders must now verify a host of credit elements before approving a loan.
Lenders must now verify and document at least eight specific criteria, including income, assets, credit history, other debt obligations, and employment status, to determine whether a borrower has a reasonable chance of repaying the loan. If the lender doesn't do all that, a homeowner who has trouble repaying the loan has grounds for a lawsuit.
There is also a new mortgage regulation proposed where banks could no longer not hold some of the mortgage that lender originated. The new rule would instead require banks to hold some portion of the mortgage and thus the risk. Bundling up bad mortgages into derivatives and pawning them off on unsuspecting investors was a catalyst for the financial collapse. That said, if banks cannot play their casino game and actually have to service and hold some of the mortgage they originated and thus some of the risk, we could see consumer credit tighten.
The 505-page draft regulation written by six agencies drops a requirement that lenders retain a stake in mortgages with down payments of less than 20 percent, which appeared in an earlier version of the measure known as the qualified residential mortgage rule.
Here are our past pending home sales overviews, unrevised.