Rob a 7-11 with a gun? Get at least 20 years in prison. Rip-off investors to the tune of $1.6 billion, get no jail time, no charges and you don't even need to make restitution. MF Global represents yet another example how financial crime goes unpunished and not penalized.
We know MF Global played around with customer's money. The amount they lost is even larger than originally estimated, now at $1.6 billion bucks. Seems there is $700 million overseas and that branch of MF Global in the U.K. ain't giving the money back.
The Trustee, relying on the books and records of MF Global Inc., the investigation that has traced a majority of the cash transactions during the last week before the bankruptcy of MF Global Inc., and the claims process, currently believes there is at least a $1.6 billion gap between the value of the Trustee's estimate of potentially allowable commodities claims and the assets that are currently under the Trustee's control. This reconfigured estimate is expected to change over time as claims are processed and assets recovered, and depending on claims reconciliation and the ultimate outcome of claims the Trustee may contest, the estimated deficiency may rise or fall in significant amounts. The estimate applies to claims from commodities customers who traded on US exchanges, as well as commodities customers who traded on foreign exchanges, including approximately $700 million that the Trustee is disputing with the Joint Special Administrators of MF Global UK Limited.
Bloomberg Law's Bankruptcy Journalist Bill Rochelle, concludes investors will probably never get the money back. Why? Because the MF Global bankruptcy trustee, James W. Giddens, calls playing around with customer's money a loss of control of the backroom and gross incompetence, rather than intentional fraud. Rochelle explains the legal difference, known as safe harbor, in the below video clip:
Get that? If you're just labeled an idiot and a buffoon, you too can lose $1.6 billion dollars of other people's money and not even have to pay it back, never mind go to jail. Think about it. Aren't all people who rob 7-11's at gunpoint idiots, buffoons and incompetents? They get 20 years. Wall Street gets debt forgiveness. Losses in the billions of other people's money are just business failures. La de da, bummer for you, ha, ha ha, bankruptcy law covers our asses, how about yours?

Rochelle says MF Global investors are gonna have to march on Capital Hill to change corporate bankruptcy law. This will pit Wall Street against customers, investors. There is no way Wall Street will give a prayer's chance to criminal or civil liability when gambling and losing other people's money. As Rochelle points out, customers do not have lobbyists. No lobbyist, no law change and MF Global customers are gonna take a 25% loss hit on their money invested with MF Global.
The argument for MF Global's general buffoonery and panic is amplified by this timeline. Notice how the customer's money is just wiped out during those panic stricken final days. The below chart is the segregated MF Global customer funds. Over the last days of MF Global, segregated customer funds went from a surplus to a deficit, otherwise known as Sorry people, we have margin calls on our reckless repos!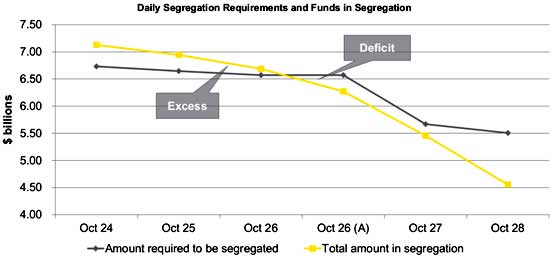 The company reported it was segregating more than the required $6.75 billion in customer funds on Oct. 25, according to a chart included with the trustee's report.

Starting the next day, that surplus evaporated, with the amount of segregated funds falling to about $4.5 billion by Oct. 28, less than the $5.5 billion required. The trustee's investigation covers 47 bank accounts at eight financial institutions
Below are the increasing margin calls on MF Global. There is a massive margin call on October 31st, over $309 million. October 31st is the day of MF Global's bankruptcy filing. Additionally on October 26th, there was another massive margin call, over $108 million.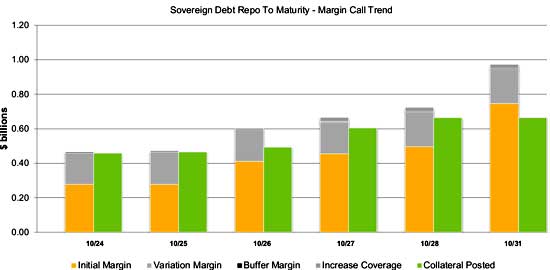 In the table below, we see disaster in the making. See how quickly MF Global implodes with repos and margin calls. According to the MF Global bankruptcy trustee, the bonds borrowed program unwind created a liquidity gap of approx $450 - 500 million.
Date
Variation Initial Margin
Margin
Increase Buffer Margin
Coverage
Collateral Total Margin
Posted
Margin Call
24-Oct
278,049,205
182,979,874
5,000,000
466,029,079
457,962,898
8,066,181
25-Oct
277,302,875
188,277,470
5,000,000
470,580,345
464,694,118
5,886,227
26-Oct
410,963,534
185,592,415
5,000,000
601,555,949
492,732,015
108,823,934
27-Oct
454,624,390
182,811,558
5,000,000
23,280,469
665,716,417
604,003,047
61,713,370
28-Oct
495,975,763
199,344,353
5,000,000
23,219,740
723,539,856
663,925,523
59,614,333
31-Oct
745,975,763
199,344,353
5,000,000
23,219,740
973,539,856
663,925,523
309,614,333
These trades which faced margin calls were repos. Anyone recall repo 105's?
The revelation that MF Global's off balance sheet leveraged repo-to-maturity play was stuffed full of toxic Eurozone debt proved to be its downfall. The prospect of a Eurozone default spooked markets and MF Global's liquidity drained away. A review of U.S. banks' SEC disclosures reveals, however, some troubling implications of the gaps in U.S. GAAP filings as the true nature of hidden debt exposure becomes apparent.

SEC filings from Nomura, Santander and Merrill Lynch have all acknowledged the heavy use of off-balance sheet repo-to-maturity transactions, and some even admitted to including Eurozone debt within these structures.
Which brings us to playing games with Sovereign debt. How could anyone be so stupid as to bet the farm on PIIGS as MF Global did? Seems plenty! Below is another Bloomberg law video clip on why foreign banks, with subsidiaries operating in the United States, are balking at the Volcker rule. It's not what you think, or maybe it is considering the above. The Volcker rule prohibits foreign banks, outside the U.S. from trading in their own national sovereign debt if they have U.S. branches.
While investors are getting screwed here, how many times do we have to see sovereign debt, sovereign credit default swaps, repos and global economic Armageddon all mixed together? Wasn't 2008 enough?
The sovereign-debt trades were so-called repurchase-to-maturity transactions, where MF Global used borrowed money to invest in the debt of Ireland, Italy, Spain, Belgium, and Portugal.
For the actual MF Global trustee report, click here.