The House Just passed the Stimulus and the majority of the debate was on tax cuts.
Who here knows that continual mantra of tax cuts being sung in D.C. is just the echos of a dead religion? Yet debate it back and forth they go.
How about not give any tax cuts in the Stimulus and move onto the real portions of the package which will have the best effect?
Citizens for Tax Justice have just released an analysis on the GOP tax cuts versus the current tax cuts in the Stimulus bill.
On Friday, January 23, House Republican Leader John Boehner (OH) and Republican Whip Eric Cantor (VA) presented their "Economic Recovery Plan" to President Obama. The Republican plan is based on income tax cuts for relatively well-off families and business tax cuts. As a brand new report from Citizens for Tax Justice explains, it is unlikely to provide the needed boost to consumption that economists believe can come from either direct government spending or putting money in the hands of working class people who are likely to spend it quickly.
The detailed analysis is here (large pdf).
While I have been leary of any job creation for any tax cuts and indeed CTJ confirms:
Tax Cuts Are Not the Best Stimulus, But Some Tax Cuts Are Better than Others

As Moody's economist Mark Zandi illustrated in a report released just last week, not one of the tax cuts that have been discussed recently would stimulate the economy as much as any one of the possible spending increases that are commonly discussed. For example, every dollar in federal revenue lost because of a corporate tax cut would increase the GDP by only 30 cents. But a dollar spent on increased unemployment compensation would increase GDP by $1.63.
To go further, let's read Zandi's analysis (large pdf). On tax cuts Zandi says:
Tax cuts generally provide less of an economic boost, particularly if they are temporary; on the other hand they can be implemented quickly. A particular plus for individual tax cuts included in the House stimulus plan such as the payroll tax and earned income tax credits is that they are targeted to benefit lower- and middle-income households that are more likely to spend the extra cash quickly. Investment and job tax benefits for businesses are less economically effective, but are not very costly and more widely distribute the benefits of the stimulus plan.
Even further he gives a ratio number to which parts of the bill give the most bang for the buck: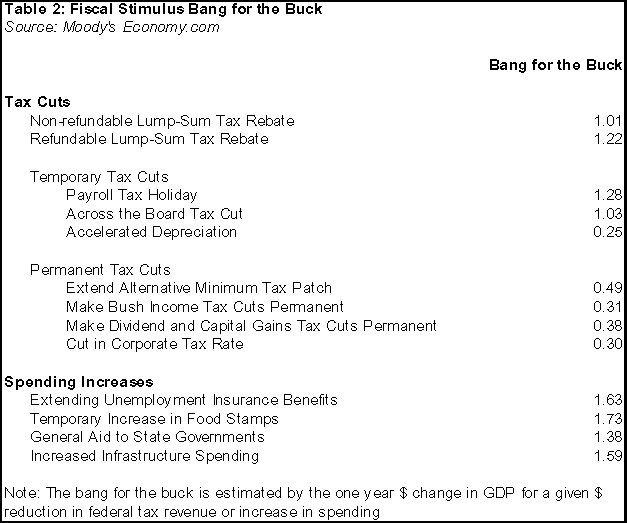 So, if we are supporting policies and legislation that will get the job done, which is job creation, it seems to me which should ignore these various religious mantras entirely and do what the consensus analysis implies.
Of the tax cuts Zendi notes the ones to the poor are best because they need the money and thus will spend it stimulating the economy from a consumer view.
Here is Zendi's overall estimate of the unemployment rate with and without Stimulus.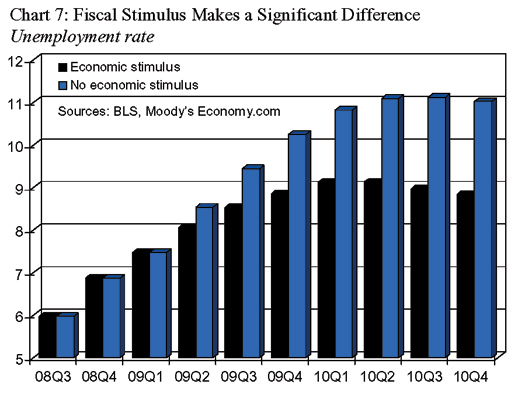 I suggest swimming in a non-debate on tax cuts as if any of them are going to do what needs to happen to our economy is the dead pool.