I sometimes find it frustrating how the market bulls try to spin the unemployment numbers to "prove" their point. It you only look at headline numbers it sounds convincing, but if you do some digging then the Rosy Scenario falls apart.
I'm going to take apart three major concepts in this essay.
Job Cuts
Green Shooters like to point out the private job cuts report by Challenger, Gray & Christmas Inc., and I admit that it does look impressive.
However, they don't bother to mention the official report that came out just a few days ago.

Employers took 2,763 mass layoff actions in June that resulted in the separation of 279,231 workers, seasonally adjusted, as measured by new filings for unemployment insurance benefits during the month, the Bureau of Labor Statistics of the U.S. Department of Labor reported today. Each action involved at least 50 persons from a single employer. The number of mass layoff events decreased by 170 and associated initial claims decreased by 33,649. Both measures had been at record high levels in May.
It hardly seems like a bottom when mass layoffs are just one month short of all-time highs.
Initial Claims
Green Shooters like to say that a peak in unemployment claims coincides with an end to a recession.
This so-called peak in initial unemployment claims is deceptive on many different levels.
1) The most obvious way is that if you look back at previous recessions you'll see several instances of temporary "false peaks". Thus there is no guarantee that the recent "peak" isn't a "false peak".
For example, some Green Shooters were so eager to call a top that they were claiming back in March, 2009 that initial claims had peaked, as well as in November 2008.
2) The biggest lie to this initial claims peak involves the fact that the peak doesn't really exist. The fact is that the initial claims numbers are seasonally adjusted, and that seasonal adjustment has distorted the picture.

Claims for state unemployment benefits fell sharply in the latest weekly data, after seasonal adjustment, the government reported Thursday, but problems with the data due to the timing of layoffs mean that recent drops may not represent economic green shoots.

But the data are "clouded" because many of the expected temporary layoffs in the automotive sector have already occurred, a Labor Department analyst said Thursday.

"We expect a hefty rebound over the next few weeks," wrote Ian Shepherdson, chief U.S. economist with High Frequency Economics, in a research note. "The latest numbers are just far too good to be true...It is not good news, especially for the people concerned."

The government seasonally adjusts the data, assuming that auto layoffs will take place in early July. But many manufacturing layoffs, predominantly automotive, have already occurred, while others may come later or not at all.
Those auto industry layoffs happened earlier in the year, causing a higher peak a few months ago, but also creating a false drop in recent weeks.
What's more, those layoffs, which in the past would have been temporary and season, are mostly permanent now because of the bankruptcies of Chrysler and GM.
Because the seasonal data will expect more hiring in the fall in the auto industry than what will occur, the seasonal adjustments will show another spike in the near future.
Continuing Claims
Finally we come to the most deceptive of all the Green Shooter lies about unemployment. They like to show this chart, which appears to show a drop in people collecting unemployment insurance.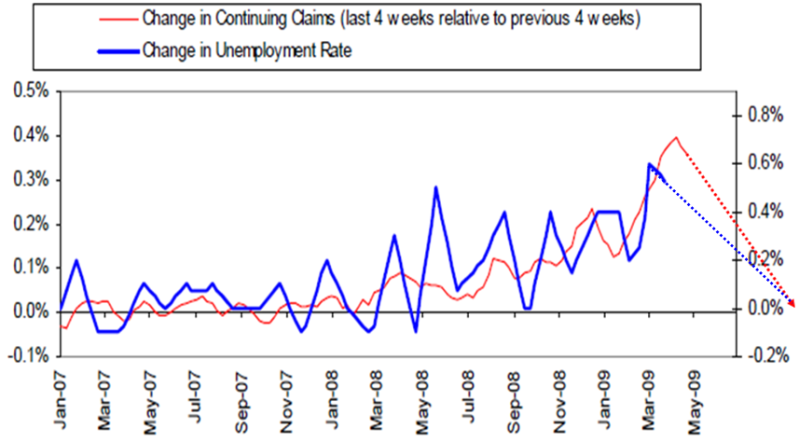 This chart is a bald-faced lie.
To prove that I want to show you a different chart.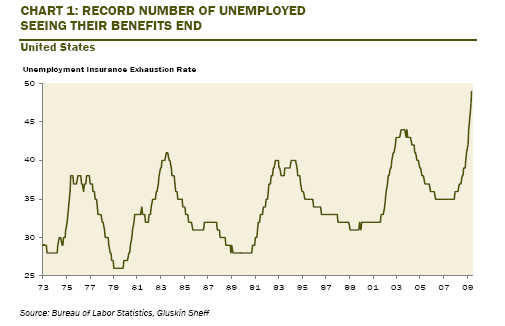 I want to introduce you to the "exhaustion rate", which you can find here.
500,000 people will exhaust their state unemployment benefits by September without finding a job, and thus drop off the official continuing claims numbers. Because of Obama's stimulus bill, they will get picked up by the federal Emergency Unemployment Compensation, but that is under-reported separately.
If you look at the combination of the two programs you will absolutely not see a top in unemployment continuing claims.
No matter how people try to spin things, the reality is that the first step in any recovery is that businesses will give their workers more hours.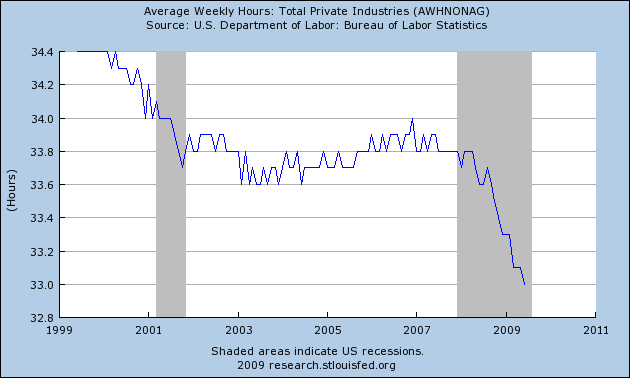 As the chart clearly shows, businesses are still slashing hours. Until that ends there will be no hiring, and until there is hiring the unemployment rate will continue to rise.
Finally I want to throw in a couple other unemployment charts that Green Shooters aren't talking about because they contradict their spin.