The BLS JOLTS report for August 2009 was released earlier this week and it's just damning on job creation in the United States.
The hires level was little changed at 4.0 million in August but has declined by 1.6 million, or 28 percent, since the most recent peak in July 2006. The hires rate was low in August at 3.1 percent and little changed from July. The hires rate was little changed in August in all industries.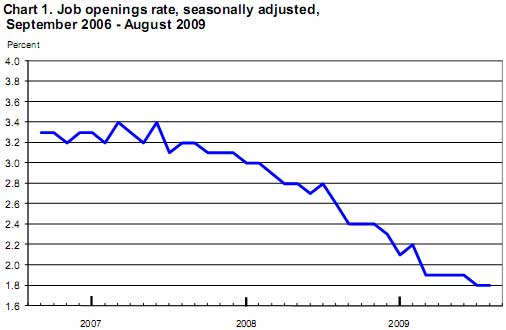 Src: BLS
In the attached report, table A, we see job openings down, across the spectrum of occupational areas. Manufacturing job openings down by 2/3 since last year, construction, leisure and hospitality almost cut in half in terms of employment opportunities, arts and entertainment also down almost 2/3.
We just ain't creating no damn jobs!
EPI cranked the numbers from this report and calculated there are 6.3 people for every job opening and that number is underestimated due to people with jobs, but looking for better not being counted in the JOLTS statistics.

Src: EPI. Click graph to enlarge and zoom
Note the EPI graph timeline. It goes back to 2000, so we have a crisis on job opportunities and creation!
EPI also notes while these numbers are for August, don't get too excited because the September unemployment numbers indicate the 6.3 workers per job ratio will increase.
JOLTS stands for job openings and labor turnover survey.