If I simply showed you the following graph of a stock market losing nearly 60% of its value in 9 months, you'd probably conclude that a bubble had burst, and that the country whose companies it represented was probably in for some big Hurting: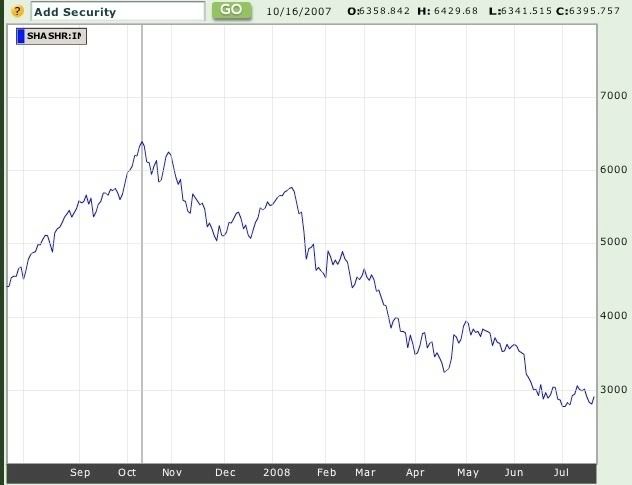 So why has China been immune from such analysis? Presumably because the "story" behind China's growth is so compelling. Just about everybody seems to agree that China is the emerging economic world superpower.
Well, it's difficult to imagine now what life would be like without the internet, and yet that didn't stop the dot-bomb crash of 2000-2002. And the Mississippi Land Bubble was based on the accurate belief that what is now the US midwest would someday be the breadbasket of the world. Unfortunately they were off by 150 or so years.
Recently I have written of China's Out of Control Inflationary Boom. I find it difficult to imagine anything other than a hard landing for that boom, and when that happens, China's demand will slow and the parabolic move in Oil may come crashing down to earth.
The authorized government business portal site to China is certainly not concerned about any imminent slowdown. In an article entitled "Will the Olympics become a watershed in China's economy?" they answer firmly in the negative, claiming the boom will continue. But the actual facts hardly seem so sanguine:
Lin Wenshui, the owner of a jade-processing workshop with four employees in South China's Guangdong Province, still couldn't believe his business had become so slack in just a few months.

At the beginning of this year, Lin had estimated that he might earn at least 200,000 yuan (29,325 U.S. dollars) for 2008.

Things, however, went awry. So far this year, his workshop could hardly make ends meet. He had to dismiss five employees over the months and gradually halved the monthly expenditure from 40,000 yuan to less than 20,000 yuan.

"Dealers tell me there are few jade buyers out there now. Many factories in Guangdong and other regions were closed and bosses went bankrupt. In addition, a lot of investors have lost on the stock trading since share prices tumbled," said the 31-year-old.

He was right. Guangdong, China's traditional export powerhouse, was seeing an unprecedented wave of factory closures owing to rising prices of raw materials, export tax rebate cut and the appreciation of the Chinese yuan.
....
Guangdong was not alone, however. In Zhejiang, the country's another major exporter, about 10,700 enterprises incurred losses in the first five months, accounting for nearly 20 percent of the province's total companies, according to figures by the Zhejiang Economic and Trade Commission.
....
Amid falling export growth and plummeting share prices, many in China were asking whether the country's economy would slip into recession after the August Olympic Games....
....

...[M]any Chinese companies had anticipated some changes to current policies since early this month when four senior Chinese leaders carried out field investigation tours to four major Chinese exporting regions, namely Guangdong, Jiangsu, Shanghai and Shandong.
....
Lin Wenshui, the workshop owner, read something positive from the news.

"When Xi came to Guangdong, there were many news reports. And Many people here felt that things would change for the better, sooner or later," Lin said. "I will try to hold on to the end of the year...."
So, are there signs that China's bubble may be getting ready to burst? In a word, Yes.
About half of China's exports are textiles, and their textile industry has taken a beating in the first half of 2008. The China National Garment Association reported in June that:
China saw quicker growth in textile exports but slower rise in foreign sales of garments in the first five months of this year, sources with the General Administration of Customs said on Saturday.
....
The growth rate for textile exports was higher than the level for the whole of last year, whereas that for garments was nine percentage points lower than the year-earlier level.

In May alone, the nation's garment exports increased by a record-low rate of 1.08 percent to 8.59 billion U.S. dollars worth.

Industry insiders accredited the substantial slowdown to weak demand abroad, expediated appreciation of Chinese currency and higher production cost.

They added that the weak demand had affected cotton sector in China. The country imported 240,200 tons of cotton in May, a decrease of 23,200 tons, or 8.81 percent, from the previous months.
And earlier in June that
Affected by multiple factors such as adjustment of China's foreign trade policy, decline in external demand, the appreciation of Renminbi and continuous rise in raw materials price, apparel exports in Guangdong has been droping since the beginning of the year. According to the latest statistics from Guangzhou Customs, export of apparels and clothing accessories for four months from January to April was 6.65 billion U.S. dollars, down 15.1% compared to the same period of last year, which also shows a sharp fall compared to the growth rate of 31.2% in the same period of last year. The worst-hit ones are private owned enterprises, whose total exports dropped 36%.
Meanwhile,
Hong Kong companies may shut 20,000 factories in neighboring Guangdong Province in the Chinese mainland this year due to increased costs from higher fuel prices and wages, an industry association said yesterday.

"At the end of this year, maybe only 50,000 Hong Kong-owned businesses will remain" of about 70,000 in the province, according to Danny Lau, chairman of Hong Kong Small and Medium Enterprises Association. "The increase in fuel costs comes on top of several other major issues firms have been grappling with recently," such as rising employee expenses related to a new labor law and the appreciation of the yuan, he said.
....

"China's export competitiveness is definitely declining fast," said Sun Mingchun, an economist with Lehman Brothers Holdings Inc in Hong Kong. The volume of goods and services sold overseas has declined to "single-digit" growth, he told Bloomberg News.
While garment manufacturers have been most hurt, the pain has spread to other portions of the economy as well. For example,
China Southern Airlines Co. and the nation's other carriers posted a 3.8 percent fall in combined passenger traffic last month, as an economic slowdown curbed demand for air-travel.
....
Inflation, near a 12-year high, coupled with a falling stock market has cut Chinese spending on leisure. A series of natural disasters including an earthquake that killed more than 69,000 people in China also hampered demand for tours.
....
Cargo traffic for the country's carriers fell 0.8 percent to 321,000 tons in June. It rose 8.1 percent in the first six months of the year.
Air travel may be impacted by restrictions surrounding the August Olympic games in Beijing, but in the last week we also learned that
China's stockpile of unsold new vehicles rose about 50 percent in the six months ended June, hitting a four-year high, as automakers expanded production and sales growth slowed.

The backlog reached 170,000 vehicles from about 110,000 at the end of last year....

.... [R]ising competition and slower economic growth caused average vehicle prices to fall about 3 percent in the first half from a year earlier, Cheng said.

``Automakers were too optimistic when planning their capacity expansion and didn't expect the slowdown,'' said Tang Jun, an analyst at Guangfa Securities Co. in Guangzhou. ``Dealers are hit the most by rising inventory and may have to slash prices further to help with liquidity.''

The stockpile represents about six days' worth of sales.
An article in the Australian publication Business Spectator strongly cautions that the conditions are indeed ripe for the bubble to burst [Note: I have chopped the material down as far as possible to get the point across and still comply with "fair usage", but I strongly encourage you to read the entire article at the website]:
While [an optimistic] view of China's prospects may prove correct in the long term, serious clouds are appearing on the horizon. ....[based on] the Austrian school of economics....

Austrians are obsessed with interest rates.... When interest rates are too low, they argue, credit expands too rapidly. This stimulates investment and fosters asset price bubbles. Eventually, credit "inflation" shows up in rising consumer prices. But by then, it's too late to stop the damage. ... After which, there follows a painful process as the economy is forced to adjust back to equilibrium.

.... These conditions held in the US in the 1920s.... [T]he economy in the roaring twenties had much in common with that of modern China.
....
The result has been strong credit growth. This, in turn, has fuelled an extraordinary investment boom.... [T]his must have seemed like a virtuous cycle. Now it's turning vicious.

Chinese export growth is set to fall sharply.... Many claim that Chinese domestic consumption will take up the slack. This is unrealistic.... [T]he UK alone consumes more than China and India combined. China's economy has been driven by investment and exports, not by domestic consumption....
The report goes on to note that the credit binge has given rise to the "out of control inflationary boom", and that as a result, "China in some sectors is losing its position as the world's low-cost producer", citing a recent Stratfor report that the textile industry as a result of the stresses I have cited above is "clamouring for the reintroduction of export subsidies" and that "Chinese containerboard companies recently stopped shipping their products abroad." They conclude by citing
.... A report from Lehman Brothers last May points to "looming overcapacity" in an economy that has relied on exports to absorb new supply....The Wall Street broker predicted that "an export-led slowdown could trigger a chain reaction which, in the worst case, could threaten the stability of China's financial and economic system."
At the beginning of this year, I believed that the US recession would propogate sufficiently that the spike in the price of Oil would end, and bring inflation down beginning about late spring. Obviously that hasn't happened yet, and it is entirely dependent on the rate of growth first and foremost in China. While I continue to believe that China is not immune to the global credit contraction, Waiting for the Turn brings to mind one of little New Deal's favorite tunes:
It is excruciatingly slow in coming about.