The University of Michigan/Reuters consumer sentiment came in at 67.9 for October, from a revised 69.8 value for September. From Seeking Alpha quote of the Survey's chief economist:
Personal financial expectations were near their all-time low, and the steep decline in buying plans was related to uncertainty about consumers' future income prospects.
Below is a decade of Consumer Sentiment and we can see people surveyed are clearly in the dumps about their financial prospects.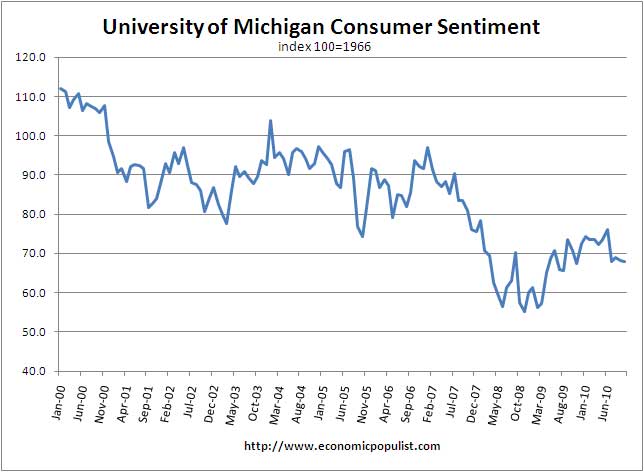 The consumer sentiment methodology uses 500 land line telephones with over 50 questions. Increasingly this will limit the demographic to those with publicly listed land line telephones where communications technology has changed dramatically. Many people do not have landlines today. They also use a panel, carrying families over from month to month. That's good for at least it's tracking the same people. Also, this is the preliminary October number, the final will be at the end of the month.
There is more on their website, on sample size, methodology and sample questions, but even to gain public access one must give their email address to them.