Of course in the long run we're all dead, so I guess that depends on what your definition of temporary is. While the Federal Reserve FOMC meeting claims the never ending economic malaise is temporary, they just downgraded the economy.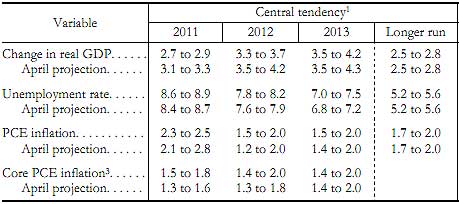 Right, the economy is just hitting a bump in the road, the sun will come out tomorrow, yet GDP was revised down and unemployment, inflation projections were revised up.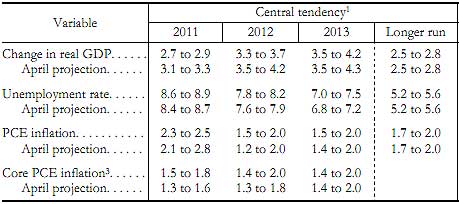 From the FOMC statement:
The slower pace of the recovery reflects in part factors that are likely to be temporary, including the damping effect of higher food and energy prices on consumer purchasing power and spending as well as supply chain disruptions associated with the tragic events in Japan.
Seems more economic reports are busy blaming natural disasters as of late, although we saw Japan show up in the trade deficit.
Yet, the denial of the jobs crisis rears it's ugly head:
The unemployment rate remains elevated; however, the Committee expects the pace of recovery to pick up over coming quarters and the unemployment rate to resume its gradual decline toward levels that the Committee judges to be consistent with its dual mandate.
Come on ya all, dance a jig with me, the Fed say no, no no more QE2! Surprise surprise, the Federal Reserve is ending QE2, yet clearly leaving the door open for QE3 as needed. Bernanke defended QE2 and tried to imply it helped create jobs.
The Committee will complete its purchases of $600 billion of longer-term Treasury securities by the end of this month and will maintain its existing policy of reinvesting principal payments from its securities holdings. The Committee will regularly review the size and composition of its securities holdings and is prepared to adjust those holdings as appropriate.
Bill Gross tweeted QE3 will be revealed at Jackson Hole:
Next Jackson Hole in August will likely hint at QE3 / interest rate caps
MarketWatch has put together a eulogy for QE2 and this is what Peter Morici has to say about it:
QE2 was as inconsequential as one hand clapping. Monetary policy — suppressing the federal funds rates or long rates through QE2 — does not have much impact if big U.S. companies are already flush with trillions in cash but don't want to invest and hire, and moderate-sized businesses can't get loans because regional banks can't borrow from large Wall Street banks to get enough access to all that Fed manufactured liquidity.
Bernanke at least said immediate deficit cuts is a negative for job creation, during the conference. Longer term he implied the budget deficit is a problem.
I don't think immediate cuts in the deficit will create jobs.
Probably the most significant statement from Bernanke's press conference is how the Fed doesn't actually know why the economy is stuck in economic malaise. They cannot explain it. Perhaps some realization that trade, globalization and labor arbitrage have been tearing the middle class apart might finally come about?
ZeroHedge had some fun by turning the FOMC statements into word clouds and makes the report look all about them.