If ya all are wanting some blood on the floor, the Goldman Sachs hearing may give it to you. Below is Senator Levin questioning a Goldman Sachs internal email labeling a toxic asset, a CDO called Timberwolf, as caca:
Ok, what is Timberwolf? It is a synthetic CDO that was issued in 2007, within 5 months lost 80% of it's value. Given that context, one can infer what shitty means and it ain't someone's job performance.
It's been a long time since a financial scandal looks like the paparazzi over Paris Hilton.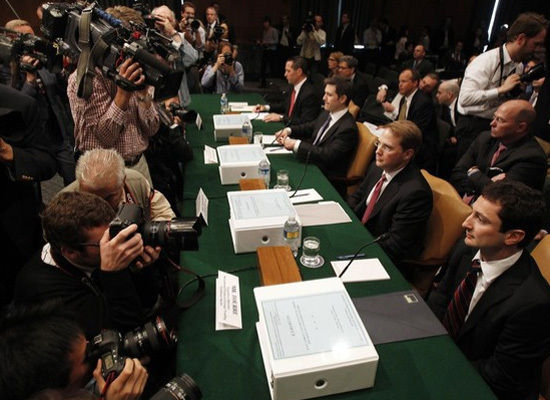 Here's Senator McCaskill on the overall mentality:
This one's great. Goldman Sachs claims it doesn't have to disclose to investors it's positions, uh like shorting the crap out of a structured financial product they are peddling to investors to purchase.
Now that we have the public roasting out of the way, check out this post, Ex-Goldman Sachs Trader Bought Major Stake in ACA, Shorted Subprime CDOs.
ACA is the firm supposedly in charge of managing the Abacus synthetic CDO that the SEC is charging Goldman Sachs with Fraud. For details on the SEC case, see here and here.
Richard Perry. Perry, a former Goldman Sachs trader, became known as one of the subprime winners in 2007 — one of the hedge fund managers who saw the crisis coming, and placed profitable bets that the housing market would collapse. Perry reportedly shorted $3 billion in subprime-related securities, netting a $1 billion profit on the trade.

Around the same time, in late 2006 and 2007, Perry's hedge fund, Perry Corp, began buying up shares in a certain financial management company that had a close business relationship with Goldman Sachs. His stake grew from 5% to 8% (around $30 million in early 2007), to the point where Perry Corp was disclosed as a major shareholder in the company in the prospectus for one CDO put together by Goldman in August 2007.

That company: ACA Capital, the same firm wrapped up in the Goldman Sachs-John Paulson CDO deal that the SEC has deemed fraudulent.
Hmmm, another hedge fund manager, who wins big by betting on a meltdown, not only has ties to the very same firm as John Paulson, the hedge fund winner in the SEC Fraud case, but also has strong ties to Goldman Sachs.
Yves Smith has more comments on today's proceedings where Ted Kaufman asks about another CDO based on all WaMu subprime loans, peddled by Goldman Sachs.
Maybe we should classify Goldman Sachs Financial Products as shit sundaes.