Sponsored by The Jobs That No One Wants To Do - - What? We don't exist except in a lobbyist playbook? Nah...


Good Morning! Rise and Shine! Get that Cup O' Joe...
break out the O.J....hang out with the pooch...time to check out the Funnies!
Wham-O Moves Back to America

Cartoonist: Tom Toles
This just in. Somali Pirates Say They Are Subsidiary of Goldman Sachs:
Eleven indicted Somali pirates dropped a bombshell in a U.S. court today, revealing that their entire piracy operation is a subsidiary of banking giant Goldman Sachs.
...(more at link)
Born to Lose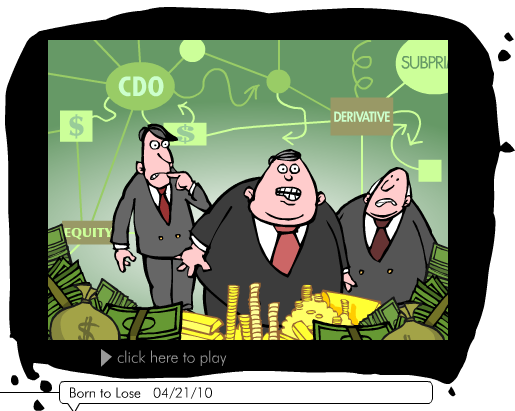 Click to play (opens in new window)

Cartoonist: Nate Beeler
The Castrating, Break Line Cutting, Double Indemnity Buying, Russian Roulette Spinning Goldman Sachs Synthetic CDO Analogy

Cartoonist: R.J. Matson
The SEC has slammed down hard on Goldman Sachs. In Goldman CEO to Perform Community Service as Treasury Secretary:
In a settlement of the government's securities fraud case against Goldman Sachs, the bank's CEO, Lloyd Blankfein, has agreed to perform two years of community service as Treasury Secretary of the United States.
These F**king Guys

Cartoonist: R.J. Matson

Cartoonist: Mike Luckovich