If you are out of work like me, and hoping that the Depression will end soon so you can get a job, you better develop a Plan B.

A recent analysis by a trio of economists with the Federal Reserve Bank of San Francisco predicted a jobless recovery on a nationwide basis, following a pattern that appeared after the recessions of the early 1990s and 2001.
Most economic predictions can be taken with a grain of salt. If you were as wrong on your job as often as economists are on their jobs, you would get fired very quickly.
On the other hand, it's common sense to look at recent historical trends and project patterns from them. Given that premise, let's look at what we can expect in terms of employment.
"We have had a lot of talk of "green shoots", but once one looks deeper, most negative news one hears are facts, whereas most positive news appears to be subjective forecasts and expectations of policy makers."
- Axel Merck, 2009
Recent Recessions
The people who declare when recessions/depressions start and end are the National Bureau of Economic Research (NBER).
According to them the last two recessions in America lasted from July 1990 to March 1991, and from March 2001 to November 2001. Both recessions lasting eight months, relatively short by historical standards.
What was unusual about these recessions was the long lag from the end of the recession until unemployment began dropping.
The unemployment rate was 6.8% in March 1991. It crested at 7.8% in June of 1992, 15 months later. It didn't reach 6.8% again until October 1993.
The unemployment rate was 5.5% in November of 2001. It crested at 6.3% in June of 2003, 19 months later. It didn't reach 5.5% again until August 2004.
Using these numbers I'm going to try and extrapolate a few scenarios of what we are likely to see.
The Current Depression

monthly unemployment rate since beginning of Depression
First of all let's look at the most optimistic of scenarios.
Let's make the assumption that the Depression will bottom at the end of this month and that unemployment will take only 15 months to peak from there (like the early 90's recession).
The unemployment rate rose 14.7% after the recession ended in 1991, and almost the exact same amount after the 2001 recession. Given that the unemployment rate is currently at 9.4%, that would mean that unemployment would peak at 10.8% in September of 2010.
It wouldn't get back down to 9.4% until December of 2011.
Remember - this is the optimistic scenario. This is assuming that the guys who predicted a "soft landing" will suddenly start getting things right.
To put things into perspective, if everything goes right then 18 months from now the unemployment rate will be just as bad as it currently is.


weekly unemployment claims since beginning of Depression
If you are waiting for a return of the economy of 2006 you better have a backup plan.
Now let's look at the more realistic scenario.
"We have 'failed bankers' giving advice to 'failed regulators' on how to deal with 'failed assets'".
-William Black, associate professor of Economics at the University of Missouri
Welcome To The Jungle
First of all, this isn't just another recession like the two previous ones.
We are already 17 months into this Depression, more than double the previous recessions, with no clear end in sight. That suggests a much longer curve for everything.
Without a clear idea of how deep this Depression will go, an accurate prediction is hard to make. A majority of economists predict the Depression to end some time between June and October of this year.
Of course these exact same guys predicted just seven months ago that the unemployment rate wouldn't exceed 7.5% and the Depression would have already ended months ago. They also predicted the economy to shrink by only 1.5% at the same time it was shrinking by about 6%.
Economists have consistently been far too optimistic, thus we can expect the reality to be worse.
"The last duty of a central banker is to tell the public the truth."
- former Federal Reserve Vice Chairman, Alan Blinder

Does this look like a recovery to you?
Nouriel Roubini, one of the few economists that accurately predicted the Depression, says it will last at least another 6 months, but it might not end until the end of 2010.
Taking the more optimistic of Roubini's scenario's, this would make the current Depression the longest, uninterrupted economic downturn since the the one that lasted from August 1929 to March 1933.
For those of you who think Roubini is just a pessimist, consider that he predicted in January that the unemployment rate would peak at 9% in early 2010, a rate we exceeded nearly a year earlier.
He now predicts unemployment to peak at over 11% in 2010, but you have to wonder if he's underestimated it again.
If the jobless recovery experience of the past is correct, and Roubini's optimistic timeline of the Depression ending in December is also correct, then the unemployment rate won't peak until the summer of 2011.
This scenario, of course, doesn't take into account the fact that we are probably dealing with a much deeper economic curve than the examples being used.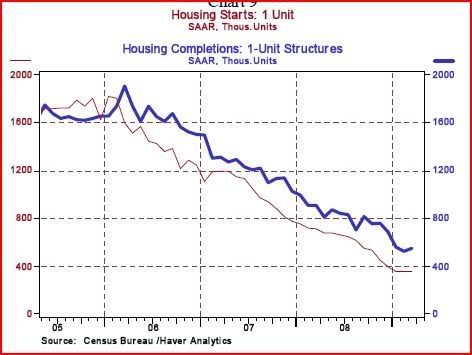 Does this look like a recovery to you?
Looking Ahead
"The worst is over without a doubt."
- James J. Davis, Secretary of Labor, June 1930
"The depression has ended."
- Dr. Julius Klein, Assistant Secretary of Commerce, June 9, 1931
If you were waiting for me to tell you what is going to happen, I have bad news for you - like Obama, I don't have a working crystal ball (Although predicting 10% unemployment is like predicting the sun will rise in the east).
However, I can make a few observations.
1) All the predictions by the economists make one large assumption - that the economy won't see another shock.
The assumption that Latvia won't trigger a currency crisis in Europe. That Pakistan won't spiral into chaos. That a wave of bank failures won't trigger another shock to the economy. That massive layoffs from the GM and Chrysler bankruptcies won't collapse the rust belt economies. That governments won't make things worse. That the Chinese won't balk at funding our deficits. That California's budget problems won't collapse the state's economy. That something else won't surprise us all.
Remember that the Great Depression was only a recession until 1931, when unexpected bank collapses swept both Europe and America and turned an economic downturn into a panic. The longer and deeper the current Depression gets, the more likely an "accident" will happen.
2) Almost no one is predicting a more scary scenario.
Roubini's predictions really aren't much worse than the mainstream predictions anymore (now that reality has caught up with the mainstream). It seems somewhat strange to not see anyone predicting a more scary outcome when mathematical odds tell us that it is indeed possible for things to get much worse.
Notice that I haven't talked about a "worst-case scenario" because anything worse than what the economists are predicting is off-the-charts. The current situation has already exceeded the worst-case scenarios of the past predictions of most economists and we haven't hit the bottom yet.
3) Almost no one is taking into account the consequences.
Ambrose Evans-Pritchard pointed out that Europe has seen the rise of the extreme right-wing in recent elections because of the Depression.
America is looking at an unemployment rate north of 9% for the rest of the Obama Administration, if not a lot longer. That is going to create a political backlash, probably from both extremes, both here in America and around the world.
This will have totally unpredictable outcomes, and make all long-term forecasts useless.