A picture is worth a thousands words, and this map shows the loss of a couple of hundreds of thousands of jobs. This map shows the current unemployment in each of the 50 states, and in 13 of them, that rate is above 10%.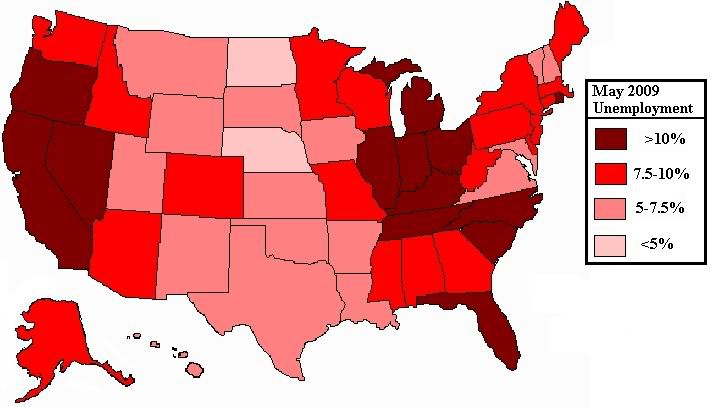 At least in part, this map shows the immediate impact of the shutdown of much of the US auto industry. With most GM and Chrysler plants idled beginning in early may, a large number of parts suppliers have followed suit. As a consequence, the industrial region around the Great Lakes has seen unemployment jump to heights not seen since the late 1970s.
As much as it may be nice to believe that the great "recession" is nearing an end, there is little good to find on the employment front. Even if the economy picks up, employment is a lagging indicator. That simply means that it takes several months of sustained growth for firms to make the decision to begin to hire individuals. Further, unemployment carries an economic curse of its own. People who are out of work in general cut back on their spending, which reduces demand. These means that other people lose their jobs. Rinse and repeat until you hit a point at which demand begins to pick up.
Looking at unemployment over the past three months, it's clear that it's going to be a while until that happens. More and more people are losing their jobs. This can be seen by looking at the unemployment maps for the past three months.
March 2009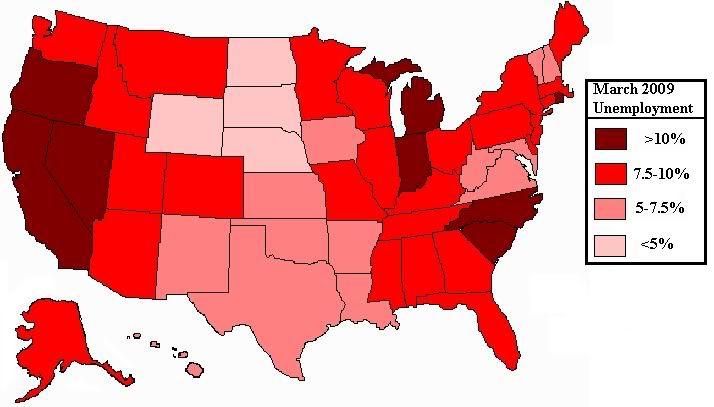 April 2009
May 2009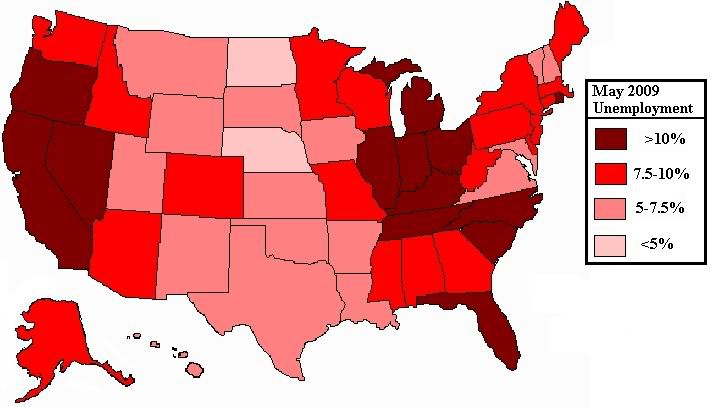 Even in the swath from Texas up through the Plains States that has largely been spared the worst of the recession, unemployment has begun to increase to levels not seen seen since the 1980s.
And as commodities buying by the Chinese government ends, it's likely that states exporting raw materials will see employment drop as prices begin to fall. And when we look at the increase in unemployment between April and May we see that West Virginia, a state producing large amounts of coal, has seen unemployment jump from 7.5% to 8.6%, a 1.1% increase.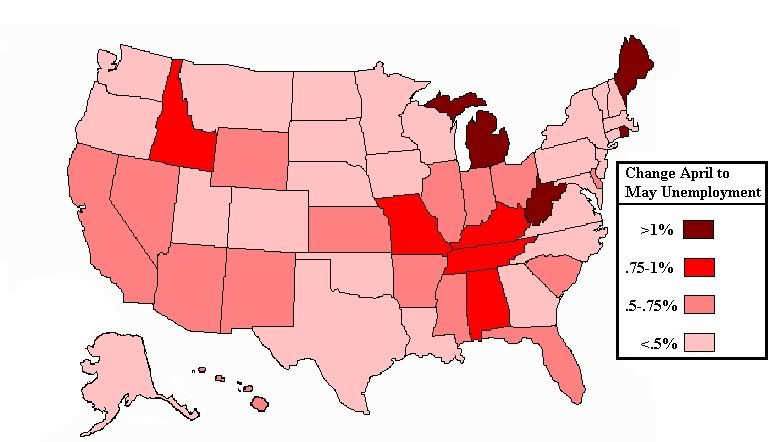 More ominously, with tourism in the tank, and reduced demand for raw materials, the beginnings of trouble in the upper Mountain West can be seen in states like Wyoming, Idaho, and North Dakota. This is an area that has fared relatively well being afflicted with neither a housing bubble nor a collapse of manufacturing employment. North Dakota benefited greatly from the run up in oil prices last year, as exploration and small field production brought many jobs to the state.
Now that looks to be drying up. Unemployment rose from 4% to 4.4% between April and May in North Dakota, meaning that 10% more people are unemployed. While many states have seen the unemployment rate jump by far more that .4%, few start from as low a base. And when we look at increases in unemployment in this way, we see that trouble is brewing in the upper Mountain West.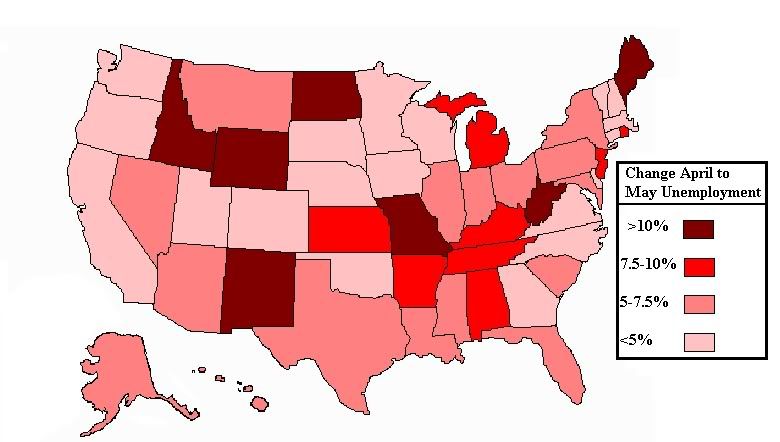 Things are looking bad, and likely to get worse. Unemployment is unlikely to start falling before the start of 2010. If unemployment in Michigan continues to increase at the same month over month pace as from the beginning of the recession, it will enter 2010 with a 16.6% unemployment rate. And 23 states will have unemployment over 10%.