Warren Buffet warns on U.S. debt.
If we leave aside the war-impacted years of 1942 to 1946, the largest annual deficit the United States has incurred since 1920 was 6 percent of gross domestic product. This fiscal year, though, the deficit will rise to about 13 percent of G.D.P., more than twice the non-wartime record. In dollars, that equates to a staggering $1.8 trillion. Fiscally, we are in uncharted territory.

Because of this gigantic deficit, our country's "net debt" (that is, the amount held publicly) is mushrooming. During this fiscal year, it will increase more than one percentage point per month, climbing to about 56 percent of G.D.P. from 41 percent. Admittedly, other countries, like Japan and Italy, have far higher ratios and no one can know the precise level of net debt to G.D.P. at which the United States will lose its reputation for financial integrity. But a few more years like this one and we will find out.

An increase in federal debt can be financed in three ways: borrowing from foreigners, borrowing from our own citizens or, through a roundabout process, printing money. Let's look at the prospects for each individually — and in combination.
In fact, John Maynard Keynes long ago laid out a road map for political survival amid an economic disaster of just this sort: "By a continuing process of inflation, governments can confiscate, secretly and unobserved, an important part of the wealth of their citizens.... The process engages all the hidden forces of economic law on the side of destruction, and does it in a manner which not one man in a million is able to diagnose."
Pimco also warns the U.S. dollar may lose reserve status:
Pacific Investment Management Co., the world's biggest manager of bond funds, said the dollar will weaken as the U.S. pumps "massive" amounts of money into the economy.

The dollar will drop the most against emerging-market counterparts, Curtis A. Mewbourne, a Pimco portfolio manager, wrote in a report on the company's Web site. The greenback is losing its status as the world's reserve currency, he said.
Bear in mind this is when the Producer Price Index contracted in July, an indication of deflation.
The longest U.S. recession since the Great Depression of the 1930s has crushed demand and pummeled prices throughout the economy, keeping inflation pressures firmly at bay despite massive official efforts to stimulate growth.

Src: Reuters

Src: St. Louis Fed, PPI change up to 07/01/09
It's not just the United States, Canada's wholesale prices also plunged the most in 56 years.
So, while the debt is at a record, $1 trillion, and many are wondering on the point of no return, the reality is demand has collapsed and to fight deflation, the Federal Reserve dramatically increased the money supply.

Src: St. Louis Federal Reserve

Src: St. Louis Fed
So, while we receive dire warnings of devaluing of the dollar as well as inflation, it's pretty clear the U.S. is still in a deflationary pattern. Demand has collapsed.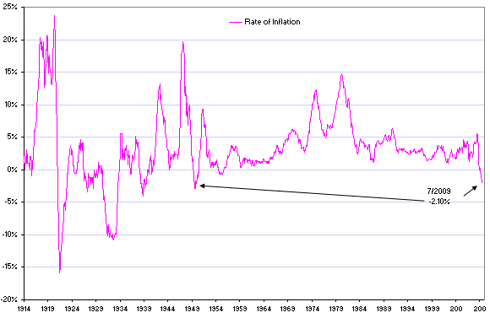 Src: Seeking Alpha
So what's going on? The Fed's money printing press is not making it to the real economy, so it's just kind of sitting there.
So, with all of this said, it sure doesn't seem inflation is returning anytime soon and therefore, in spite of the massive debt, how exactly is the dollar going to tumble and devalue?
Exactly how fast can China dump their Treasury holdings and obtain a new reserve currency to cause inflation? Would that counter influence the obvious deflation (housing prices anyone, wages?) occurring during this recession?