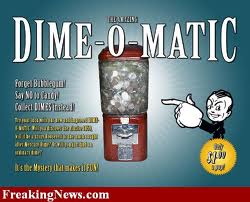 Yes folks, it's Bail-Out-O-Matic The European Union has created a permanent bail out fund:
Despite deep differences over how to contain their continuing debt crisis, European Union leaders agreed Thursday to create a permanent support fund for the euro after 2013 — something they hope will be a first step to calming the markets.
Leaders did agree, however, on the creation of a bailout mechanism that would operate after 2013, when the mandate of the current fund expires.

Yet even here, vital questions on the size and scope of the fund were left until the spring.

The new body, known as the European Stability Mechanism, will take over in 2013 from the existing 440 billion euro, or $582 billion, bailout fund.

Bondholders could be asked to shoulder some losses in future debt crises on a case-by-case basis.

To set up this facility, the European Union will have to revise its governing treaty, but it plans to do so in such as way as to avoid requiring referendums in any of the 27 member countries, all of which will have to ratify the revision.
AFP has more details:
Changes to the Lisbon Treaty were demanded by Germany to enable a temporary, trillion-dollar rescue fund to be turned into a permanent umbrella that will allow governments who fall on hard times to seek and obtain help from currency partners.

While the holiday season is set to offer respite similar to that leaders experienced during the World Cup, market analysts are firmly anticipating the need to bail out Portugal next year, and possibly even Spain further down the line.

From mid-2013 then, international loans and guarantees of the sort offered to Greece and Ireland already this year, the latter drawn from a 440-billion-euro reserve set up by eurozone states in May, will only be made available if judged "indispensable."
There are various protests going on in Europe. Below is the violence yesterday in Greece. While Europe creates a permanent bailout, the people are supposed to suffer austerity, which attacks their jobs, wages, pensions and retirement.