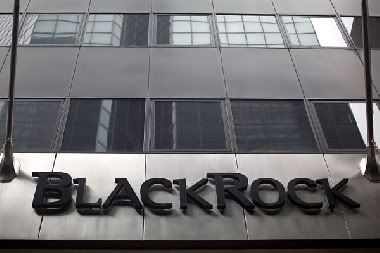 Laurence Fink, CEO of BlackRock appears to have guided his company through the minefields of the 2007-2008 financial collapse and emerged a well-positioned entity.
In fact, on June 11, 2009, BlackRock signed a deal with Barclays that according to Bloomberg, "creates a company overseeing $2.7 trillion in assets, more than the Federal Reserve." Also recently, BlackRock beat out PIMCO to be one of nine managers of the Treasury's P.P.I.P.
Can we attribute Fink's achievements to stellar stewardship, pure luck, or political connections?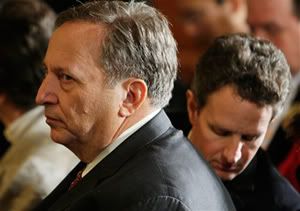 AP photo / Charles Dharapak
BlackRock is so entwined with government purchases of securities, many are beginning to question conflicts of interest.
"They have access to information when the Federal Reserve will try to sell securities, and what price they will accept. And they have intricate financial relations with people across the globe," Senator Charles E. Grassley, Republican of Iowa, said. "The potential for a conflict of interest is great and it is just very difficult to police."

Without naming BlackRock, federal auditors have warned that any private parties that purchase distressed assets on the government's behalf could use generous federal subsidies to overpay, artificially pushing up the price of similar assets that they manage for their own portfolios.

"In other words, the conflict results in an enormous profit for the fund manager at the expense of the taxpayer," Neil M. Barofsky, the special inspector general for the Troubled Asset Relief Program, wrote in a report last month.


However, some conflicts of interests are less obvious:
Timothy Geithner has personal relationships with a few of the BlackRock executives.
Mr. Geithner has also faced scrutiny over how well taxpayers were served by his handling of another aspect of the bailout: three no-bid contracts the New York Fed awarded to BlackRock, a money management firm, to oversee troubled assets acquired by the bank.

BlackRock was well known to the Fed. Mr. Geithner socialized with Ralph L. Schlosstein, who founded the company and remains a large shareholder, and has dined at his Manhattan home. Peter R. Fisher, who was a senior official at the New York Fed until 2001, is a managing director at BlackRock.

Mr. Schlosstein said that while he and Mr. Geithner spoke frequently, BlackRock's work for the Fed never came up.
Geithner personally called Fink during the Bear-Stearns collapse.
As Bear Stearns collapsed during a frantic weekend in mid- March 2008, JPMorgan Chase & Co. called on a BlackRock team of 50 analysts and number crunchers who worked around the clock to assess Bear Stearns's most illiquid assets.

At the end of the weekend, Geithner, then chairman of the Federal Reserve Bank of New York, called Fink personally to ask him to oversee $30 billion in soured mortgage debt that had been cleaved from Bear Stearns's books before its viable assets were sold to JPMorgan.
Larry Summers in his hedge fund days with D.E. Shaw also became closely acquainted with BlackRock executives, including Laurence Fink.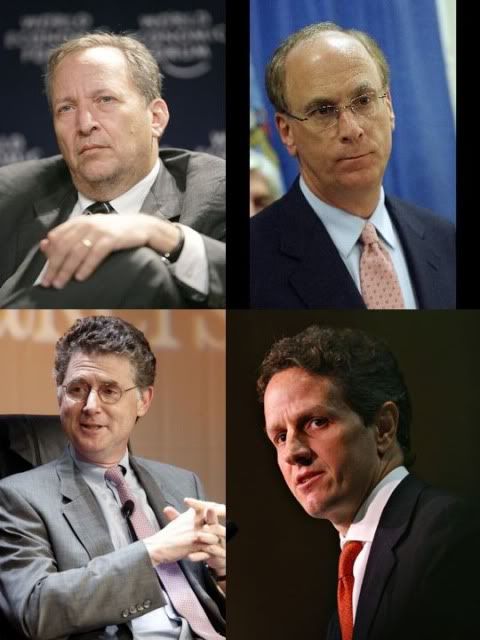 In 1988, BlackRock was founded as the Financial Management Group within the private equity firm Blackstone Group. Larry Fink, BlackRock's founder and CEO, had joined Blackstone in 1988 as a partner, along with Ralph Schlosstein, former White House aide under the Carter administration, and Robert Kapito and Sue Wagner. Before joining Blackstone, Fink was a managing director at First Boston, where he pioneered the mortgage-backed securities market in the United States. In 1992, Calonico, Fink, Schlosstein and Co separated from the Blackstone Group under the name BlackRock and aggressively re-invented it as an independent asset-management company. In 1995, PNC Financial Services Group purchased BlackRock and in 1999, assets under management had grown to $165 billion and the firm decided to go public.
In February 2006, BlackRock merged with Merrill Lynch and in January 2009 moved under the Bank of America umbrella with the Merrill/BofA merger.
Yes, you read that correctly. Bank of America who is a recipient of taxpayer TARP funds also own 49% of BlackRock who is buying toxic assets from Bank of America - with a little extra tip from Treasury coffers.
BlackRock, which started in a one-room office 21 years ago, now manages $1.3 trillion in assets for big private clients, including hedge funds and foreign governments.

But it is the company's highly prized role as a government adviser and contractor that is now drawing attention.

By dint of its expertise and track record, it has won contracts to help the government manage the complex rescues of Bear Stearns, the American International Groupand Citigroup.

It also won a bid to carry out a Federal Reserve program to stimulate the moribund housing market, and it has been hired to help evaluate Fannie Mae and Freddie Mac, the government-created mortgage finance giants.

Other firms have been hired by the government to assist with the bailout, illustrating the increasingly symbiotic relationship between Washington and Wall Street.

It makes sense for the government to turn to financial experts for help, but BlackRock has become so ubiquitous that some lawmakers, federal auditors and watchdog groups are now asking if the firm does too much, and if its roles as government adviser, giant federal contractor and private money manager will inevitably collide. link