The BLS unemployment report shows total nonfarm payroll jobs gained were 169,000 for August 2013, with private payrolls adding 152,000 jobs. Government jobs increased by 17,000. Probably the worse news of this report is July was revised down by 58,000 jobs to show only a 104,000 payroll gain and June was also revised down by 16,000 to 172,000 jobs added for that month. Additionally the types of jobs gained are mostly low paying ones.
The BLS employment report is actually two separate surveys and we overview the current population survey in this article.
The start of the great recession was declared by the NBER to be December 2007. The United States is now down -1.909 million jobs from December 2007, five years, eight months ago as shown in the below graph.
We broke down the CES by industry to see what kind of percentage changes we have on the share of total number of payroll jobs from 2008 until now. Below is the percentage breakdown of jobs by industry for January 2008.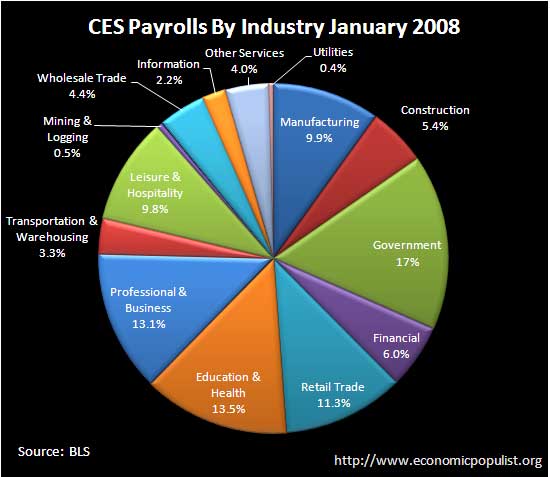 Below is the breakdown of jobs growth per industry sector for June 2013. From these two pie charts we can see the job market has changed into more crappy, low paying service jobs of health care assistance and restaurant workers. We expected to see construction jobs shrink relative to total payrolls and it did, by 1.1 percentage points. Manufacturing, of which the auto industry is a part, has contracted 1.1 percentage points as share of total jobs. The financial sector, only shrank 0.2 percentage points as it's share of payroll jobs, in spite of being the maelstrom behind the recession. The manufacturing sector just continues to erode and if one thinks about it, the manufacturing job implosion should not be so great due to the causes of the recession. Health care has gained the most jobs, yet working in a nursing home and as attendants are also low paying jobs.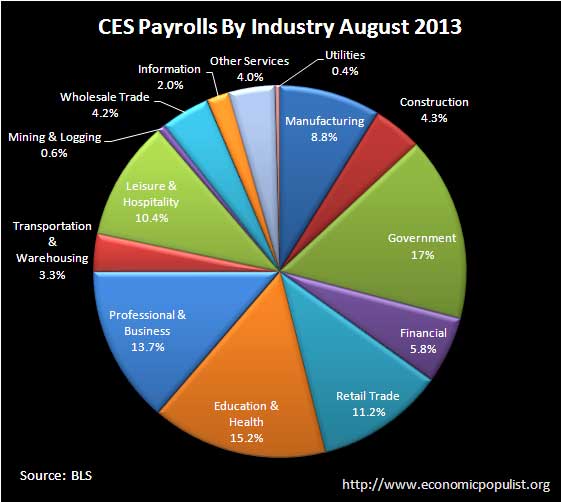 Below is a bar chart showing the employer's payroll growth since January 2008. We see health care jobs, part of education and health sector, is the only real growth sector, along with very low paying restaurant jobs in leisure and hospitality. Remember professional and business includes waste management and low paying administrative types of jobs.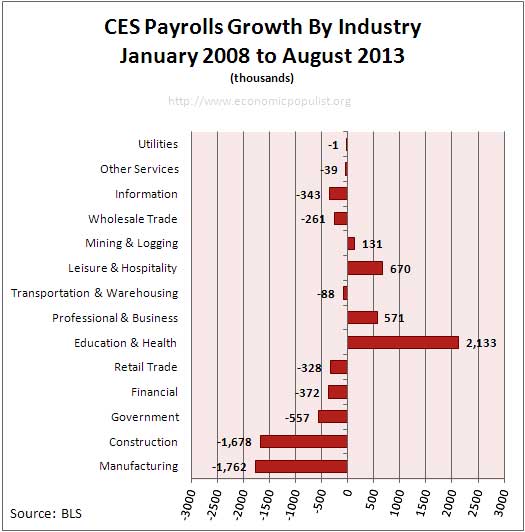 Job gains for just this year, 2013 are shown below. , While one might think professional and business jobs are good jobs, this isn't quite true. There are many low paying office worker and waste management services jobs in this category. Additionally the BLS counts foreign guest workers in their employment statistics, so in the Science & Technology fields, don't assume those jobs went to Americans.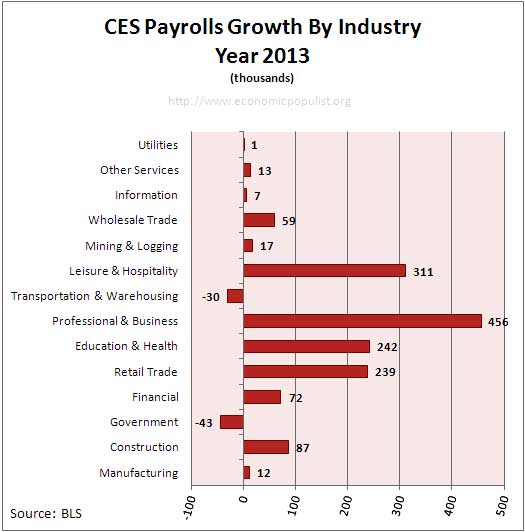 Just to keep up with population growth, we need at least 100,000 jobs per month or 1.2 million a year and this estimate assumes the current artificially low labor participation rates ant this month the labor participation rate not seen since August 1978.
Private Sector jobs, or jobs not in government gained 152 thousand this month. The United States is still down -1.366 million private sector jobs from January 2008. Goods producing jobs, which usually have higher paying ones, grew by only 18 thousand and the goods sector includes manufacturing and construction jobs. Services jobs, which includes our fast food and big box mart workers, increased by 134,000. Below is a graph of just the private sector payroll losses since January 2008.
Below is a bar chart of the payroll gains by industry sector for the month. We can see most of the job growth is in health, retail trade & leisure and hospitality. Within education and health, 26.6 thousand of those jobs were in ambulatory services. Leisure and hospitality sector includes dishwashers, restaurant workers and has the lowest wages as a sector. Professional services includes foreign guest workers, so we do not know the percentage of unemployed Americans in these figures. Before one thinks professional services are high paying tech jobs, think again. Computer, architects, engineers only added two thousand jobs this month. Administration and waste management is the growth engine, with 13.4 thousand jobs added this month within the Professional services sector and these jobs were almost all temporary. Temporary jobs were 13,100.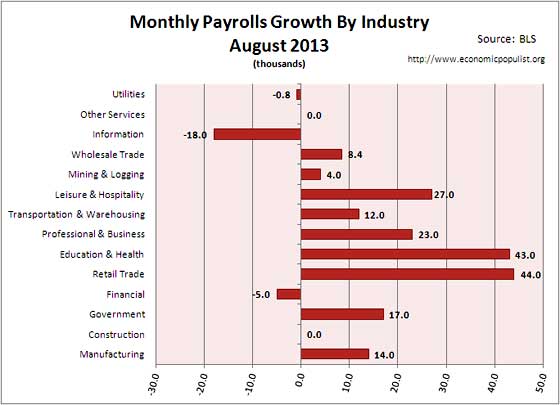 This month manufacturing added 14,000 jobs, split evenly between durable and nondurable goods, with 22 thousand jobs in durable goods. Seems the auto industry did some hiring as motor vehicles & parts gained 18.8 thousand jobs Generally speaking though manufacturing just been hammered and the United States needs way more jobs in manufacturing to support a middle class.
Below is a graph of auto & parts manufacturing, which this month gained 18.800 jobs. One can see from the graph this is an exception.
Government overall gained 17,000 jobs for the month with all of these jobs in local education. Federal jobs added were nil. Local governments added 20,100 education jobs.
The construction housing bubble collapse jobs slaughter is clearly over. Yet, this month construction added zero jobs. Payrolls are seasonally adjusted so this isn't great news and defies the housing hype being seen in the press.
This month the financial sector lost -5,400 jobs overall with real estate losing -4,500 of them. This is another sign, along with construction above, the great housing boom has stalled out.
Retail trade are the retail sales outlets like big box marts, direct mailing and anything retailing merchandise. For the month retail trade added 44 thousand jobs this month. These were mainly low paying jobs, across the board Retail clothing and groceries added most of the jobs, which are overall lower paying types of jobs.
Education and health services has consistently been increasing and this month added 43 thousand jobs total. Of those jobs, 32.7 thousand were in health care while 5.6 thousand were social assistance. .
When one breaks down the Education and Health Services job figures, it becomes clear the growth is only in health care jobs. Graphed below is health care jobs, on the left (maroon) against education jobs, on the right (blue). We can see education has been shedding jobs recently, while health care jobs continues to rise.
Professional & Business services contains management, career professionals, science & technical, administrative and support and finally waste services and this month gained 23 thousand jobs.
Wholesale trade gained 8.400 jobs from last month. Wholesale trade included fabless semiconductors and other offshore outsourcers. Since they offshore outsourced manufacturing, they now are considered wholesale intermediate distributors. Below is a graph of wholesale trade employment and one can tell, by the flattening, really increasing around year 2000, offshore outsourcing is continuing unabated.
The information sector lost -18 thousand jobs with -22.2 thousand of those jobs being in the motion picture industry. Some in the press are blaming the porn shut down due to HIV and this might very well be true. This is the worst job loss in the movie industry in the history of the BLS tracking. American porn is a multi-billion dollar industry, yet Hollywood's never ending cross marketing super hero film production line also took some major bombs this year. The information sector also includes newspapers which have taken a major hit and generally speaking the information sector has been shedding jobs for some time, as shown in the below graph.
Trade, transportation and warehousing are jobs as one would expect from the sector title, airline workers, truckers, working in warehousing and employment associated with trade, such as port dock workers. This month the sector added 12 thousand jobs.
Let's talk Leisure & Hospitality. This sector has the lowest paying jobs of them all. This month the sector gained 27,000 jobs with 21.200 of those jobs being in food services and drinking places. Food service can even pay below minimum wage and from January 2008 this subsector has gained 691,200 jobs. For 2013, the United States has created 252,300 crappy jobs in restaurants and bars. This is 17.5% of all the 1.442 million jobs gained in 2013. These low paying jobs tally 10,353,200, 7.6% of all of the private sector jobs in this country. Since January 2010, crappy food service jobs represent one in six of the 6.76 million jobs gained. Jobs which require one to say do you want fries with that is not the kind employment growth needed to support a family and a production economy.
Bottom line, this month is just more bad news for the U.S. worker. While some want to blame the porn industry for this month's weak employment figures, we can see local education jobs pretty much canceled out those losses. While some try to claim professional jobs are just increasing, the reality is most of those are also lower paying and huge amounts of these jobs each month are temporary ones. Very low paying retail jobs and restaurant jobs as well as the lower paying jobs in the health care sector are behind any job growth at all and this is not what America really needs to recover the U.S. middle class. Our government is positively despicable to allow millions of Americans to slip into poverty because they cannot get a decent job and with no government policy changes, the terrible conditions for the American worker will continue.
Here is our overview of the unemployment statistics, where once again over half a million people dropped out of the labor force entirely.