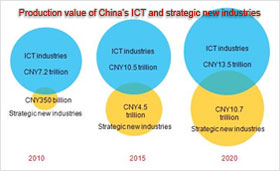 Did you know China has a five year plan? They do and it's a doozy according to a U.S. – China Economic and Security Review Commission. Yup, China has a strategy in play and it's on Indigenous Innovation and Technology Transfers, and Outsourcing. From the opening statement:
Since 1953, the Communist Party of China has used a series of five-year plans to guide China's economic and social development. In its newly-adopted 12th Five-Year Plan China makes clear that it hopes to move up the manufacturing value chain by making explicit mention of Strategic Emerging Industries, which the Chinese government would like to see dominated by Chinese firms. These industries are: New-generation information technology, high-end equipment manufacturing, advanced materials, alternative-fuel cars, energy conservation and environmental protection, alternative energy, and biotechnology. China's goal is to take the Strategic Emerging Industries from a current combined share of 3% of Chinese GDP to 8% by 2015 and 15% by 2020.
Anyone name America's 5 year plan? Beyond destroying the U.S. middle class and American workforce, can anyone even think of one? China, on the other hand, is methodically going about dominating a host of advanced technology industries and capturing our jobs in that process.
Mathematician Ralph Gomory gave some stark testimony to what the United States can expect.
What we can expect in the future is simply more, and probably much more, of what we have seen to date.

What we have seen to date is this: rapid economic growth in China, coupled with a major negative impact of the imports of Chinese goods on the productive capability of this county. We have seen an enormous imbalance of trade as these imports are not balanced by a sufficient counter-flow of exports. In the U.S. we have seen greater corporate profits, accompanied by downward pressure on wages and employment.
Leo Hindery, New America Foundation, also testified with further reality checks that never make the press. Now how exactly does this make the iOutsource so cool of a product line?
Apple, despite its prominence, actually has only about 50,000 direct employees – 25,000 or so in the U.S. and 25,000 overseas. What the administration and others seem to purposely overlook are Apple"s 250,000 indirect employees working at the company Foxconn, located outside of Shenzhen, China, dedicated to manufacturing Apple products sold in the U.S. (Foxconn"s total employment in China is a staggering 1 million workers.) In other words, for every 1 of the 25,000 American workers now employed by Apple mostly in marketing, administration and R&D, there are 10 Foxconn workers in China who could, and many of believe should, be American workers.
Gomory explains in simple details why U.S. multinationals are Benedict Arnolds, running off to China. One word, profits:
The Chinese government, as Singapore's had done earlier, makes intelligent use of this motivation. Through direct subsidies, abated taxes, and mispriced currency they can supplement cheap labor to the point where China becomes the most profitable place to locate the industries China is interested in. China is also able to add to this the lure of a giant growing market and to make, in practice, technology transfer a condition for market entry.

Our corporations, aiming to maximize profit and shareholder value, only hesitate at the thought that the companies they are helping to found might become their future competitors. But in the end it is not surprising that corporate leadership finds the bird in the hand superior to the two in the bush, since profits are reported quarterly, not every five years. Our present executive compensation policies for executives, strongly tied to stock price, then strongly reward these decisions.

Nor is there any strong reason for our corporations to believe that they are harming their country. Our own government, ignoring in practice Chinese mercantilist policies, has clearly supported the notion of free trade and has even in its official pronouncements supported the idea that outsourcing is good for the country.
It's actually getting worse for this 5 year plan is about China forcing technology transfers and dominating intellectual property, innovation. From the hearing commissioner Mulloy:
One of the tools the Chinese government will use to grow these Strategic Emerging Industries is indigenous innovation. This policy seeks to help China move up the value-added chain.

Indigenous innovation policies have drawn criticism from the U.S. and European business communities and policy makers because China uses this policy to require foreign companies to transfer their higher technologies and know-how as a condition of doing business in China or getting government procurement contracts in China.

China is doing this despite the fact that in joining the WTO it agreed to eliminate forced technology transfers. China claims that it is not violating that commitment because the decisions being made by foreign companies to transfer technology for market access are purely business decisions.
Hindery:
China's approach to trade cannot be described as free trade. It is traditional mercantilism, a pattern of government policies aimed at advancing Chinese industries in world trade, an approach that has many precedents.
Now you know why Gomory testified the situation will only get worse for the United States and U.S. worker.
Both Gomory and Hindery have policy recommendations. Of course our government will promptly ignore all of them.
A video of the hearing is available below.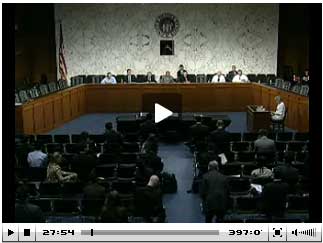 The graphic at the top of this post is from DigiTimes and their in-depth article on China's 12th five year plan.